Price grinds out first '13 victory as Rays rally
Ace fans nine in seven innings, has exchange with ump after outing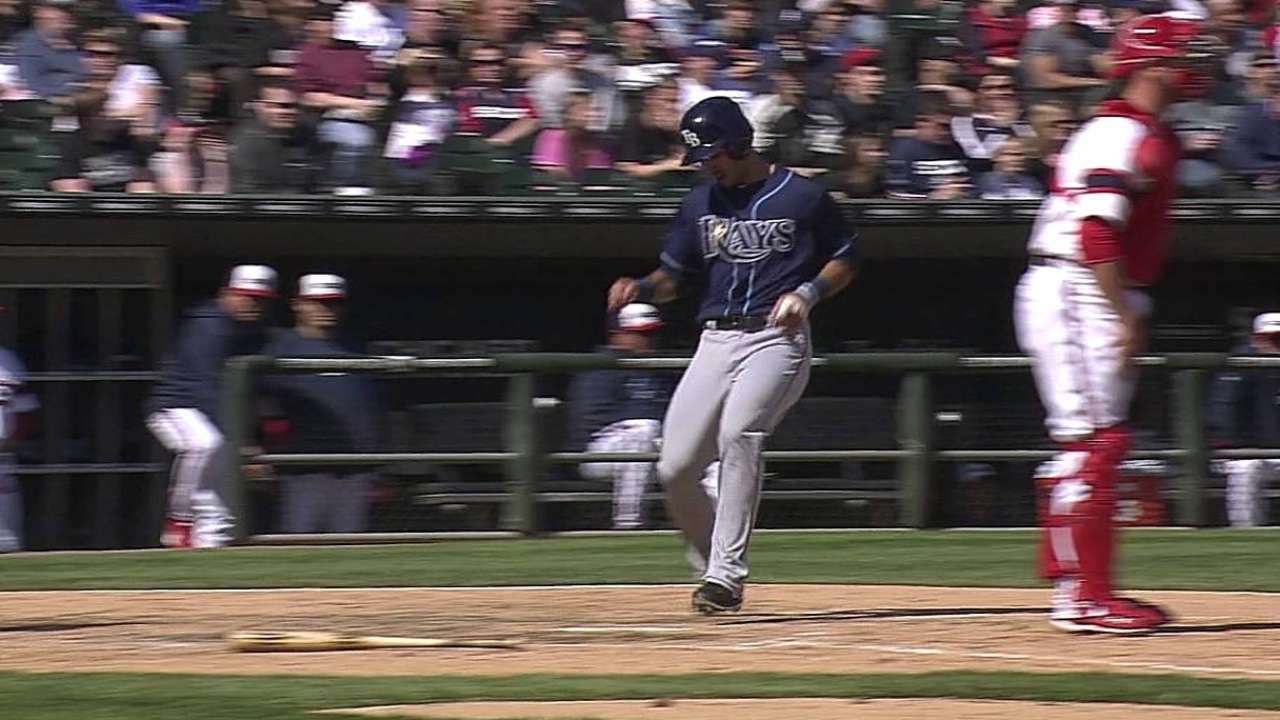 CHICAGO -- Sometimes it's better to be lucky than good. To break through and pick up his first win of the season, Rays ace David Price needed to be both on Sunday.
After falling behind early, Price settled down and lasted just long enough -- thanks to a couple of breaks and the faith of his manager -- to get the win as the Rays rallied for three runs in the eighth en route to an 8-3 victory over the White Sox.
Following the game, Price appeared to be irritated as he addressed the media in the visitors' clubhouse at U.S. Cellular Field. It turns out he was upset with an exchange with home-plate umpire Tom Hallion that included the ejection of Rays pitcher Jeremy Hellickson.
"I think it's really important, psychologically speaking," Rays manager Joe Maddon said of Price getting his first win. "He's a competitive person, man. I know he's going to sleep better, I know he's going to feel better between starts and I know his work's going to be easier.
"It's funny how we humans deal with things on occasion, but I'm certain that his whole week's going to be better with him getting a win."
Price (1-2) threw 119 pitches over seven innings, allowing three runs on six hits. More important, he held the Sox scoreless in his final four innings to give the offense a chance to rally from an early 3-1 deficit.
Price, the reigning American League Cy Young Award winner, has had better performances, but few have brought him such a level of relief.
"It feels good to get one in the win column," Price said. "It's been rough this first five or six starts. You've got to keep going. It is what it is. Things aren't going to change if you're not doing what you have to do. I just have to continue to pitch my game."
Price was winless before Sunday mainly because of some bad breaks and some bad pitches. That pattern seemed in play in the third as he hung a 3-2 curveball to White Sox slugger Paul Konerko, who promptly deposited it over the wall in left for a two-out, two-run home run that traveled 407 feet.
But instead of getting discouraged, Price got better.
He retired seven straight batters through the fifth. The Rays then pulled even in the sixth as Desmond Jennings led off with a ground-rule double to center field and Matt Joyce followed with a homer just instead the foul pole in right to tie the score at 3. It was Joyce's fourth homer of the season.
After being given new life, Price held firm and kept the White Sox off the board. He retired the first two batters of the sixth to run his streak of consecutive batters retired to nine. A walk to Adam Dunn ended that streak, but Price then got Alexei Ramirez to bounce into a fielder's choice to end the inning.
Despite his ace having thrown 105 pitches through six, Maddon let Price come out for the seventh. The lefty's chances for staying in long enough to complete the inning, though, didn't look good after Conor Gillaspie led off with a single.
But fortune finally smiled on Price as the next batter, catcher Tyler Flowers, lined out to short as Gillaspie took off on the pitch. Rays shortstop Ben Zobrist made the catch, then tossed to first base to complete the double play.
Instead of runners on first and third with no out if Flowers' liner finds a hole, Price had two out and none on.
"I said, 'Thank you.' I was happy to have a ball go at somebody, a hard-hit ball," Price said. "The fact that they hitting and running and we were able to turn it into a double play was great."
Price was also thankful that Maddon gave him the opportunity to stay in with the high pitch count.
"That's what I work all offseason for, so I can throw 110, 115 pitches in a game," he said. "It feels good to have that confidence in me behind the bench."
Maddon said the reason he made the decision wasn't based on Price needing a win.
"If it was like [Alex] Rios, Konerko and Dunn coming up, I probably would have moved it along with that number of pitches at that point," Maddon said. "But Gillaspie, Flowers ... I'm not denigrating these guys; I'm just saying I felt better about him getting through that part of the batting order at that moment. I thought everything set up there to permit him to grate through one more inning and it worked out."
It worked out even better when the Rays were able to push across three runs in the eighth -- with Zobrist's RBI single pushing the visitors ahead to stay -- and another two in the ninth to break things open and get Price the victory.
"I don't think it's going to be his last, but it's kind of like the first hit of the year for a hitter," Tampa Bay third baseman Evan Longoria said. "The first anything is good to get out of the way. His record isn't indicative of the way he's been pitching. He's been throwing the ball well for us and he's just had some bad breaks go against him.
"Today, I was happy to see him go out for the seventh with 105 pitches and give himself a chance to win. That's what the ace of the staff does."
John Jackson is a contributor to MLB.com. This story was not subject to the approval of Major League Baseball or its clubs.