Norris, Astros drop series finale at Fenway
Middle innings prove costly, as Houston falls to 0-7 all time in Boston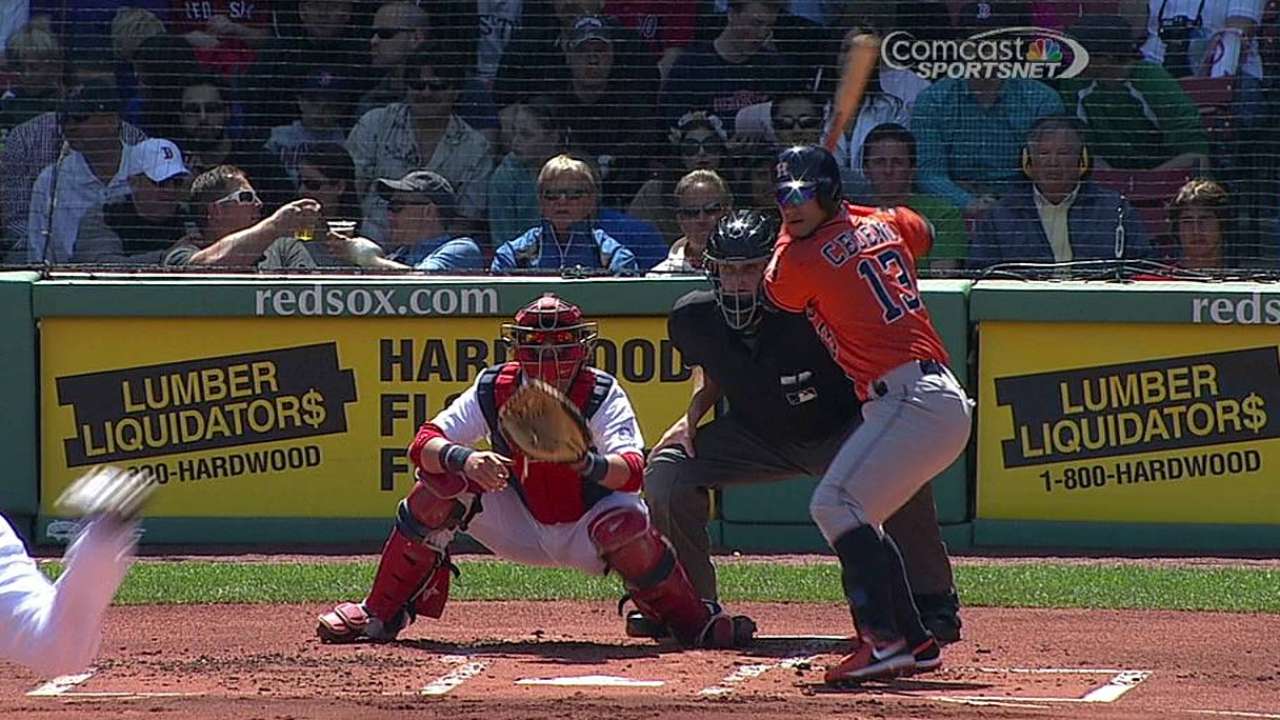 BOSTON -- It was methodical and convincing, and provided the Astros with a glimpse of what it takes to compete in the American League. The Red Sox have been one of the bullies of the league for the last decade, and they weren't about to show the league's newest members any hospitality.
The Red Sox outplayed the Astros for four consecutive days at Fenway Park, spraying baseballs to every part of the ballpark -- and even beyond -- while making countless big pitches to escape jams. The Sox polished off a four-game sweep on Sunday afternoon with a 6-1 win over the Astros.
"After four games, they played better than us," Astros manager Bo Porter said matter-of-factly.
The Astros, who have lost nine games in a row on the road, fell to 0-7 in their history at Fenway Park, with their AL East grinder continuing with a trip to New York to face the Yankees for three games beginning on Monday night. Houston is 1-8 all time against the Yankees.
"I know we're struggling right now, but we have to make some adjustments," outfielder Fernando Martinez said. "We'll be fine."
The Red Sox made several big defensive plays in the series, including a terrific game-ending, diving catch by Daniel Nava in right field that was indicative of the lack of breaks the Astros are getting these days.
Houston starter Bud Norris came through with a much-needed quality start, allowing nine hits and five runs (three earned) over six innings, but it wasn't enough to rescue a team that's struggling to score runs. Norris threw 108 pitches, his second-highest total this season.
"I gave this team a chance," Norris said. "I know these guys have been battling, and I really wanted to go out there and get a 'W' today to end this skid. But we have to keep battling."
John Lackey returned from a 20-day stint on the disabled list with a right biceps strain and won for the first time this season by allowing one run and five hits in six innings. The only run the Astros scored came in the first, when Jason Castro and Carlos Pena drew two-out walks and Ronny Cedeno followed with an RBI single.
"They were swinging pretty early in counts in the second through the fifth, [I] got quite a few ground balls on first, second pitches," Lackey said. "They definitely got pretty aggressive on me, so I was trying to locate my fastball most of the time."
Norris (3-3) needed 33 pitches to get through the first inning, giving up an RBI single by David Ortiz before stranding the bases loaded. Stephen Drew had a two-out, two-run triple in the fourth to make it, 3-1, and the Red Sox took advantage of two errors by shortstop Marwin Gonzalez on the same play to score two unearned runs in the fifth.
"I didn't ... execute the pitch I wanted to Drew," Norris said. "That was probably the one mistake I felt like I made all day. I'm ahead in the count [1-2] and trying to throw a fastball up, and I leave it down and it's right over the plate and the guy put a good swing on it. He's got good numbers against me, and that's a little frustrating. But we have to finish that and get out of that inning."
The Astros, who went 5-for-48 (.104) with runners in scoring position in the series, loaded the bases with one out in the sixth. But Lackey struck out Martinez and got Matt Dominguez to hit into an inning-ending fielder's choice.
"You look at their pitchers -- and even when they got in trouble -- they were able to make quality pitches to get out of trouble," said Porter, "and a lot of times those quality pitches were in or breaking stuff down and out of the zone to get us to chase."
Just prior to striking out in the sixth, Martinez hit a ball down the left-field line that nearly fell in for what would have a huge double.
"If Fernando's ball hits off the wall fair, it's a two-RBI double and the game is a different game," Porter said. "All those things are part of the game and you have to be able to overcome them and [you] can't change them."
Brian McTaggart is reporter for MLB.com and writes an MLBlog, Tag's Lines. Follow @brianmctaggart on Twitter. This story was not subject to the approval of Major League Baseball or its clubs.