Masterson fans nine, but Indians drop Game 1 to KC
Offense struggles to get timely hits as Tribe falls to 3-4 on road trip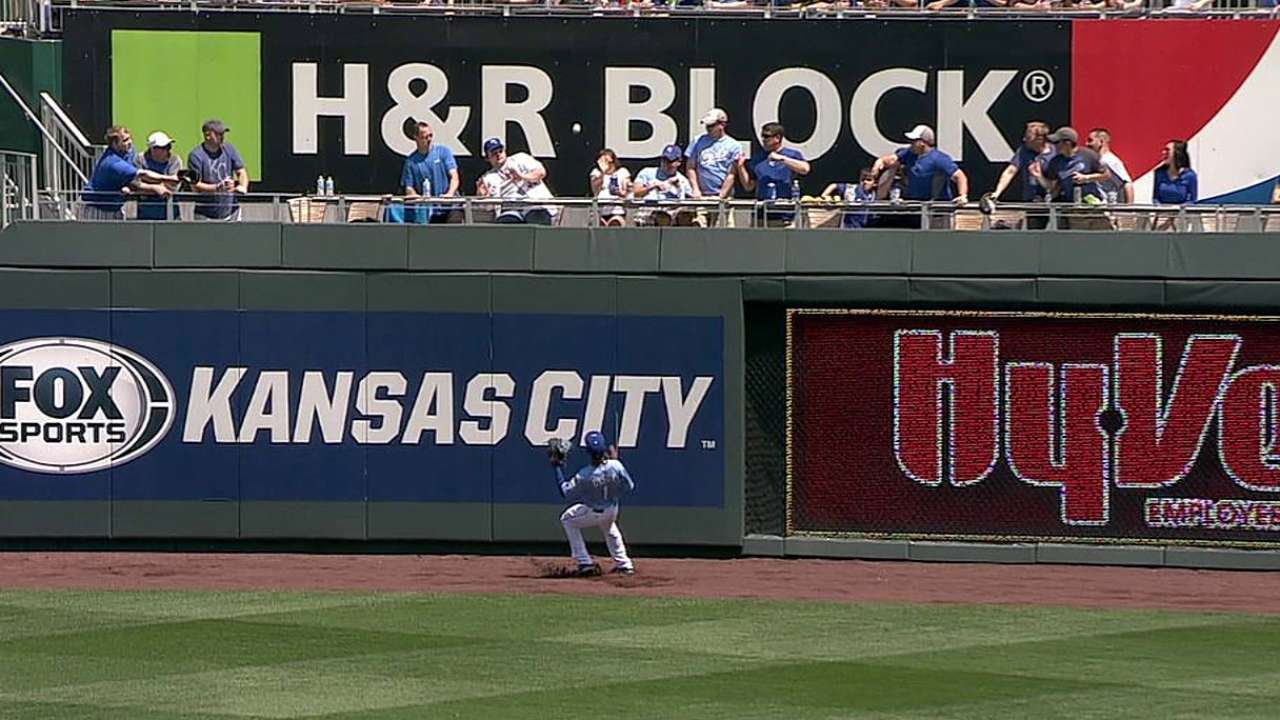 KANSAS CITY -- The Indians spent a lot of time and money over the offseason overhauling their offense. Throughout the first month of this season, Cleveland's revamped cast of hitters has struggled with baseball's magic word: consistency.
On Sunday afternoon, the Indians took a 9-0 loss to the Royals on the chin in the first game of a day-night doubleheader at Kauffman Stadium. Sinkerballer Justin Masterson pitched into the seventh inning for the Tribe, but the offense struggled to mount any run support against Kansas City right-hander Jeremy Guthrie.
With the defeat, the Indians slipped to 3-4 on the current road trip that ends Monday here against the Royals.
"We're trying to get things rocking," Indians first baseman Nick Swisher said. "It's still early. We're 21 games in. It's obviously not the start we wanted. But hey, that's going to happen, bro. We're going through some growing pains right now, and we need to figure this out and turn it around."
A lack of offense has been an unfortunate theme in the early portion of this season for Cleveland (8-13). Through their first 21 games, the Indians have scored three runs or fewer in 14 contests (23 total runs). In the remaining seven games, Cleveland has scored 64 runs, but 40 came between offensive outpourings on April 4 (eight runs), April 7 (13 runs) and April 20 (19 runs).
The feast-or-famine lineup, combined with some shaky starting pitching, has made it hard for the Indians to piece together many winning streaks. Cleveland's longest string of wins so far this season is three games in a row -- earlier on this road trip.
Asked about the offensive lull throughout April, Indians manager Terry Francona said he prefers not to view the production in such a general manner. Francona said the reasons behind a lineup's success or failure change with each game.
"I think maybe you tend to lump it together -- like the first month," Francona said. "I'm not sure you can really do that. I think every game is probably different. Today, [Guthrie] has got enough on his fastball and when he establishes that, he's going to throw his breaking ball for strikes. We're in-between.
"You run into where you get down, and maybe you try to be patient, so he throws strike one with a fastball. And then you get in a hole and he throws a breaking ball. Right now, I'd say we're in-between. It's leading to some inconsistencies."
Against Masterson (4-2), the Royals (13-8) used a similar formula to break through in the second and fourth innings.
In the second, following strikeouts of Eric Hosmer and Salvador Perez, Masterson issued a two-out walk to Mike Moustakas. Jeff Francoeur then delivered a run-scoring double that split the gap in left-center field and Jarrod Dyson came through next with an RBI double down the right-field line, putting the Indians in a 2-0 hole.
Masterson again retired Hosmer and Perez in order to open the fourth, but then issued another two-out walk to Moustakas. This time around, Francoeur legged out an infield single after chopping a pitch to the left side of the mound. Dyson followed with a single up the middle to score Moustakas, pushing the Royals out front, 3-0.
"I think there was a force field around the strike zone for [Moustakas'] first two at-bats," Masterson said. "I couldn't put it there. I have no clue why. It was unbelievable."
In the fifth inning, Kansas City switched up the model when Alcides Escobar drilled the first pitch he received from Masterson out to left field in a hurry for a leadoff home run. It marked the third long ball of the season for the Royals shortstop, but only the second surrendered on the year by Masterson.
Things unraveled in the seventh inning for Masterson, who notched a season-high nine strikeouts and tried to save the bullpen some work in the first tilt of a doubleheader. Kansas City collected three singles off Masterson and tacked on two more runs, including one on a bases-loaded walk issued by Indians reliever Matt Albers.
Masterson was charged with seven runs on nine hits in 6 1/3 innings in the loss.
"When he worked ahead and got to two strikes, I thought his stuff was crisp," Francona said. "I actually thought it was electric. In the second and the fourth inning, he got two quick outs, walked Moustakas on four pitches both times, and that led to four runs.
"Escobar kind of ambushed him on a first-pitch fastball that wandered back over. That happens."
While the pitching was hardly sharp, the lack of offense only made the mistakes more glaring.
For the third game in a row, Cleveland's lineup was blanked for at least the first five innings. The Indians were held off the scoreboard for the first eight frames on Saturday night and the Royals kept the Tribe in check for the entirety of the opener of Sunday's twin bill.
Guthrie (3-0) picked up the win after shutting out the Indians over 6 2/3 solid innings. The right-hander struck out five, walked three and turned in 112 pitches in the victory. Cleveland put at least one baserunner aboard in each of Guthrie's innings, but the repeatedly wiggled out of jams.
"I think that whole [Royals] staff kind of has a different philosophy, the way they're going about pitching now," Swisher said. "They do a good job. I think the biggest thing is, we've got a good amount of guys on this team who take a lot of pitches. We try to wear pitchers down. Those guys are throwing strikes, man. The next thing you know, you blink your eyes, and you're down 0-2.
"We need to do our best to make that adjustment to get ourselves better. We're a way better ball team than what we're playing like right now."
Jordan Bastian is a reporter for MLB.com. Read his blog, Major League Bastian, and follow him on Twitter @MLBastian. This story was not subject to the approval of Major League Baseball or its clubs.