Guthrie matches KC record for unbeaten starts
Royals right-hander pins down Indians in Game 1 of day-night twin bill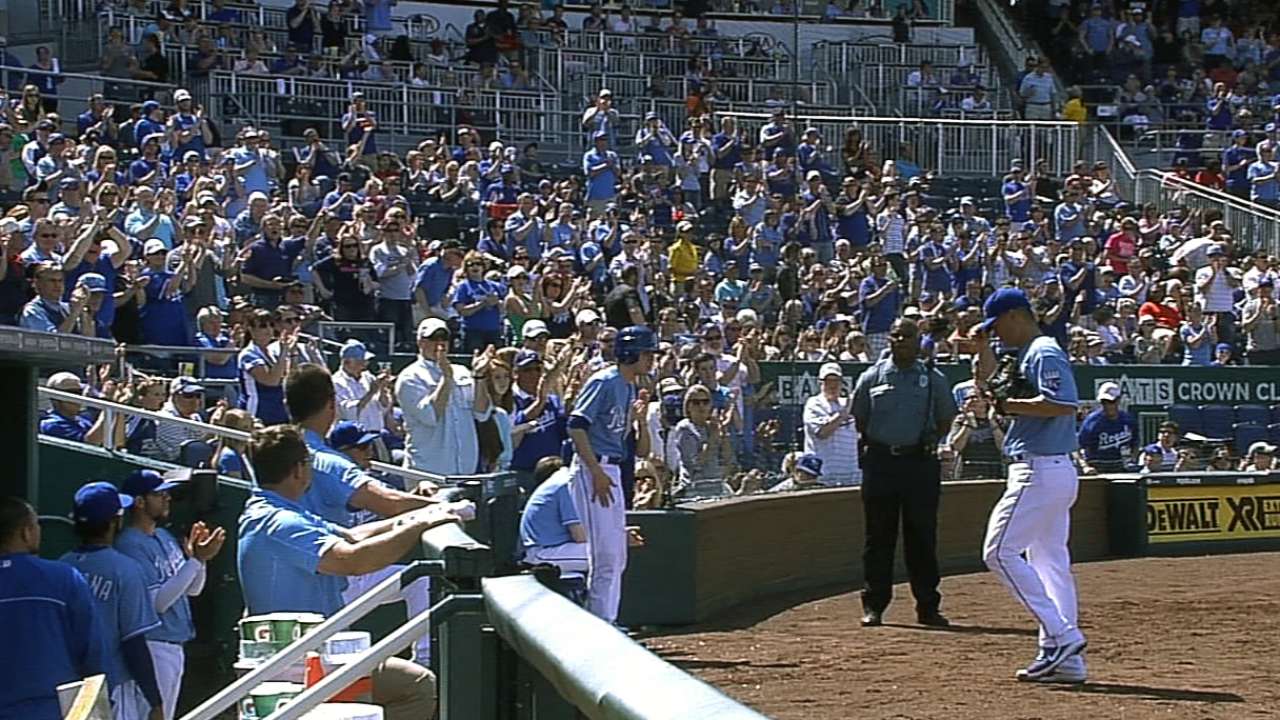 KANSAS CITY -- There just seems to be no beating Jeremy Guthrie.
Guthrie made his 16th consecutive start without a loss for Kansas City in the Royals' 9-0 victory over the Cleveland Indians on Sunday in the first game of a day-night doubleheader at Kauffman Stadium.
That string of undefeated starts, dating to last Aug. 8, matched the club record set by Royals Hall of Fame left-hander Paul Splittorff from Aug. 13, 1977, to April 22, 1978.
The game, which began in 68-degree sunshine and finished at 73, drew 22,001 fans including walk-up sales of more than 6,400. This was the first split doubleheader at home in Royals history.
The Royals beat right-hander Justin Masterson, who came into the game with a 4-1 record and a 1.85 ERA. He, too, was seeking a special achievement. He was 5-0 in April 2011 and, with a victory on Sunday, he could've become the first pitcher since 1920 to have five or more April wins in multiple seasons.
"Justin Masterson is such a good pitcher and going into the game, my mind was prepared for a low-scoring affair, that we were going to have to squeak out some runs," Royals manager Ned Yost said.
But by the afternoon was over, the Royals had a home run and two RBIs each from Alcides Escobar and Alex Gordon and two RBIs also from Jarrod Dyson.
Masterson was dinged for seven runs on nine hits in his 6 1/3 innings. This was the Royals' highest-scoring game since they had nine runs in the sixth game of the season at Philadelphia.
"It was a great day offensively and a great day for our pitching staff," Yost said.
Guthrie started his undefeated streak of 16 starts on Aug. 8, 2012, at Chicago. Since then he's had a 7-0 record and a 2.44 ERA. Even better, the Royals have won 14 of those 16 games.
"Ultimately it means a lot because it means that hopefully the guys behind me, when I go out, are confident they have a chance to win the game," Guthrie said.
Guthrie pitched into the seventh inning, working around hits or walks in every inning. He said he learned a lot about the Indians by watching Ervin Santana pitch seven shutout innings in Saturday night's 3-2 victory and listening to catcher Salvador Perez on Sunday morning.
"To see Ervin got out there yesterday and do what he did, that gives everybody else confidence, to see him be able to dissect the lineup and just be as dominant as he was just gives me a little bit of a blueprint," Guthrie said. "And Salvy carried that over into the meetings today."
He also gave Perez credit for throwing out Jason Kipnis trying to steal to end the third inning.
"Salvy throwing that guy [out] at second from his knees the way he did was a big momentum-shifter for me and kind of got me out of a jam," Guthrie said.
About the closest the Indians came to scoring was on Carlos Santana's drive to the top of the right-center field wall in the second inning. It was a double, but the Indians thought it might have cleared the wall for a homer. A video replay, however, verified it was a double.
The Indians' Nick Swisher has been impressed by the Royals' pitching.
"I think that whole staff kind of has a different philosophy, the way they're going about pitching now," Swisher said. "They do a good job. I think the biggest thing is we've got a good amount of guys on this team who take a lot of pitches. We try to wear pitchers down. Those guys are throwing strikes, man. The next thing you know, you blink your eyes, and you're down 0-2.""
By the fifth inning, Guthrie had a 4-0 lead. That came when Escobar lined a home run just inside the left-field foul pole off Masterson's first pitch. It was Escobar's third home run this year and the 500th hit of his career.
"To get 500 with a homer is really nice," Escobar said. "We had a lot of offense. Everybody did something."
Indeed, everyone in the lineup got on base at least once -- Mike Moustakas four times on three walks and a single. His run-scoring walk in the seventh marked the Royals' fifth walk with the bases loaded this season.
Moustakas' first two walks each came with two outs and ignited scoring for the Royals in the second and fourth innings. Each walk came on four pitches, baffling Masterson.
"I think there was a force field around the strike zone for his first two at-bats. I couldn't put it there," Masterson said. "I have no clue why. It was unbelievable."
Jeff Francoeur hit an RBI double to the left-center field wall for the Royals' first run. Eric Hosmer banged a run-scoring single. Dyson, giving center fielder Lorenzo Cain a break, drove in his two runs with a double and a single.
Gordon capped off the scoring in the eighth, belting a two-run homer off reliever Scott Barnes. Gordon's third homer of the season came after Chris Getz walked and it traveled an estimated 416 feet to right-center field.
"He works hard at being a good hitter and when he gets his pitches, he doesn't miss 'em," Yost said.
Guthrie was pulled in the seventh with two out and two on and left-hander Tim Collins got the third out. Luke Hochevar finished up with two scoreless innings and the former starter got to absorb the cheers and get the handshakes at the mound.
"That's fun. As a starter, the only time you're getting that is when you go [a complete game]," Hochevar said. "It's fun finishing games like that, especially with the adrenaline, it's real fun."
Dick Kaegel is a reporter for MLB.com. This story was not subject to the approval of Major League Baseball or its clubs.