Offense misses opportunities as Rox fall in 10
Francis, bullpen effective in wild loss; Rosario belts sixth homer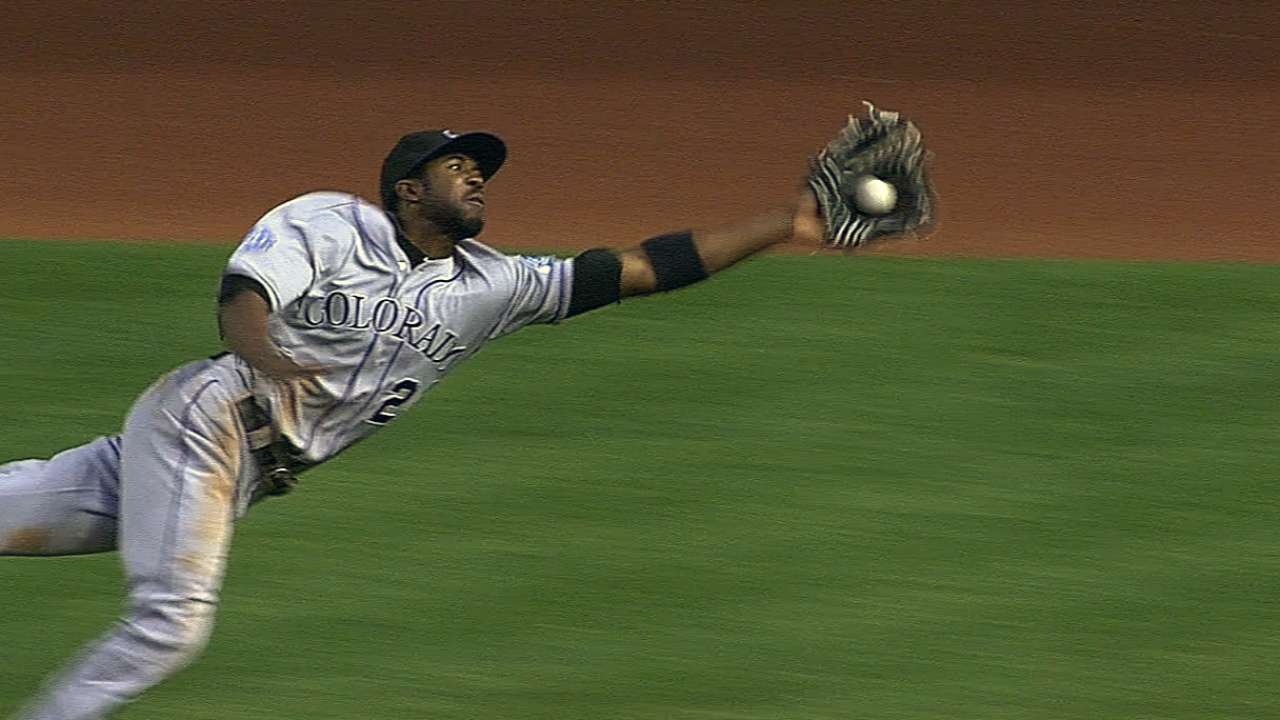 PHOENIX -- The Rockies drew four first-inning walks from D-backs starter Wade Miley on Saturday. Such strategy normally means a big inning.
Instead, the Rockies were left scratching their heads. The rest of the night didn't get much better, and Colorado ended up losing, 3-2, in 10 innings at Chase Field in front of 31,019.
"It didn't look like we were supposed to win this game from the outset," Rockies outfielder Michael Cuddyer said.
Cody Ross ended the odd game with a 10th-inning sacrifice fly against Edgmer Escalona (1-1) to lift the D-backs to 6-0 in extra innings this season, as well as to a game behind the National League West-leading Rockies.
The Rockies have dropped two of three in the four-game set, which concludes Sunday afternoon. In Thursday's 3-2 loss they were 1-for-11 with runners in scoring position, and on Saturday they were 1-for-9. But Saturday seemed worse, especially after that first inning.
Ross' winning RBI was set up when A.J. Pollock singled off Escalona to open the 10th and took third on a steal and catcher Wilin Rosario's throwing error.
"I was just looking for something out over the plate that I could get some good wood on, and fortunately [I was] able to get it into the air," said Ross, who punctuated his fly ball with a triumphant bat flip, before the D-backs rushed from the dugout to celebrate.
Miley allowed 11 baserunners, including a career-high seven on walks, in 4 1/3 innings but did not surrender a run.
Miley walked Dexter Fowler and Jordan Pacheco to open the game but forced a double-play grounder from Carlos Gonzalez, who went 1-for-5 and is in a 4-for-34 rut. Miley then walked Troy Tulowitzki and Cuddyer, only to strike out Rosario.
"I think it's fair saying he was effectively wild," Rockies manager Walt Weiss said. "I don't know if I've ever seen four walks in an inning without a run."
In fact, it had never happened in D-backs history. The inning was only the start of the Rockies' maddening evening.
Miley left with the bases loaded in the fifth, only to have reliever Brad Ziegler work Cuddyer into a double play.
Rosario opened the Rockies' sixth with his sixth homer of the year, off Ziegler. Dexter Fowler, who made a diving catch to save a run in the sixth, used his speed for a leadoff double in the seventh and scored on Tulowitzki's two-out hit. However, that inning ended with Tulowitzki being thrown out at second trying to stretch his single.
The eighth was nothing but disappointment.
Cuddyer and Rosario began the frame with singles off David Hernandez. Josh Rutledge attempted to bunt, but Hernandez's pitch was in the dirt. Catcher Miguel Montero, however, improbably scooped up the pitch and threw out Cuddyer, who thought he could advance.
"I don't know how in the hell he caught it, and I think if you ask him he doesn't know," Cuddyer said.
Then Rosario misread Rutledge's line drive and was doubled off second.
"You've got to take advantage of it," said Fowler, who walked three times in addition to his double. "You have guys all over the place."
The messy offensive plays negated a decent pitching night by lefty Jeff Francis and more solid work from the bullpen.
Francis, pitching on three days' rest, gave up Pollock's solo homer and Ross' RBI triple in the first on changeups. Then he pocketed that pitch and didn't give up any more runs in his five innings.
"The [changeup] just hasn't been doing much for me, so I had to throw more fastballs the rest of the game, and try to take a little off or add a little more," Francis said.
The bullpen would extend its scoreless streak to 16 innings before the 10th, and there was plenty of clutch work.
Gerardo Parra singled off Adam Ottavino to open the seventh and advanced two bases on a wild pitch, but Ottavino then fanned Josh Wilson and Cliff Pennington. Rex Brothers walked Alfredo Marte then forced Martin Prado to fly out to right for his ninth straight scoreless outing. Matt Belisle also struck out Prado to end the ninth with two on base.
"Jeff [Francis] did his job, the bullpen did its job," Weiss said. "Our offense didn't really do a job tonight."
Thomas Harding is a reporter for MLB.com. Read his blog, Hardball in the Rockies, and follow him on Twitter @harding_at_mlb. This story was not subject to the approval of Major League Baseball or its clubs.