Ross' sac fly lifts D-backs in 10 on wild night
Pollock homers, scores winning run; Miley battles command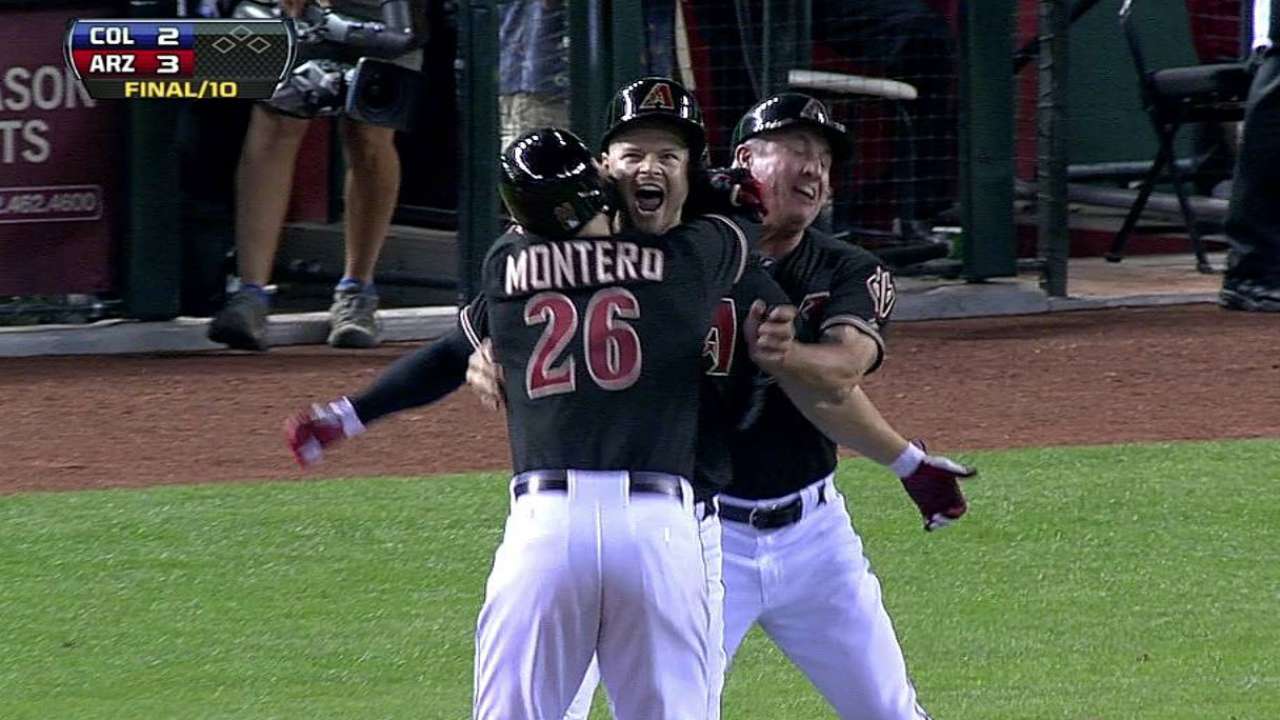 PHOENIX -- As he watched his ball sail into center field, Cody Ross flipped his bat and began to trot out of the batter's box.
No, the D-backs outfielder did not think he had hit a home run. He knew that the ball was likely to wind up in center fielder Dexter Fowler's glove.
But he was aware it was hit deep enough for A.J. Pollock to stroll home with the game-winning run as the D-backs beat the Rockies, 3-2, in 10 innings on Saturday night at Chase Field.
"I don't know, maybe," Ross said with a smile when he was asked if that was the first time he ever flipped his bat on a sacrifice fly.
Ross came to the D-backs with the reputation of someone who comes through in the clutch and he already had delivered a go-ahead RBI in extra innings this year against the Yankees.
"You've seen it before in bigger situations than we were in tonight," D-backs manager Kirk Gibson said of Ross. "That's where that good experience comes in. Great approach on that last ball he hit."
Pollock led off the 10th with a single through the hole at third on a 2-2 pitch from Edgmer Escalona.
"The at-bat, he got me in a two-strike hole and I just wanted to put the ball in play and it worked out," Pollock said.
As soon as he reached first he and first-base coach Steve Sax talked about the possibility of stealing, but with no one out, Pollock thought it best to be patient.
After Paul Goldschmidt struck out, though, Pollock was prepared to go and he took off on the second pitch to Miguel Montero.
"Me and Sax were talking and we thought we had him," Pollock said. "That time it just felt like I've got to make something happen, so just went with it."
Pollock did make something happen. Not only was he safe at second, but catcher Wilin Rosario's throw skipped by shortstop Troy Tulowitzki and into center, which allowed Pollock to move to third with one out and Ross due up.
"That guy's got good stuff," Ross said of Escalona. "He throws hard, has a good slider and I was just looking for something out over the plate that I could get some good wood on, and fortunately [I was] able to get it into the air."
The sacrifice fly capped what was a head-scratcher of a game.
D-backs starter Wade Miley opened the game by walking four in the first inning, yet thanks to a double play, he managed to get out of the inning without allowing a run.
"It was a very strange game," Rockies manager Walt Weiss said. "You miss that many opportunities, it's going to come back to haunt you. We can't miss that many opportunities and expect to win the game."
Miley had pitched well in his first four starts of the year, but he struggled with his command, walking seven before having to come out after just 4 1/3 innings and 98 pitches.
Despite allowing 11 runners to reach base against him, somehow Miley managed to keep the Rockies from scoring.
"It was one of those days," Miley said. "You're going to have those days. I didn't have it, plain and simple. A lot of scuffling out there. ... I had I don't know how many baserunners and how they didn't score, who knows? We were fortunate enough to win."
The D-backs managed to win the game while going 0-for-5 with runners in scoring position.
Their first two runs came in the first inning when Pollock hit a solo homer off Jeff Francis, and after Miguel Montero beat out an infield hit, Ross delivered an RBI triple.
That was it for the Arizona offense until the 10th, while the Rockies managed to tie the game with single runs in the sixth and seventh innings.
It was not the prettiest of wins, but that hardly mattered in the home clubhouse where the team is already serving notice that grinding out wins is more than acceptable.
"If something doesn't go your way, it's stupid if you get down because we've come back so many times that we really just have to get right back at it, because we've proven we could come from behind," Pollock said. "We battle and that includes our pitchers. I'm not sure if we all had our best stuff, but it's fun squeezing out a win like that."
Steve Gilbert is a reporter for MLB.com. Read his blog, Inside the D-backs, and follow him on Twitter @SteveGilbertMLB. This story was not subject to the approval of Major League Baseball or its clubs.