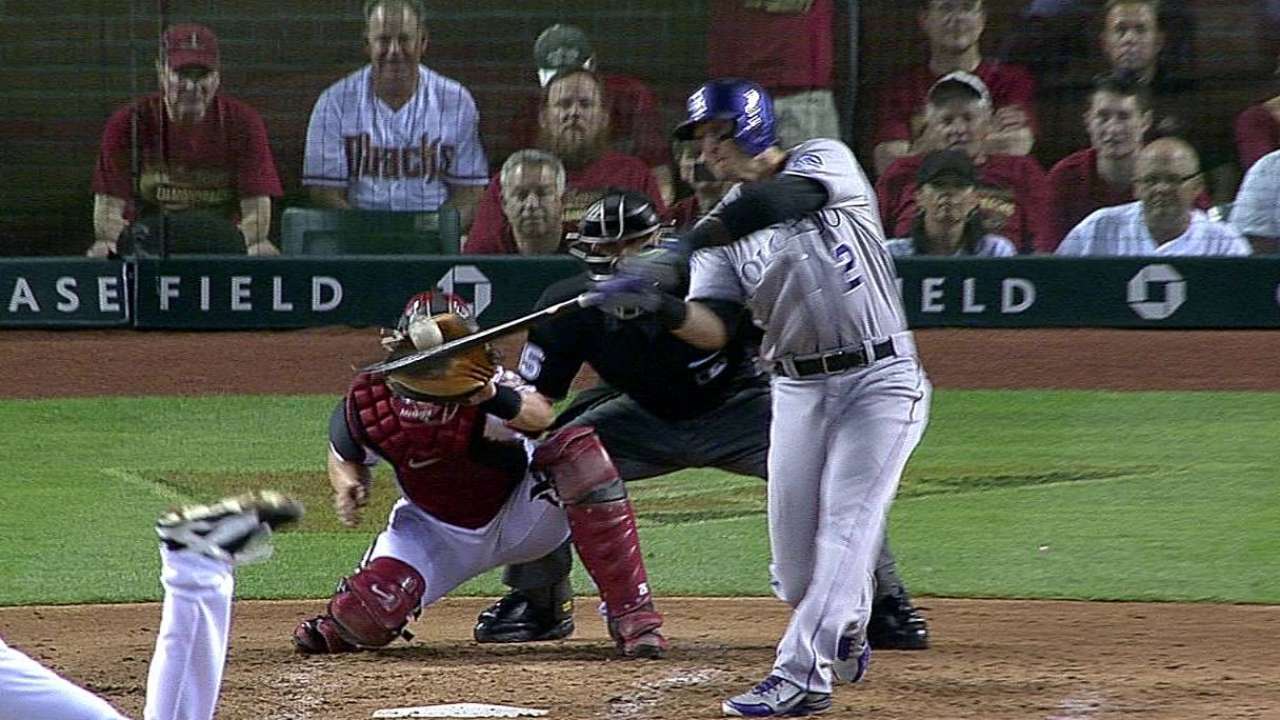 PHOENIX -- Many players would be delirious with some of Rockies shortstop Troy Tulowitzki's "slow" starts.
Tulowitzki entered Saturday's game against the D-backs with a career .877 on-base plus slugging percentage (OPS). His career OPS for April is .747. The only players with 500 or more Major League games with a greater difference between April and career OPS are Matt Diaz, Alexei Ramirez and Rajai Davis.
Of course, Tulowitkzi's April OPS was pulled down by his tentative rookie year of 2007, and slump- and injury-plagued Aprils the following two years. But in recent seasons, which have included All-Star Game trips in 2010 and 2011, Tulowitzki has started strong and quickly heated up.
His OPS from 2010 is .918 while his April OPS is .865. That means he has been lifting his OPS by .053 points. Only 54 players with 300 games played over that time have greater rises from April to season's end.
He also has been heating up quickly. Since 2010, he has had an .846 OPS that he rises to .918 by the All-Star break, an improvement of .072, which is third among active players with 300 games played during that span.
It all means that as his career has progressed, Tulowitzki has started strong, then quickly became even better and stayed that way.
"I would say I've started slow compared to the second half of some years," Tulowitzki said. "But there's no doubt about it. When you're feeling good out there, your chances to succeed are going to be good."
If Tulowitzki's OPS rises at the same rate this year, he could put himself in the National League Most Valuable Player talk. Tulowitzki went into Saturday night leading shortstops in the Major Leagues with a .983 OPS, 10 points higher than that of the Athletics' Jed Lowrie. Also, Tulowitzki's .608 slugging percentage is 60 points higher than Lowrie's.
Tulowitzki's strong numbers have included an 0-for-10, three-game rut April 14-16 and an 0-for-7 doubleheader with the Braves on April 23. The slow starts of the past have taught Tulowitzki how to ride out his struggles, and that trait is paying off in quick adjustments this year. Also, Tulowitzki is taking time to appreciate being healthy, after being limited to 47 games last year because of a left groin problem that led to surgery to remove scar tissue.
"I've had some ups, definitely had some downs. But just because I've been hurt and I want to play so bad, sometimes no matter how you do, good or bad -- you're just happy to be out there playing."
Thomas Harding is a reporter for MLB.com. Read his blog, Hardball in the Rockies, and follow him on Twitter @harding_at_mlb. This story was not subject to the approval of Major League Baseball or its clubs.