Kendrys backs Felix's gem against Angels
Former Halos slugger delivers clutch pinch-hit RBI in Seattle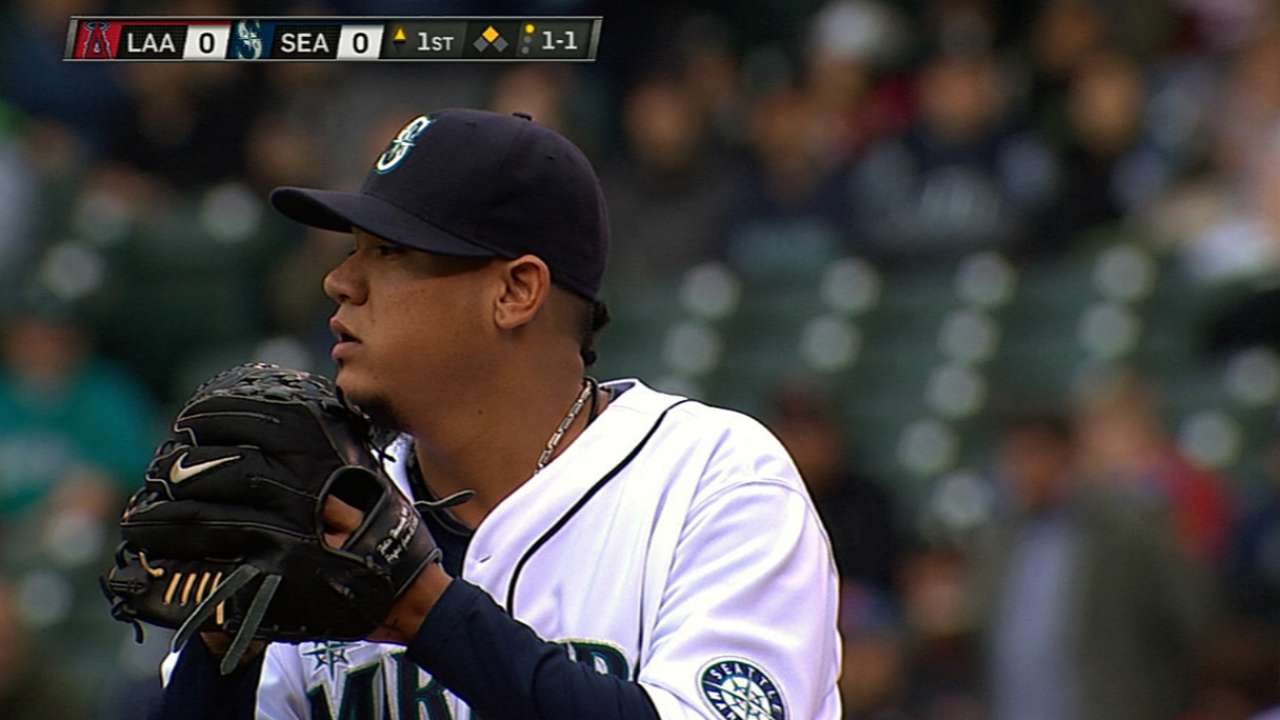 SEATTLE -- When Felix Hernandez pitches at Safeco Field, there's a new tradition of yellow-shirted fans in the left-field corner pulling for every pitch.
That's not his only loyal cheering section. There's a whole dugout that lives and dies with him each outing.
Hernandez, the Mariners' ace right-hander, got the support he needed Saturday night, as Jesus Montero hit a game-tying home run in the sixth inning and pinch-hitter Kendrys Morales stroked a go-ahead RBI single in the seventh for a 3-2 victory over the Angels.
"I was looking to hit the ball hard. He tired to throw me a slider in. I hit it good," said Montero, on his home run on a 1-0 pitch from Joe Blanton (0-4). "That's what I wanted. I wanted Felix to win. I wanted the team to win. It feels good."
Manager Eric Wedge said the home run "got everyone pumped up tonight. He came in the dugout excited. You tie the ballgame up. Everyone's working hard to try to get on top for Felix, and for each other, for that matter. So that was a big momentum swing for us."
The comeback victory was a rare treat for Hernandez (3-2), who has struggled historically against the Angels. He entered the game with a 6-12 career record and a 4.07 ERA against the American League West rivals. He had not beaten the Angels since Sept. 6, 2011.
He worked eight innings while allowing two runs (one earned) and five hits. He struck out seven and walked one.
"It's been a while since I beat those guys," Hernandez said. "That's a pretty good lineup. My job is to make good pitches and try to keep [Mike] Trout and [Peter] Bourjos off base. That's what did."
Mostly he did, though Bourjos did do some damage.
Chris Iannetta put the Angels up in the third on Hernandez's first pitch, a blast that carried over the left-center-field wall for his third home run.
Bourjos followed with a single to right. He stole second and raced to third when catcher Montero's throw sailed into center field. Bourjos scored on Trout's sac fly to right.
In the fourth, Hernandez offered evidence that he's not just a pitcher, he's an athlete, as he foiled a squeeze bunt with a smooth move.
With Mark Trumbo on third and Howie Kendrick on first with one out, Brendan Harris laid down a bunt in front of the mound. Trumbo streaked home on contact. Hernandez bounded off the mound, swept the ball with his glove and -- without transferring -- flipped it to Montero, who blocked the plate and put the tag on Trumbo for an out.
"That's a big difference right there, and we win the game," Hernandez said.
Montero said "it was a nice play by him. He throws the ball with his glove. I try to block the plate. That guy is huge. I was like, 'Please don't hit me.' We make a nice play right there.
"I try to be in front of home plate. I did not want him to touch home plate with his feet. Those moments are kind of scary, especially with a big guy like him."
Trumbo added, "I guess I wasn't terribly surprised because I've seen him make some good plays all the time."
Kyle Seager opened the seventh with a single, extending his hitting streak to a career-high 16 games, longest in the Majors this season and the longest by a Mariners player since Mike Carp recorded a 20-game streak in 2011.
Michael Morse followed with a single to left. After Justin Smoak struck out, Morales, the former Angels slugger, rose from the bench to hit a Michael Roth pitch into left field. Seager scored without a throw.
Blanton had ruled the Northwest. He was 5-0 with a 2.93 (40-13) ERA in five previous starts at Safeco Field. On Saturday, he went six-plus innings, allowing nine hits and two runs. He walked four and struck out five.
"I don't like walking guys no matter what," Blanton said. "I can live with myself when guys are smacking the ball all over the place and I'm throwing strikes. When walks beat you, you're basically beating yourself."
The Mariners, who were 1-for-12 with runners in scoring position during Friday's 6-3 loss, were 1-for-10 on Saturday.
Twelve of the Mariners' 26 games have been decided by two runs or fewer.
Bob Sherwin is a contributor to MLB.com. This story was not subject to the approval of Major League Baseball or its clubs.