Angels edged out by Felix in Seattle
Iannetta homers for early lead, but Mariners ace prevails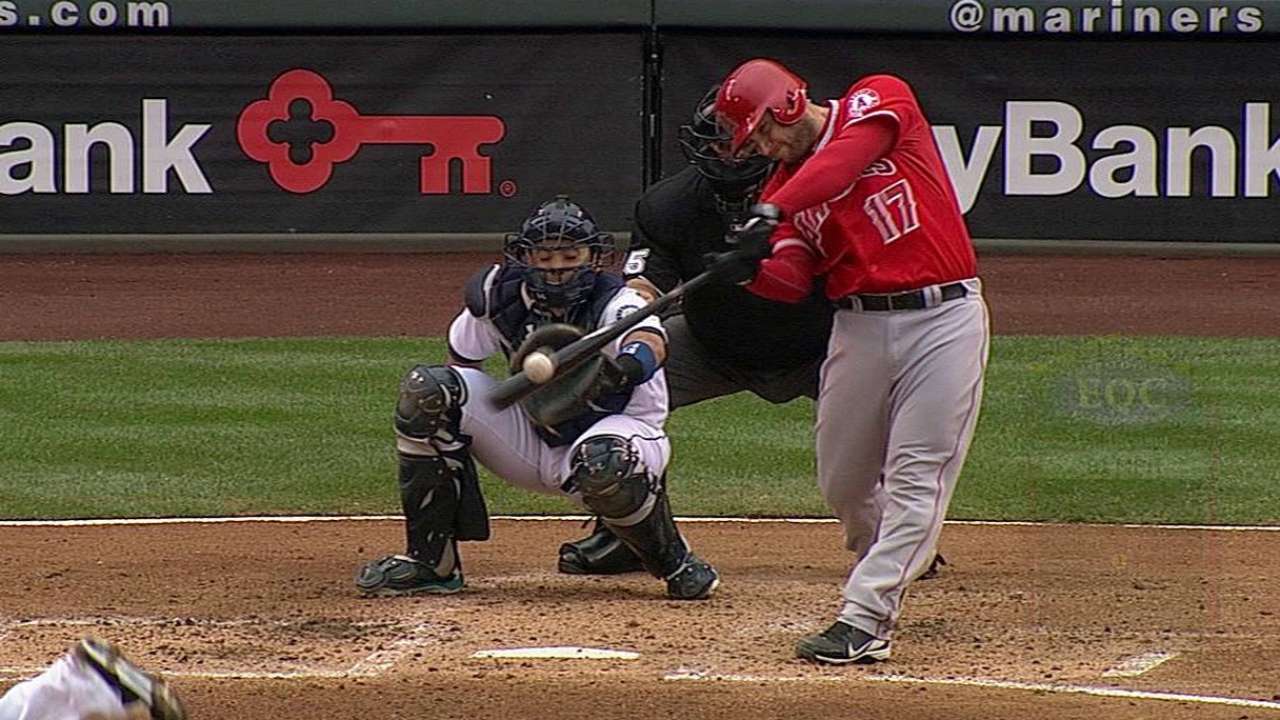 SEATTLE -- For some odd reason, the Angels are one of few teams that have actually had a sizable amount of success against Felix Hernandez, winning 12 of their last 15 games with him on the opposing mound and pounding out 24 runs in 31 2/3 innings vs. the Mariners' ace just last year.
On Saturday night, though, the narrative changed.
In the third of a four-game series at Safeco Field, Hernandez carved up the Angels, pitching eight innings of two-run ball, retiring his last 14 hitters in order and setting the stage for Kendrys Morales' seventh-inning heroics to hand the Angels a 3-2 loss.
The Angels, who have lost three of their last four, are now 9-14 to start the season -- just one game better than they were through the first 23 games of last year's sluggish April.
"It's been a while since I beat those guys," Hernandez said after capturing his first win against the Angels since Sept. 6, 2011. "That's a pretty good lineup. My job was to go out and make good pitches and try to keep [Mike] Trout and [Peter] Bourjos off the bases. That's what I did."
Hernandez's counterpart, Joe Blanton, notched his first quality start of what has been a rough start to the season, giving up three runs in six-plus innings -- but in no way did he take that as a good sign.
Blanton once again flirted with danger throughout the night, scattering nine hits -- making it 30 consecutive innings with at least one hit this season -- while walking an uncharacteristically high four batters.
"I don't like walking guys, no matter what," said Blanton, now 0-4 with a 7.09 ERA in his first five starts. "I can live with myself when guys are smacking the ball all over the place and I'm throwing strikes. When walks beat you, you're basically beating yourself. That's something I really try to avoid, and I wasn't able to do it today."
For the first five frames, Blanton was able to work out of trouble -- particularly in the fifth, despite loading the bases with one out. But in the sixth, Jesus Montero ripped a two-run homer to tie the game. And in the seventh, Blanton began an inning that saw Seattle plate the winning run.
In search of some rare depth from a starter and dealing with a depleted bullpen, Angels manager Mike Scioscia had Blanton come out for the seventh with 104 pitches under his belt. But the 32-year-old right-hander proceeded to give up back-to-back, hard-hit singles to Kyle Seager and Michael Morse, prompting Scioscia to bring in lefty Michael Roth -- who was pitching for the University of South Carolina at this time last year.
Two batters later, Morales, the long-time Angels slugger who was traded for Jason Vargas in December, hit a pinch-hit RBI single to left field.
"It wasn't a great pitch," Roth said of the sinker that stayed out over the plate.
"At some point, these starters have to get deeper if we're going to get rolling the way we need to," Scioscia said of a staff that has completed seven innings only three times in 23 games. "Joe uncharacteristically walked guys tonight. That's not his M.O. That caused him a lot of extra pitches."
Josh Hamilton hit a one-out single against Mariners closer Tom Wilhelmsen in the ninth, then eventually stole second, but was left stranded after Mark Trumbo struck out and Howie Kendrick lined out to end the game.
The Angels had very few opportunities against Hernandez, but the ones they missed haunted them.
With Trout on second and one out in the first, Albert Pujols and Hamilton grounded out. And with runners on the corners and one out in the fourth, Brendan Harris laid down a suicide-squeeze bunt, but Hernandez made a nifty glove flip to nail down Trumbo at the plate.
After that, Hernandez basically became unhittable, retiring the next 13 hitters in order. He gave up runs on a Chris Iannetta solo homer and a Trout sacrifice fly, giving up five hits, walking one, striking out seven and lowering his ERA to 1.90 through the first five starts.
"He obviously pounds the strike zone," Trumbo said. "He's got command of at least three, maybe a fourth pitch, too. It's tough to have a rock solid plan with him out there. Today he seemed to be favoring more of a cutter. His changeup, I think he calls it, came on later, and that's what he used to get quite a few strikeouts, and he's got the power breaking ball as well."
Alden Gonzalez is a reporter for MLB.com. Read his blog, Gonzo and "The Show", and follow him on Twitter @Alden_Gonzalez. This story was not subject to the approval of Major League Baseball or its clubs.