Errors fuel Giants' 12-inning loss to Padres
Torres' misplay sparks six-run fourth; Scutaro's allows game winner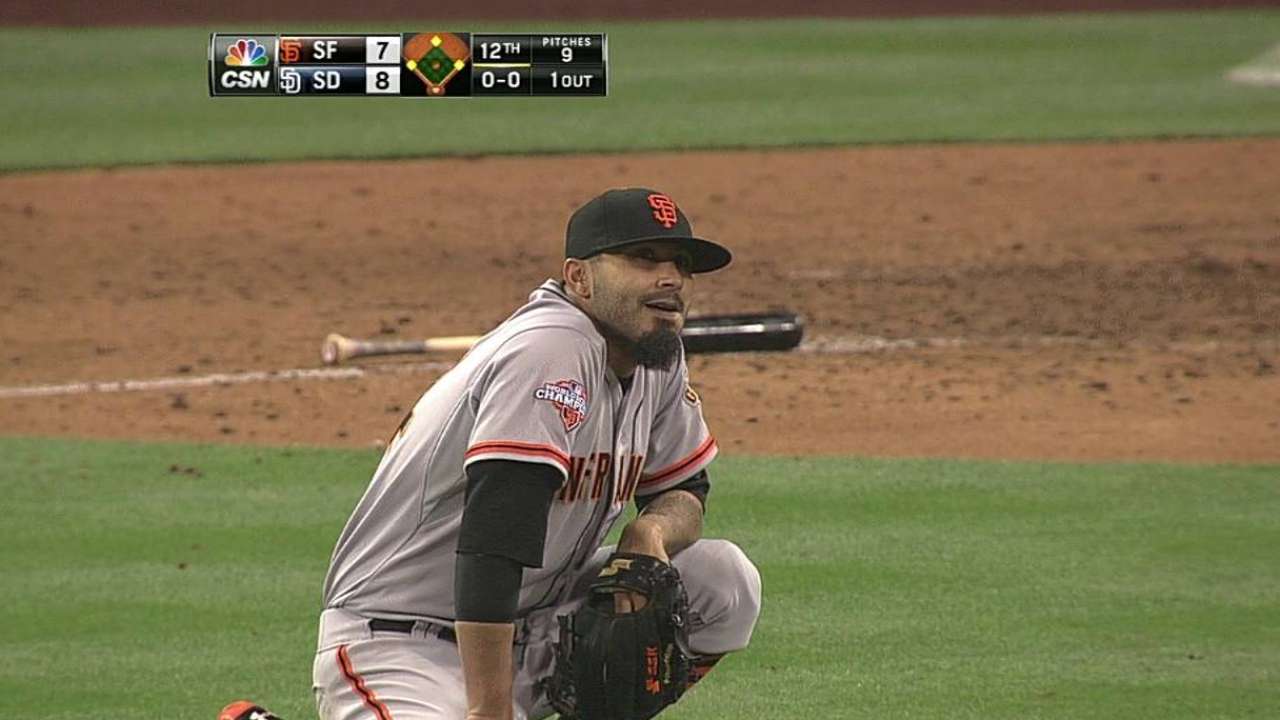 SAN DIEGO -- Though a lot happened during the Giants' 8-7, 12-inning loss Saturday night to the Padres, the events that bridged the four-hour, 19-minute affair were easy to identify: stunning fielding errors by left fielder Andres Torres and second baseman Marco Scutaro that accounted for most of San Diego's offense.
San Francisco's season-high fourth consecutive defeat was sealed when Scutaro mishandled Nick Hundley's short-hop grounder, enabling Yonder Alonso to score the run that snapped a 7-7 tie.
But the game turned in the fourth inning, when Torres missed Carlos Quentin's catchable line drive for a two-base error. It precipitated San Diego's six-run uprising that erased the Giants' 5-0 lead.
"We're not playing as a team," Scutaro said.
He didn't mean that the reigning World Series champions are plagued by dissension. Rather, he pointed out that the Giants are enduring a period when they're not receiving sufficient pitching, offense and defense simultaneously.
"Sometimes we pitch and we don't hit; sometimes we hit and we don't pitch," Scutaro said. "It's a matter of time before we start putting all those things together. It'll be fun."
Defense actually sustained the Giants in the 11th, when right fielder Hunter Pence dove to snare pinch-hitter John Baker's fly ball with two outs and Everth Cabrera on second base. That was the last of three shtuout innings pitched by Jean Machi, the stalwart of San Francisco's bullpen in this game.
The end came quickly in the 12th. Facing Sergio Romo with one out, Alonso lashed his third double of the game. He had to hold at third base on Jedd Gyorko's hard-hit single to right field.
Up came Hundley, who smashed Romo's first pitch at Scutaro on one hop. Under normal circumstances, it probably would have been an inning-ending double-play grounder. But Scutaro was playing halfway in on the infield dirt, in case he had to try to throw out Alonso at home if Hundley hit a slow roller.
Scutaro got his glove on the ball but couldn't grab it. It trickled past him, prompting shortstop Brandon Crawford to chase it. Crawford made a desperate throw home, but by then Alonso had scored the run that sealed the Giants' fifth road loss in a row.
"I don't have any excuses. I didn't make the play," Scutaro said.
Giants manager Bruce Bochy absolved Scutaro from blame. "It was a tough hop, an in-between hop," Bochy said.
Initially, it all seemed so easy for the Giants. They opened the scoring in the second inning on Crawford's three-run homer off Padres starter Eric Stults. It was Crawford's fifth homer of the season, second among Major League shortstops behind Troy Tulowitzki's six for Colorado. After the Giants added a pair of third-inning runs, history suggested that victory should have been almost automatic for starter Barry Zito, who owned a 127-7 record when receiving at least four runs of support while he's on the mound.
Then came the fateful fourth inning. Each run except one was unearned, because Torres missed Quentin's relatively easy line drive with one out. The Padres capitalized on this reprieve as six of the next seven batters reached base safely. Two-run doubles by Alonso and Chris Denorfia sandwiched pinch-hitter Jesus Guzman's RBI single. Chad Gaudin relieved Zito and finished the inning, but not before surrendering Cabrera's single that scored Denorfia with the go-ahead run.
"I don't know what happened. I feel terrible," Torres said. "No excuses. I just missed the ball."
Said Zito, "All we ask is you do your best, and we know Torres is busting his tail as much as anyone."
Instead of criticizing Torres, Zito credited the Padres for hitting pitches that he wanted to throw.
"It's tough to tip your hat, but you have to sometimes," he said.
The exception, Zito said, was a changeup that Guzman whacked into center field.
"I've got to get it down or throw something else," he said. "It was off the plate but up in the zone."
The undaunted Giants leapfrogged San Diego in the fifth. Scutaro and Buster Posey singled before Pence tripled to right field off Anthony Bass with two outs.
San Diego pulled even in the seventh inning, when Chase Headley doubled leading off against Gaudin and scored on Blanks' single off George Kontos.
Chris Haft is a reporter for MLB.com. This story was not subject to the approval of Major League Baseball or its clubs.