Alonso's doubles key in Padres' walk-off victory
San Diego mounts six-run frame, later wins in 12th inning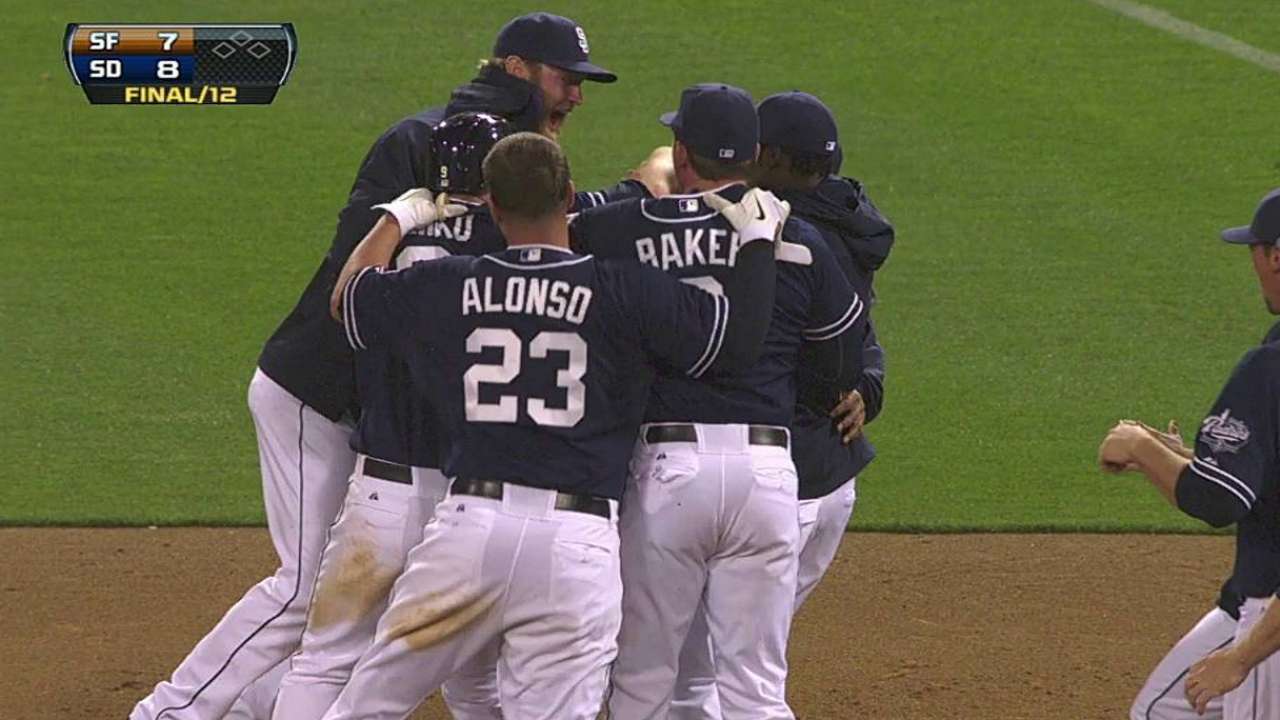 SAN DIEGO -- Nick Hundley drove in the game-winning run in the 12th as the Padres twice rallied back from deficits to defeat the San Francisco Giants, 8-7, in the second of a three-game series at Petco Park on Saturday.
Yonder Alonso led off the 12th against Giants closer Sergio Romo with his third double of the game, a one-out line drive to the same gap in left-center where he hit his previous two doubles. Jedd Gyorko followed with a single to right to move Alonso to third, bringing up Hundley, who hit a hard one-hopper to second baseman Marco Scutaro. While Scutaro could not glove the ball, Alonso raced home and gave the Padres a second straight win over the Giants for the first time since July 4-5, 2011.
"I'm trying to elevate it and drive in the run," Hundley said. "Fortunately, we got it done. For a second, I thought it was going to get to [Scutaro] in the air. I hit it off the end [of the bat], so it kind of had a little funky spin on it."
Although Scutaro was charged with an error on the play, Hundley did get credit for driving in the run.
"It's a series win, and it's our first home series win of the year," Hundley said. "It's big for us. Guys did a great job battling and putting quality at-bats together up and down the lineup. We got a win."
For a team that won its first series at home this season, manager Bud Black acknowledged some relief when the ball skipped away from Scutaro.
"We caught a break there," Black said. "Scutaro is a pretty steady defender. That ball might have had a little English on it. It looked like maybe he came up on it just a tad. But Romo is tough. I liked the at-bats by Alonso and Gyorko. First and third, one out is tough, but you just have to put it in play."
The three doubles by Alonso tied a franchise best for the Padres, and Alonso also accomplished the feat last year in his rookie season.
"Today was a great night," Alonso said. "I don't think I've ever done that. It was definitely a good night. I was just glad I was on base in that inning, because it felt like for a second that the hitting was on pause. It was just great to get on base there and put pressure on the pitcher."
Black talked about what it means when he sees Alonso driving the ball the opposite way and churning out doubles, something he did 39 times in 2012.
"That seems to be Yonder's stroke, when he's driving the ball to left-center," Black said. "He has the ability to pull the ball, no doubt about it; he's got power to all fields. That stroke that he showed tonight, the ball away that he drives to left-center, that's a big part of his game."
Kyle Blanks tallied three hits in the game, including two doubles, to tie his career high. Blanks also tied the game at 7 in the seventh with a single that scored Chase Headley.
Joe Thatcher (1-0) pitched a scoreless 12th to earn the victory for the Padres, who won a series from the Giants for the first time since winning two of the three final games of the 2010 season.
The Padres continued to torment San Diego native Barry Zito in his hometown ballpark, rallying back for six runs in the fourth for a 6-5 advantage. It was San Diego's highest-scoring inning of the season, and the club batted around in knocking Zito out. In his 12 appearances at Petco Park, Zito has gone 1-4 with a 4.64 ERA and hasn't won here since 2008.
Alonso got the scoring started for the Padres with his second double of the game, which brought home Carlos Quentin and Blanks. Black elected to pinch-hit for starting pitcher Eric Stults and sent Jesus Guzman in against Zito. The move paid off when Guzman singled to bring home Alonso and Chris Denorfia followed with a double that plated Hundley and Guzman. Everth Cabrera, the ninth batter of the inning, singled home Denorfia to put San Diego on top, 6-5.
The Giants answered in the next frame when Hunter Pence hit a ball just beyond the reach of Blanks in right field that scored two and put San Francisco in the lead at 7-6.
Stults struggled early, allowing a three-run home run by Brandon Crawford in the second and two more runs in the third that put the Padres in a 5-0 hole.
Following an outing in which he lasted a season-high seven innings in San Francisco, Stults only made it through four in this one, allowing five runs on four hits while striking out four and walking one.
Quentin's error in left field snapped a streak of 11 games in which the club had not committed an error, tying a club best. Alonso was also charged with an error in the game for pulling his foot off first base on a throw from Cabrera.
Tim Powers is a contributor to MLB.com. This story was not subject to the approval of Major League Baseball or its clubs.