Bucs rally to hand Burnett victory vs. Cards
Pirates pitcher adds to NL-leading strikeout total in victory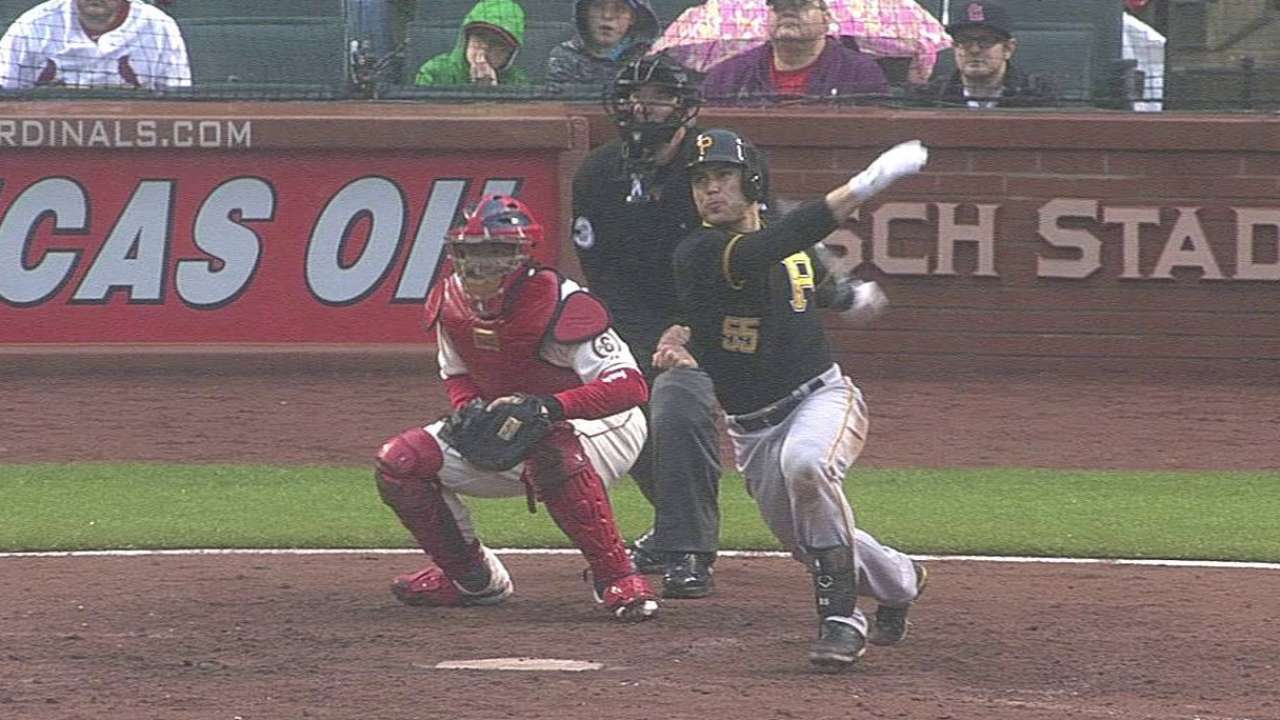 ST. LOUIS -- You can get them down. You can even kick them when they're down.
Knocking the Pirates out, however, could be another matter entirely, as the Cardinals found out on a dreary Missouri afternoon when the Bucs' chins should have been falling along with the raindrops.
But instead of giving in to a series of depressing developments, the last of which was being in a 2-0 hole to Jake Westbrook after six innings, the Pirates unleashed their usual late-game lightning for a 5-3 victory Saturday in Busch Stadium.
"You never take it for granted," manager Clint Hurdle said after the Pirates ambushed yet another bullpen, "but that's your plan. When you aren't getting things done, that's what you hold onto: 'Find a way to get [the starter] out.'"
The Bucs batted around for four runs in the seventh and added another in the eighth to return within a half-game of the NL Central-leading Cardinals.
Besides reaffirming their never-say-die resolve, the Pirates (14-10) clinched a winning April record and made good on an IOU to A.J. Burnett for not being able to score for him at all earlier in the season. Burnett departed for a pinch-hitter early in the decisive seventh inning, thus was out of the game when the rally gave him his second victory.
"I didn't really have my hook today, and any time you go up against a guy throwing the ball the way Westbrook was, it definitely makes it tougher," Burnett said after squaring his record at 2-2. "But it feels good. We're never out of it, no negative thoughts."
Batterymate Russell Martin, who tied the game and sounded reveille with his two-run homer in the seventh off Joe Kelly, called the rally to get Burnett the win "gratifying."
"That was great, man, really happy about that," Martin said. "A.J. has been pitching his butt off all year, and today seemed to go the same way, but we were able to muster up some runs and do it for him."
The day had started badly for Pittsburgh. Hurdle, with the club's medical staff in his ears, weighed whether to place Neil Walker and his gashed right hand on the disabled list. And Jonathan Sanchez drew a six-game MLB suspension for Friday night's pitch off Allen Craig's shoulder.
Then it got worse. Right fielder Travis Snider, one of the Pirates' hotter hitters, was a lineup scratch with discomfort in his right side.
And then the actual game began, the signal to invert those frowns.
Burnett allowed five hits and two runs in his six innings, walking three while striking out six to increase his National League-leading total -- and Pittsburgh April record -- to 48 strikeouts.
The Pirates could not do much against Westbrook, who shut them out through six. So the Ambush Alley plot remains the same: Wait out the opposition's starter, rally against his relief.
"I don't think Jake could've thrown much better against us today," Hurdle said. "He leaves, having pitched probably as well as he's ever pitched. Turns a 2-0 lead over to the 'pen, and still can't get the 'W.' It doesn't happen every day, but when you do that, it does build confidence for you."
Following that script, the Pirates pounced without delay on Kelly and Trevor Rosenthal for the go-ahead runs in the seventh. Kelly gave up Westbrook's lead in an instant: Pedro Alvarez led off with a single, and Martin tied it at 2 with an opposite-field homer, his third. After Clint Barmes singled and Starling Marte walked with one away, the hard-throwing Rosenthal took over -- to plunk Jose Tabata with a full-count pitch, loading the bases, and to walk Andrew McCutchen with another full-count pitch, forcing in the go-ahead run.
"I was really trying to get a ground ball there," Rosenthal said, "and get out of the inning. It was probably a little bit low. He's a very good hitter, and he did a good job of recognizing that it was down in the zone."
The Pirates got the insurance run when Garrett Jones' grounder to second, likely to lead to an inning-ending double play, was slightly bobbled by Daniel Descalso before he tossed to first for one out, while Marte scored to make it 4-2. They padded the insurance on Gaby Sanchez's eighth-inning sacrifice fly, scoring Martin after his double.
Burnett had an early challenge to keep the beginning of this game from being a carryover from Friday night's depression, and he responded. Matt Carpenter and Carlos Beltran -- who had set the dismal tone the previous night with back-to-back homers -- led off this one with consecutive singles to put men on the corners with none out. But Burnett induced Matt Holliday to bounce into a double play, as Carpenter scored, and retired Allen Craig on another grounder to minimize the toll to a 1-0 deficit.
If that tested Burnett's resolve, the next serious jam tested his nerves. After retiring the first two men in the fourth, he nicked Jon Jay with an 0-and-2 pitch and loaded the bases with walks of Pete Kozma and Descalso. He then ran the count full on Westbrook -- but had the conviction to get him looking on a 3-and-2 sinker.
"He fought and fought without his best stuff, and at times he was part of the problem," Hurdle said of Burnett, pointing out his difficulties with the bottom of the St. Louis order and the seven three-ball counts he had to survive. "But he gave it everything he had."
And this was another day for such individual valor to convert into team victory. The Cardinals turned their fourth and fifth hits -- Jay's two-out double and Kozma's RBI single -- into a 2-0 lead in the sixth. They were not heard again, kept at bay for an inning apiece by Tony Watson, Mark Melancon then Jason Grilli, who improved to a perfect 10 in 10 save opportunities.
Tom Singer is a reporter for MLB.com and writes an MLBlog Change for a Nickel. He can also be found on Twitter @Tom_Singer. This story was not subject to the approval of Major League Baseball or its clubs.