Cards bullpen continues struggles vs. Bucs
Westbrook goes six scoreless, but he leaves with no-decision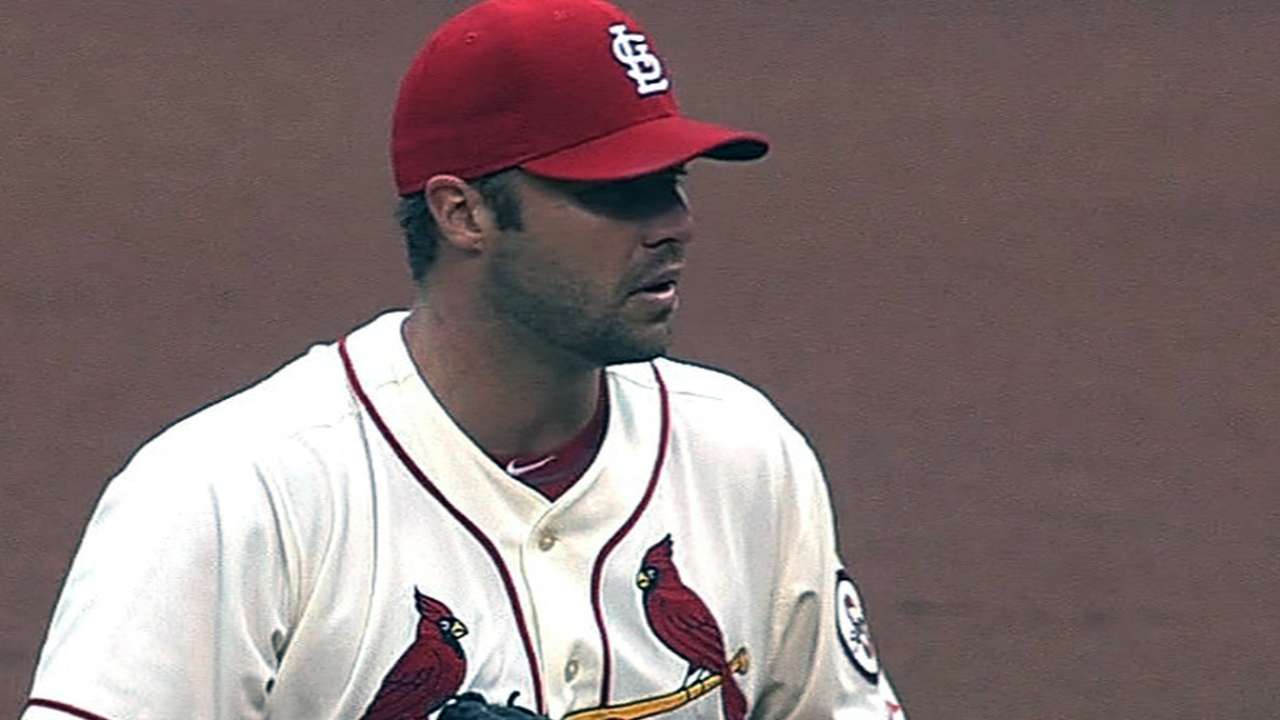 ST. LOUIS -- Ten days ago, A.J. Burnett threw 96 pitches before the Cardinals could muster a hit -- which would end up as their only one of the night. Burnett was not all that vulnerable Saturday either, but the Cardinals broke through against him twice, setting themselves up for a fifth straight victory.
And then the bullpen got involved.
In a month where the club has won 14 games, delivered routinely with runners in scoring position and ridden the strength of its starting pitching, the Cardinals' bullpen remains especially volatile. It served up four seventh-inning runs Saturday, costing Jake Westbrook his 100th career win and tipping the outcome, 5-3, in favor of Pittsburgh.
"It stinks for Jake," said Joe Kelly, who got the blown save and loss. "He pitched his butt off, and we come in and blow his win. He's been battling the whole season, [has] great numbers and he's 1-1. That's the most frustrating part."
Indeed, the Cardinals are now 1-3 in Westbrook's four starts, even though the righty has given up an earned run in only one of those outings. Pitching in front of 40,909 fans on a soggy day at Busch Stadium, Westbrook delivered six scoreless innings against a club that had been a perennial pest to him.
After letting Westbrook hit the 100-pitch mark in each of his other April starts, manager Mike Matheny opted to end Westbrook's afternoon at 91 pitches Saturday. That decision, Matheny said afterward, was made for a few reasons. Matheny believed Westbrook had exerted himself getting to that point, and Matheny did not like the matchup against Pedro Alvarez, who was to lead off the seventh.
Alvarez is 12-for-21 lifetime against Westbrook.
And so Matheny turned to Kelly, whose success against the Nationals earlier in the week earned him the chance to try and fill the Cardinals' seventh-inning void. Saturday's lead lasted five pitches under his watch. An Alvarez single and Russell Martin home run evened the game at 2.
"[I] took one fastball, to see what [he was] doing, then was anticipating a strike somewhere in the zone," Martin said. "My approach was to stay inside the ball and take my best swing, and if he left the pitch where he didn't want to, it'll just take off."
Two of the next three batters reached, too, which ended Kelly's day. Trevor Rosenthal would hardly fare better. He hit Jose Tabata with a 96-mph fastball before walking Andrew McCutchen on a 3-2 pitch to force in the go-ahead run.
"I was really trying to get a groundball there and get out of the inning," Rosenthal said. "He's a very good hitter, and he did a good job of recognizing that it was down in the zone."
A groundout scored another, ending an at-bat that was interrupted when Matheny asked the grounds crew to spread fresh dirt on a wet mound. Though Rosenthal did not relay that he was having any troubling planting his foot, Matheny made the call after seeing Rosenthal slip.
"I sent [catcher] Yadi [Molina] out to check, and he said he wasn't slipping at all," Matheny said. "But apparently, he was. That's a situation we've got to just stop there and make something happen."
"I was just trying to focus on making pitches and my approach for the guys I was facing in that situation," Rosenthal said. "I really didn't notice that it was affecting me. The ball just wasn't going where I wanted it to."
The Pirates then pushed across an insurance run off Marc Rzepczynski in the eighth.
Pittsburgh's bullpen, which has held opponents to a National League-best .195 batting average, would not cough up its lead. As for St. Louis' relievers, their collective ERA now sits at an NL-worst 5.37. Of the 13 home runs the Cardinals have given up, eight have come against the 'pen.
Five of the relievers have individual ERAs above 4.00, and of the Cardinals' nine losses, five have now come in games where they entered the seventh tied or holding a lead. The Cardinals have been outscored, 39-27, from the seventh inning forward.
"There have been quite a few opportunities we've had late in the game to finish something off, and you start counting those up, and those are a significant amount of wins," Matheny said. "It seems to go in cycles, and right now it just seems to be a tough one on our 'pen. We have to figure it out."
The bullpen's meltdown trumped another strong start from Westbrook, who scattered six singles in his outing. He let the Pirates advance a runner into scoring position just once. It was a personal victory of sorts for Westbrook, who has had trouble facing the Pirates throughout his career. He entered the day 1-7 with a 5.28 ERA in 13 previous appearances.
He also outdueled Burnett, Pittsburgh's ace, in the process.
"I felt like I was throwing the ball pretty well," Westbrook said. "It's usually always a grind when I'm facing those guys, though it didn't feel as bad as it has been in the past."
After taking a no-hitter into the seventh inning against the Cardinals last week, Burnett gave up hits to Matt Carpenter and Carlos Beltran to start the first inning Saturday. Carpenter came home when Matt Holliday grounded into a double play, ensuring that he has scored at least once in all 13 games in which he has hit safely.
Carpenter would later be pinch-hit for in the ninth after feeling some tightness in his left side.
The Cardinals stretched their lead to two with consecutive two-out hits by Jon Jay and Pete Kozma in the sixth. But a team that has thrived when batting with runners in scoring position this month left several opportunities untapped. St. Louis went 2-for-12 in such spots and twice failed to push a runner home from third with fewer than two outs.
As the potential tying run, Holliday grounded out to end the three-hour, 42-minute game.
Jenifer Langosch is a reporter for MLB.com. Read her blog, By Gosh, It's Langosch, and follow her on Twitter @LangoschMLB. This story was not subject to the approval of Major League Baseball or its clubs.