Hernandez earns first win as Twins rout Rangers
Hurler tosses five scoreless, benefits from great defensive plays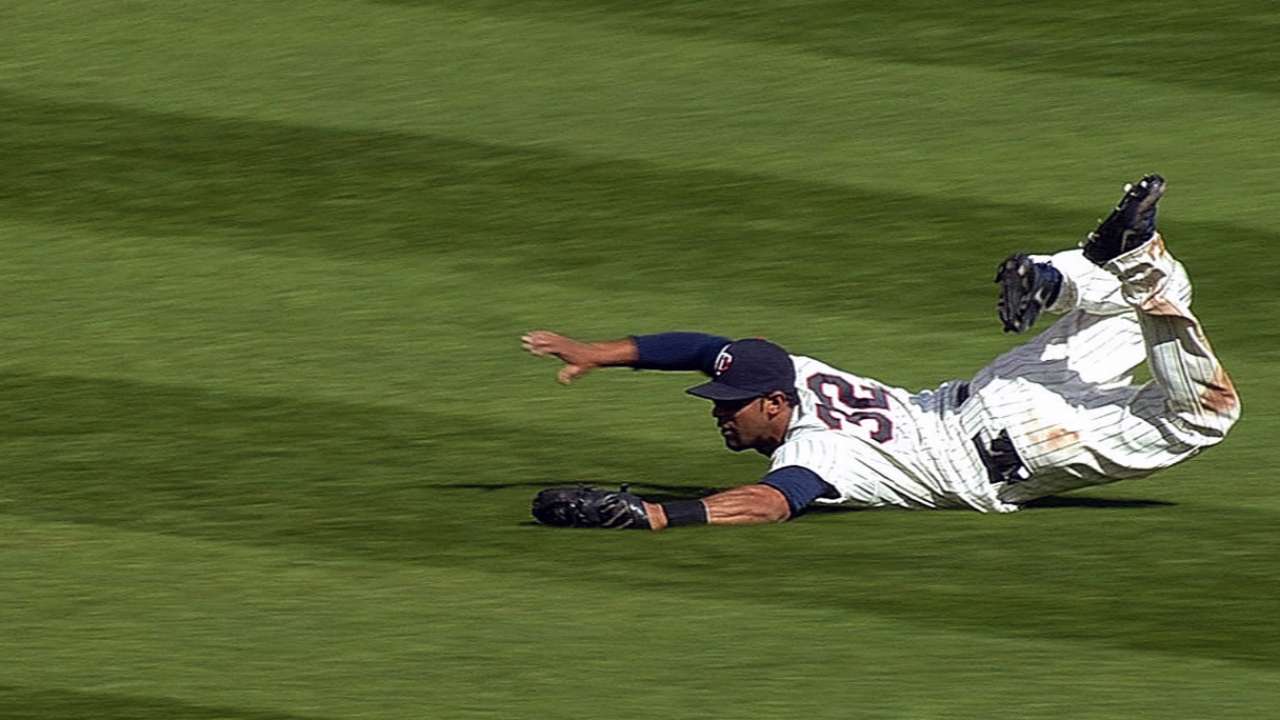 MINNEAPOLIS -- Before Saturday's game against the Rangers, Twins general manager Terry Ryan was asked if it's too early to declare a winner in last year's trade that sent Francisco Liriano to the White Sox for left-hander Pedro Hernandez and infielder Eduardo Escobar.
Ryan, though, said it's still too early to judge, even though Liriano posted a 5.40 ERA while with the White Sox before departing to the Pirates via free agency during the offseason.
But if Saturday's game is any indication, the Twins did just fine in that trade, as Hernandez tossed five scoreless innings and Escobar added two hits to improve his average to .483 to propel the Twins to a 7-2 win over the Rangers at Target Field.
"Hernandez was fantastic," Twins manager Ron Gardenhire said. "He did exactly what was asked of him. He got us through those five innings even though he hadn't started in like three weeks in Baltimore. So we got exactly what we wanted from him."
Hernandez, making his third career start and his first since April 7, turned in his best outing as a big leaguer. The lefty gave up just five hits and walked one while striking out three.
He picked up his first Major League win in the process, which was a proud moment for the 24-year-old Venezuela native.
"I don't know what to say right now," said Hernandez, who has a 2.35 ERA in 15 1/3 innings so far this season. "It's just a beautiful emotion for me right now to get my first big league win. I'm so happy about that."
He was helped by his defense, especially Aaron Hicks, who made two impressive plays in center field. Hicks threw out Nelson Cruz while he tried to advance to second in the second inning, and also made a diving catch to rob A.J. Pierzynski of a hit in the fourth.
"It feels good to make a play like that for your pitcher," Hicks said. "It definitely gives me confidence."
The Twins got on the board against Rangers left-hander Derek Holland in the third, when Hicks reached on an error by Mitch Moreland, advanced to third on a single from Escobar and scored on a sacrifice fly by Brian Dozier.
But Escobar's hit was the only one for the Twins against Holland until Dozier singled with one out in the sixth. Holland, though, fell behind Josh Willingham with two outs and served up a towering two-run blast on a 3-1 slider.
"The main thing was it was one pitch, if anything, to Willingham," said Holland, who gave up four runs (three earned) on five hits over seven innings. "But at the same time, I made a fairly good pitch on him and he's a good hitter. You have to tip your hat to him. They got some runs, but that's the way it is."
The homer was Willingham's team-leading fourth of the season -- and his second in three games, as he also homered on Thursday. He also became the all-time leader in homers at Target Field with 25 to pass Jim Thome.
"I was just looking for something out over the plate to drive," Willingham said. "I knew there was a base open at first, so I thought he might throw something offspeed. And he threw it where he probably didn't want to. I knew I hit it well, but I hit it really high. So I was just hoping."
Minnesota added an insurance run in the seventh on a run-scoring fielder's choice from Pedro Florimon after Oswaldo Arcia walked and Escobar singled. Escobar went 2-for-4 and is now 14-for-29 on the season.
"He's played very well from Spring Training on, and it's carried into the season," Gardenhire said. "He's playing great baseball right now."
Hicks added his first career extra-base hit in the eighth with a two-run double as part of a three-run inning for Minnesota.
Relievers Anthony Swarzak, Brian Duensing, Jared Burton and Glen Perkins combined to preserve the win for the Twins, although Perkins lost the shutout when he gave up a two-run double to Moreland in the ninth that was lost in the sun by Hicks. Minnesota snapped a three-game losing streak and improved to 10-10 on the season.
"We added on there at the end," Gardenhire said. "It got a little wild there with balls flying everywhere. But it was a nice day and a nice win."
Rhett Bollinger is a reporter for MLB.com. Read his blog, Bollinger Beat, and follow him on Twitter @RhettBollinger. This story was not subject to the approval of Major League Baseball or its clubs.