White Sox overwhelmed by Rays' Moore in loss
Tampa Bay lefty fans nine; Chicago starter Floyd exits due to injury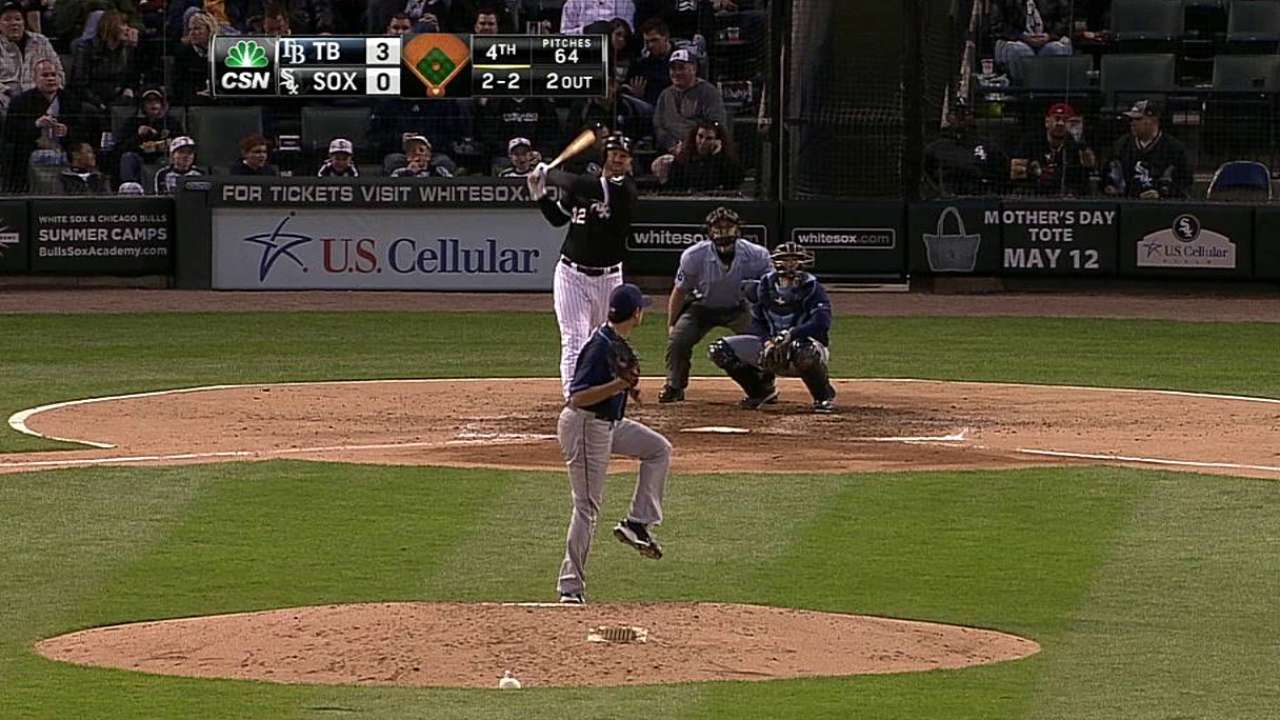 CHICAGO -- In searching for a White Sox highlight against Tampa Bay starter Matt Moore during the Rays' 10-4 victory Saturday night before 25,270 at U.S. Cellular Field, look no further than the fourth inning.
Moore had gone the first 3 2/3 innings without giving up a hit, striking out eight -- including six straight over the first and second -- before Adam Dunn connected on a 2-2 pitch to left-center for his fifth home run. Paul Konerko followed two pitches later with a blast to left that was hauled in near the wall by Sam Fuld.
And that's the brief damage inflicted by the White Sox (10-13) upon the Rays' southpaw. Moore improved to 5-0 with his nine-strikeout, three-hit effort over six innings, while the South Siders watched their modest three-game winning streak come to an end.
"He keeps getting better," said Tampa Bay manager Joe Maddon of Moore, who fell one short of matching the club record for consecutive strikeouts and became the fifth pitcher age 23 or younger to win five games by the end of April. "I know the last game he pitched eight, but he might have been a little bit better tonight. I thought his overall command was better."
"As for tonight, the story's the Moore kid," White Sox manager Robin Ventura said. "He's good. He was cruising for most of the game."
The on-field result was not the only bad news for the White Sox. Gavin Floyd left after 2 2/3 innings with a flexor muscle strain in his right elbow, after feeling something on his first pitch to Evan Longoria. Floyd was on the disabled list last season from July 8-23 with right elbow tendinitis and returned to the DL from Aug. 27 to Sept. 12 with a right elbow flexor strain.
Floyd fell to 0-4 by allowing a two-run homer to Ben Zobrist in the first inning, coupled with Moore's sheer excellence. Hector Santiago replaced Floyd and threw 86 pitches over 3 2/3 innings, allowing four runs on 10 hits while striking out four. Santiago also will replace Floyd in the rotation, with Floyd headed to the disabled list and reliever Deunte Heath coming back from Triple-A Charlotte.
Santiago will face Kansas City on Friday in his first start, and he feels the Royals have to be easier to handle than the Rays on Saturday.
"They were locked in," Santiago said. "It was like you made a good pitch and they blooped it or fouled it off. You made another good pitch and they got another hit. It was just their night. It was a good offensive day for them. It [stunk] for us."
Tampa Bay (11-13) improved to 3-9 on the road this season by putting at least two runners on base in every inning, as the White Sox allowed a season-worst 19 hits. The Rays actually stranded 14, but still managed to finish 7-for-18 with runners in scoring position. They had single runs in the third, fifth, sixth and eighth, and two in the seventh off of Santiago and Donnie Veal, and two in the ninth off of Matt Lindstrom.
Desmond Jennings homered, while Kelly Johnson and Longoria matched career highs with four hits apiece. Every Rays starter reached base at least once, which was more than enough support for Moore.
"I've faced him a bunch, even in the Minor Leagues, and he always seems to put together pretty good games," said White Sox center fielder Jordan Danks. "When he's on, he's kind of tough to beat.
"I was reading something where, when he can locate his fastball, he's going to be tough to beat. He was pretty good with that today."
Although the White Sox did not score enough to pull off the victory, they put a scare into the Rays via a three-run eighth.
Reliever Kyle Farnsworth started the rally by walking Tyler Greene after going ahead 0-2 in the count and then walking Dunn one out later. Alexei Ramirez and Conor Gillaspie eventually singled home runs, and Joel Peralta, who replaced Farnsworth after five of six hitters reached against him, walked Danks to force home another run.
Alejandro De Aza just missed cutting the lead to one when his bases-loaded line drive off of Peralta fell about three feet foul down the right-field line. But just like his at-bat with the bases loaded in the seventh against Jake McGee, De Aza struck out against Peralta to end the rally and give him 28 strikeouts this season.
Over the first five innings, the White Sox had just two hitters reach base safely. They had 12 on base from the sixth through the eighth.
By that late stage, the game was pretty much out of reach. The White Sox hope they aren't saying the same thing about the 2013 season in July or August after navigating around all of these April injuries.
"Every day there's something happening to somebody it seems," Santiago said. "This is part of the game, and you have to keep going from there."
"We are going to lose games, but you can't do anything about it now," Danks said. "Tomorrow is another day."
Scott Merkin is a reporter for MLB.com. Read his blog, Merk's Works, and follow him on Twitter @scottmerkin. This story was not subject to the approval of Major League Baseball or its clubs.