Rays provide plenty for Moore in his fifth win
Offense sets season high in runs and hits; Left-hander fans nine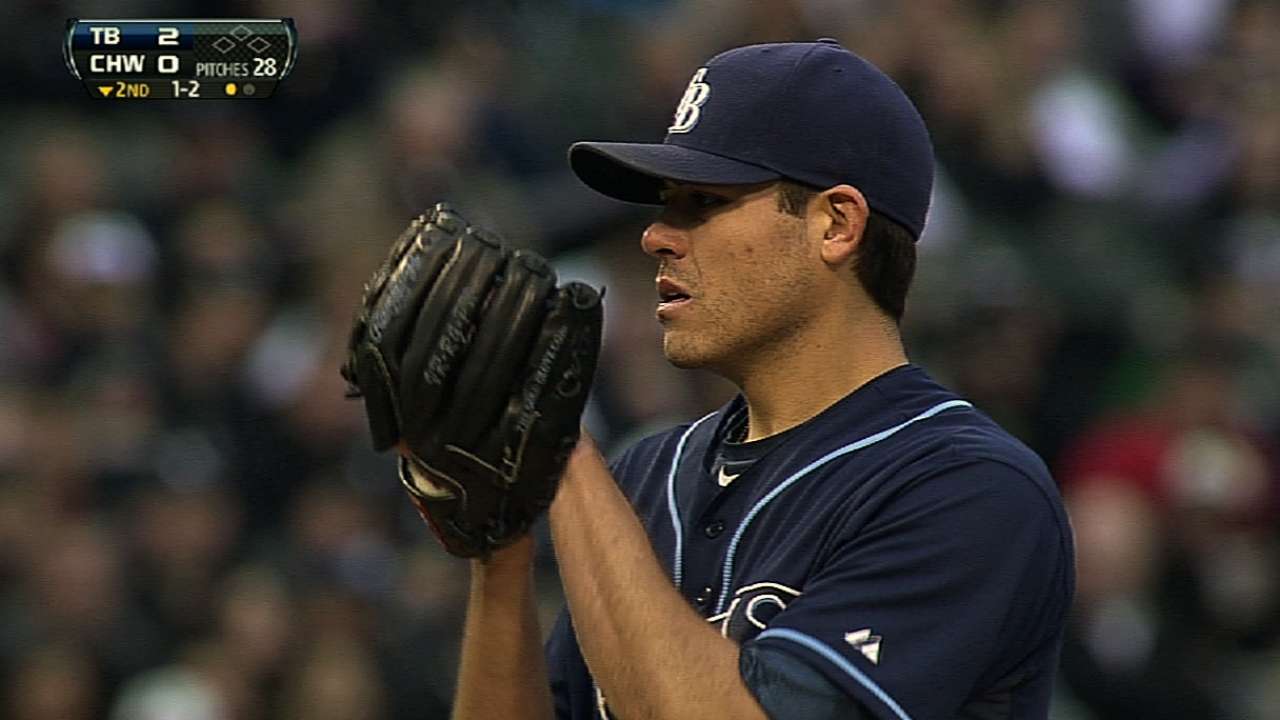 CHICAGO -- On Saturday night, the Rays broke out of an offensive funk with a season high in runs and hits, nearly became just the fifth team in history to play nine innings without recording a defensive assist and appeared close to blowing a seven-run cushion in the eighth inning.
But in the end, nothing could overshadow another dominant performance by Matt Moore in leading the Rays to a 10-4 victory over the Chicago White Sox at U.S. Cellular Field to snap a two-game losing streak.
The 23-year-old left-hander improved to 5-0 on the season by allowing just one run on three hits with nine strikeouts in six innings. How impressive has Moore been? His ERA rose to 1.13 after the strong performance.
The best news for the Rays is manager Joe Maddon believes no one has seen Moore's best yet.
"When he gets a feel for his fastball and knows where it's going, heads up, because he really feels good about the other stuff," Maddon said. "Fastball command makes the world go round for a pitcher. It's getting better, and as it gets better, he's going to get even better beyond the numbers you're seeing right now."
That's hard to believe considering how dominant Moore was on Saturday.
After walking the first batter he faced, he proceeded to strike out the next six. He fell short of tying the team record for consecutive strikeouts -- held by Andy Sonnanstine with seven -- when Tyler Flowers led off the third by flying out to center.
Moore had eight strikeouts and still hadn't allowed a hit with two outs in the fourth, but White Sox slugger Adam Dunn ended any thoughts of a no-hitter -- and a shutout -- when he sent a belt-high fastball on the outside corner over the fence in left field to make it 3-1.
That was all the White Sox would get off Moore, and the Rays' offense certainly provided enough support by pounding out 19 hits, led by Evan Longoria and Kelly Johnson, who each tied a career high with four.
"You can't speak enough about what the guys are doing right now," Moore said of the offense. "It's been a tough road trip already losing the first two, and to come out here and act like nothing happened is big for us."
But as impressive as the Rays' offense was, no one could say enough about Moore.
"As for tonight, the story's the Moore kid," White Sox manager Robin Ventura said. "He's good. He was cruising for most of the game. You just kicked in and look for tomorrow."
The Rays wasted little time jumping on White Sox starter Gavin Floyd (0-4). With one out in the first inning, Matt Joyce walked and Ben Zobrist followed with a two-run home run for a quick 2-0 lead.
Zobrist, who had been struggling, took early batting practice in the afternoon, and Maddon suggested that the switch-hitter might be better off taking it easy. The extra work, though, paid off. He finished 2-for-5 with a walk.
In the third inning, the Rays took advantage of the early departure by Floyd -- he left with a flexor muscle strain of the right elbow after 2 2/3 innings -- and stretched the lead to 3-0 as Longoria doubled with two out and James Loney followed with a single off reliever Hector Santiago to drive in Longoria.
Moore left after six with a 7-1 lead, and the lead grew to 8-1 in the top of the eighth. At the time, it seemed to be just a tack-on run, but it grew in importance in the bottom of the inning when reliever Kyle Farnsworth almost got the White Sox back in the game.
Farnsworth walked the first batter he faced, and following an out, walked Dunn to put runners on first and second. Farnsworth then gave up three straight singles before being yanked with the bases loaded and a suddenly not-so-safe 8-3 lead. One out later, Joel Peralta walked in another run to make it 8-4, but he struck out Alejandro De Aza to end the inning and leave the bases loaded.
The shakiness of the eighth was a far cry from what Moore was doing on the mound. U.S. Cellular is a long way from Florida, but Moore felt right at home in front of 24 family members and friends.
"It's the most tickets I've ever left, and this is where my dad's side of the family is from. It's something that's very special for me to come here and see them," he said.
The Rays added a couple more runs in the top of the ninth, so the only suspense left in the bottom of the inning was to see if they could play nine without an assist. They couldn't, as the first batter, Tyler Greene, grounded out to short.
It's just as well, because this night clearly belonged to Moore, not some statistical oddity.
John Jackson is a contributor to MLB.com. This story was not subject to the approval of Major League Baseball or its clubs.