Early and late, Hafner's power saves Yanks
Slugger's four RBIs the difference, backing Sabathia's gritty start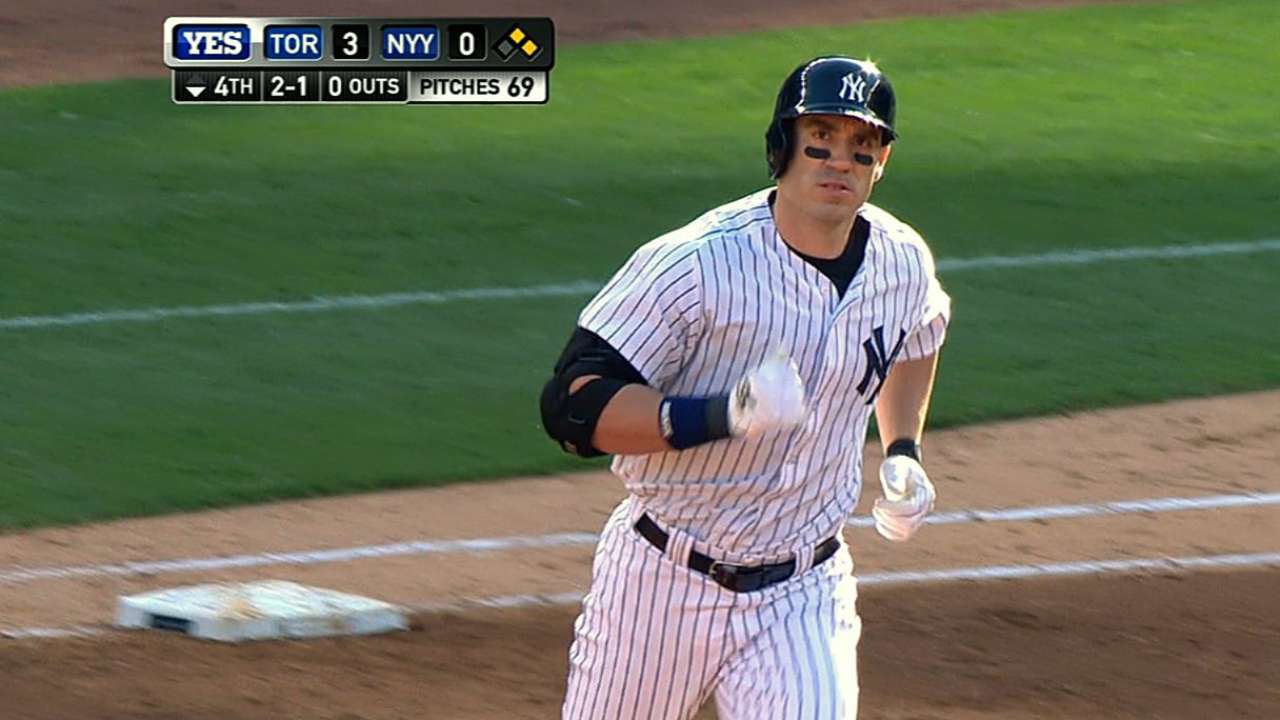 NEW YORK -- Following his team's third consecutive victory, there was one word manager Joe Girardi used that not only summed up the Yankees' effort on Saturday, but for the entire month of April to this point.
Resilient.
The Yankees' resilience was on full display at Yankee Stadium on Saturday as they twice rallied from behind to defeat the Blue Jays, 5-4, despite ace CC Sabathia admittedly not having his best stuff.
"They've been resilient," Girardi said. "There's no doubt about it. They've found ways to come back."
Fittingly, the two players at the root of the Yankees' latest comeback were veterans Travis Hafner and Vernon Wells, who have undergone a rebirth of sorts in New York. Hafner, after belting a three-run homer earlier in the game, delivered a decisive RBI triple in the seventh inning to drive in Wells, who had tied the game at 4 moments earlier with a run-scoring single.
"I don't really have a rhyme or reason for it," Girardi said for the re-emergence of Hafner and Wells. "I think that this is a great place to play. It's a great clubhouse to be in, it's a great atmosphere to come into every night, whether you're home or on the road, and there's an expectation here. I think a lot of guys feed off that."
The Yankees' seventh-inning heroics bailed out Sabathia, who one inning earlier had served up his second home run of the game to give Toronto a 4-3 lead. The southpaw retired the first seven batters he faced before running into trouble throughout the middle innings.
Sabathia ceded the game's first run in the third inning on a Rajai Davis groundout following back-to-back hits from the bottom two hitters in Toronto's lineup. One inning later, the Jays extended their lead to three behind a Jose Bautista leadoff home run and an error by catcher Chris Stewart, who dropped the ball while attempting to tag out Edwin Encarnacion at home plate following a flyout to right fielder Ichiro Suzuki.
"If you look at the first two innings, they just missed some balls," Sabathia said. "It seemed like I breezed through, but I probably could made a little better pitches earlier in the game. I was just trying to keep the team in the game -- battling, making a pitch whenever I could -- and I ended up staying in there long enough for these guys to score some runs."
It didn't take long for the Yankees to come to Sabathia's aid after the Jays had pushed the lead to three in the top of the fourth inning. Wells and first baseman Kevin Youkilis worked back-to-back walks off starter J.A. Happ to start the bottom half of the frame, and Hafner followed with his first home run off a lefty -- and sixth overall -- this season.
"What really hurt today, we get a 3-0 lead and we got out there and walk the first two guys and [give up] a homer," Blue Jays manager John Gibbons said. "You've got to have shut-down innings after that, and we didn't get that. And they did. They got the big hits; we didn't."
The tie would last just two innings before third baseman Brett Lawrie put Toronto back in front, 4-3, with a homer of his own, but that would be the last hit given up by Sabathia. The left-hander retired the next nine batters he faced, capping an eight-inning performance in which he allowed four runs (three earned) on nine hits, including the two homers, while striking out four batters and walking none.
"I've seen him do it so many times -- that's the thing," Girardi said of Sabathia's gritty performance. "That's one of the things that's impressed me the most about him, and there are a lot of things to talk about ... but the way he competes when he doesn't have his [best] stuff is probably as impressive as anything. That's how you become a 20-game winner."
With Sabathia pitching lights-out following Lawrie's homer, New York's seventh-inning rally -- its second of the day -- turned out to be the difference.
Following a one-out double from Robinson Cano, Wells tied the game by lining single up the middle. He then advanced to second on a Youkilis groundout and stole third on the first pitch of Hafner's at-bat.
One pitch later, Hafner sent a towering fly ball to center field that deflected off Davis' glove, allowing Wells to score what turned out to be the game-winning run.
"I really wasn't thinking home run at all," Hafner said of his thoughts as he saw Davis retreating to the warning track. "I was just kind of hoping it got over his head. I know Davis is fast, so I wasn't sure. It was just a matter of inches there. It tipped off his glove, so I was pumped about that."
Pitching with a lead for the first time all day, Sabathia breezed through the eighth inning in order before handing the ball to Joba Chamberlain for the ninth inning. Chamberlain -- pitching because closer Mariano Rivera had appeared in back-to-back days and in three of the last four -- allowed two batters to reach with one out before inducing a flyout to shallow right field and a weak grounder to third base to end the game.
"That's fun for me, seeing the energy of the crowd and my teammates, and knowing this is the last go at it," said Chamberlain, who recorded his first save since Sept. 21, 2010. "I love that. That's something that I play for, the energy. I can't help but smile, because that's why you play the game. I'm excited to get that opportunity."
The story to this point in the season for the Yankees has been players stepping up and converting those opportunities, just as Hafner and Wells did once again. Though Wells couldn't explain the sudden resurgences any better than his skipper, he's just thankful to be in a position where he can help the Yanks, who will try to finish off a four-game sweep of the Jays on Sunday afternoon.
"It's just fun," Wells said. "That's the biggest thing, is we've enjoyed putting this uniform on and going out and having a chance to contribute. Not to keep repeating pretty much each and every day, but we've got to take advantage of it, and we're having fun doing it."
Paul Casella is a reporter for MLB.com. Follow him on Twitter @paul_casella. This story was not subject to the approval of Major League Baseball or its clubs.