Blue Jays' pair of leads in Bronx short-lived
Homers by Bautista, Lawrie not enough as game turns in seventh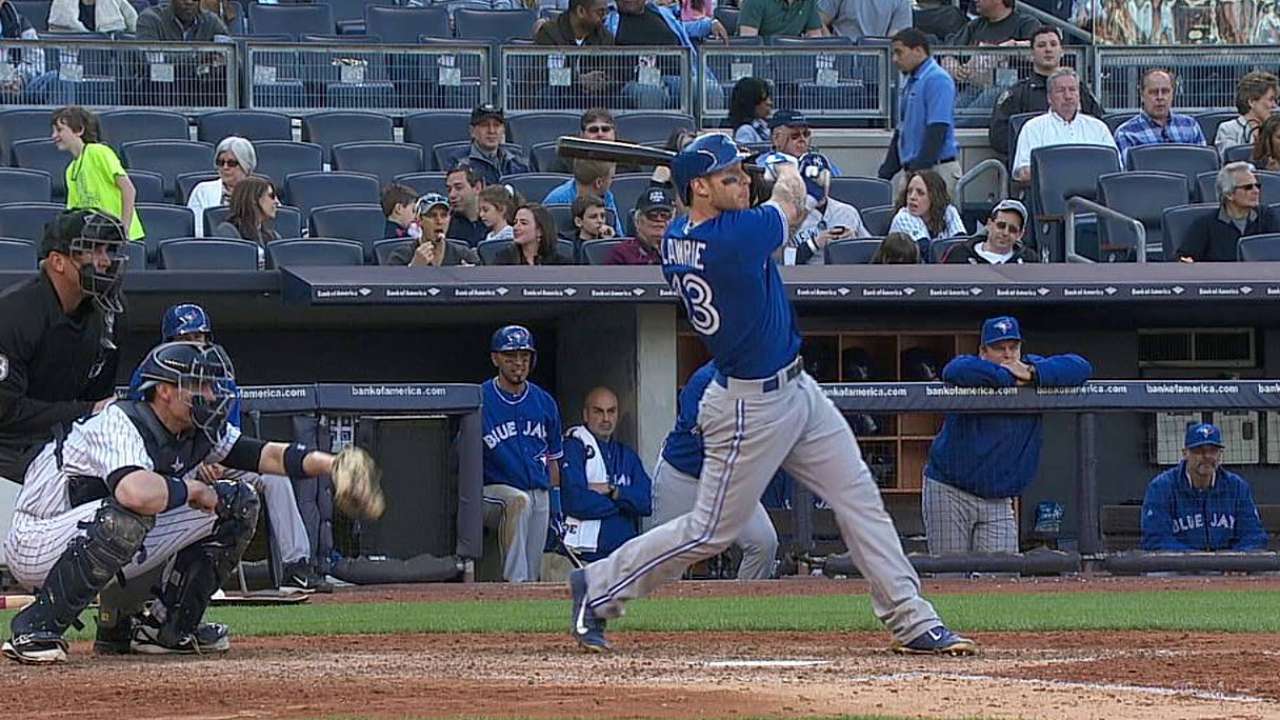 NEW YORK -- John Gibbons could keep the frustration inside for only so long, and it finally began to boil over on Saturday afternoon.
The Blue Jays' manager had just watched his team fall seven games below .500 while losing a third consecutive game for the first time this season. It was another sloppy game, and while the sense is that things have to eventually start going Toronto's way, they certainly aren't right now.
The Blue Jays coughed up a pair of leads and were unable to contain Yankees designated hitter Travis Hafner in another disappointing loss, this one by a 5-4 score on Saturday afternoon at Yankee Stadium.
"You know what? Right now, we're not good enough; it's that simple," Gibbons said after his club fell to 1-5 on its current road trip. "There comes a time in every game where you've got to make a big pitch or you've got to get a big hit. That's eluded us all year long."
The Blue Jays began this season with sky-high expectations, but with each passing game, they find themselves digging a bigger hole in the American League East. Their roster has plenty of talent, but so far, nothing has clicked at the same time.
On a night when the offense is performing, it's the pitching that seems to come up short. When the pitchers are doing well, the offense can't seem to find any type of rhythm at the plate. The result is that the Blue Jays have lost all but one series this season and haven't won more than two games in succession.
Gibbons has tried seemingly everything he can. He has used 22 different batting orders in an attempt to jump-start the offense while also appropriately using a bullpen to make up for the occasional shortcomings of the rotation. But so far, Gibbons has yet to find the right mix.
"It's frustrating," Gibbons said. "I'm giving you guys the same comments every stinking night. I'm getting a little bit tired of it.
"I've got no answers. It's going to happen. It just hasn't happened."
Saturday afternoon once again began on a positive note, as the Blue Jays opened the scoring for a third consecutive game, and it was unlikely production at the bottom of the order that got the job done. Maicer Izturis singled and Emilio Bonifacio doubled to give Toronto a one-run lead in the third inning against Yankees starter CC Sabathia.
In the fourth, Jose Bautista homered and Edwin Encarnacion scored following an error by New York catcher Chris Stewart. It was a positive start but one that was completely undone in the bottom half of the frame when left-hander J.A. Happ began to struggle with his control.
Happ walked the first two batters he faced, then proceeded to serve up a 2-1 pitch to Hafner that was sent over the wall in right-center field for the slugging veteran's sixth homer of the year. Just like that, the lead was gone.
"I can't explain it; it's something that can't happen," said Happ, who was charged with three runs in six innings. "Maybe I was trying to overanalyze out there, settle myself down, speed myself up.
"But we're well beyond that point, and now you've just got to figure it our quicker. I've got to go after guys with a lead like that, make them earn their way on."
Toronto reclaimed the lead in the sixth on a solo homer by Brett Lawrie, but once again, the pitching staff was unable to get the job done. Right-hander Esmil Rogers retired the first batter he faced in the bottom of the seventh, then surrendered a scorching double to right off the bat of second baseman Robinson Cano.
Cano came around to score on a single by Vernon Wells before Hafner drove home the decisive run on a deep fly ball to center field. Rajai Davis took an awkward route and got twisted up on the play, and the ball bounced off his glove as a result.
"I really wasn't thinking home run at all," said Hafner, who drove in four runs. "I was just kind of hoping it got over his head. I know Davis is fast, so I wasn't sure. It was just a matter of inches there. It tipped off his glove, so I was pumped about that."
The Blue Jays have lost nine of their past 12 and find themselves eight games back of surprising Boston for the top spot in the American League East. The only positive to take from Toronto's 9-16 record is that the season is still just 25 games old and there is plenty of baseball to play.
Bautista preached patience following the latest setback, and he believes this team has what it takes to turn everything around.
"We're going to be fine," Bautista said. "It's still early. It's a long season. We can't just hang our hats. If we had the opposite record with the same amount of wins instead of losses, we wouldn't think that we would have a foot in the World Series.
"It doesn't change anything. We still have to come out here and play hard every day and look for wins. We have to make the adjustment. We have to do whatever it takes every night to win, and we haven't found a way to do that so far, but I'm confident that will change."
Gregor Chisholm is a reporter for MLB.com. Read his blog, North of the Border, and follow him on Twitter @gregorMLB. This story was not subject to the approval of Major League Baseball or its clubs.