Gomez finds redemption with key homer for Crew
Go-ahead, two-run shot atones for missed catch in series opener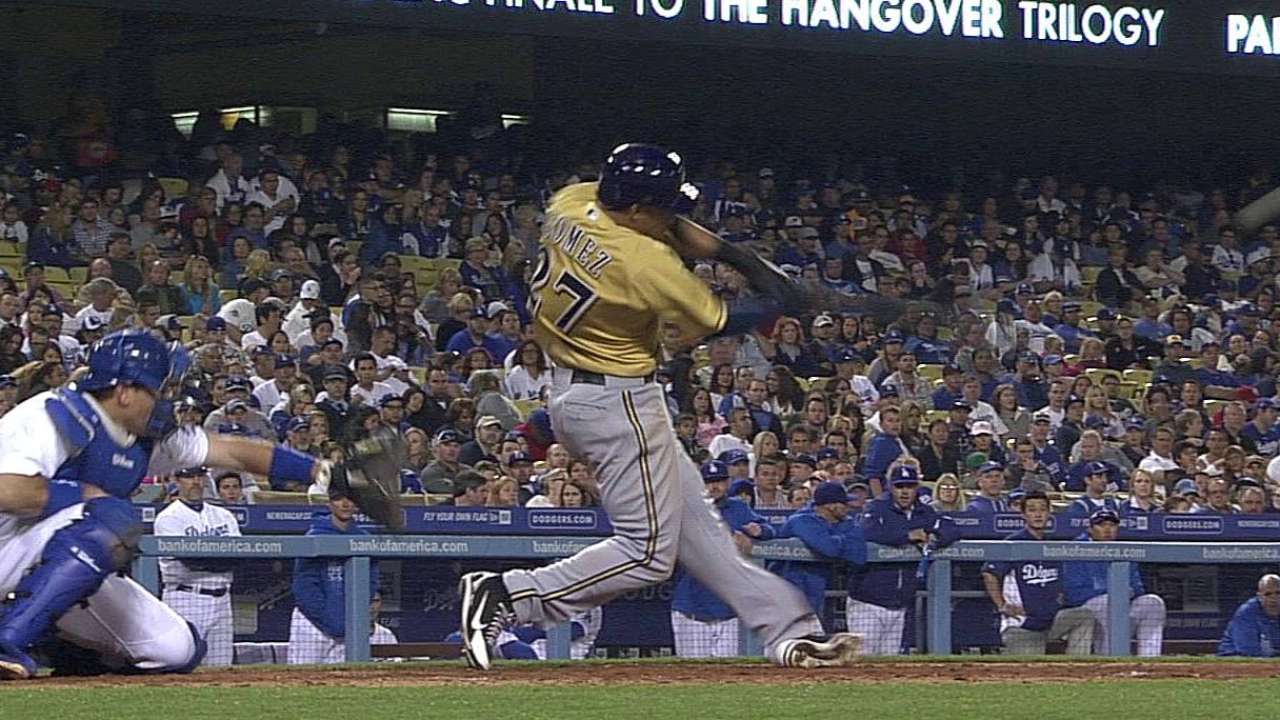 LOS ANGELES -- Carlos Gomez atoned with his bat on Saturday for the play he couldn't make the night before with his glove.
Gomez clobbered a curveball for a two-out, two-run home run in the seventh inning, erasing a short-lived Dodgers lead and sending the Brewers to a 6-4 win on a pristine spring night at Dodger Stadium. Martin Maldonado hit another two-run homer an inning later that proved necessary to seal the Brewers' ninth win in their last 12 games here, setting up Sunday's sensational pitching matchup between Kyle Lohse and Clayton Kershaw as the rubber match of the three-game series.
Gomez made a smooth catch of a sinking line drive in the seventh inning, but on this night did even bigger things with the bat. The reigning National League Player of the Week, Gomez finished with three hits to boost his batting average to .338 and scored a pair of runs. He also scored redemption for Friday night, when Adrian Gonzalez's deep double struck Gomez on the left arm instead of settling into his glove -- a hit that ultimately decided the Brewers' 7-5, series-opening loss.
"You always come positive and try to do the best to win games," Gomez said. "Last night, I usually catch that ball. Yesterday, I didn't catch it. I'm not going to say it's an easy play. But today, I made a great catch and got a big hit and we got a 'W' today.
"We're going to come here tomorrow with the same intensity to go home with another winning series."
Less than 24 hours after manager Ron Roenicke was so candid in his assessment of a play Gomez could not make, he was heaping praise. Gomez's home run off former teammate Matt Guerrier erased Milwaukee's 3-2 deficit just in time to make a winner of Brewers starting pitcher Wily Peralta, who allowed three Dodgers runs in six quality innings before he was lifted for a pinch-hitter in the top of the seventh.
That pinch-hitter was Jean Segura, scratched from his start at shortstop an hour before the game with a split fingernail on his throwing hand. His absence prompted some last-minute changes to the lineup that left Gomez hitting in the two-hole. So when Segura struck out looking and leadoff man Norichika Aoki extended the inning with a two-out bunt single, it was Gomez's turn to bat.
Dodgers manager Don Mattingly called to the bullpen for right-hander Guerrier, a veteran who played with Gomez in Minnesota from 2008-09. In their previous meetings as foes, Gomez was 0-for-3 against Guerrier with two strikeouts and a double-play grounder.
Guerrier threw a cutter away for ball one, another cutter that Gomez fouled away for a strike, then came back with a curveball on the inner half of home plate.
"I knew he was going to come with a front-door curve on the inside," Gomez said. "I was going to stay back, wait until the moment I could drop the head [of the bat] to the ball, and that's what I did. This happened."
Gomez turned on it and sent it high and deep to left field for a 4-3 Brewers lead, his third home run of the season.
"Matt has good numbers with these guys, good numbers with Gomez and it didn't work out tonight," Mattingly said. "The matchup was what we wanted."
It has been a big couple of months for Gomez, who signed a three-year, $24 million contract extension in March and, after platooning for the past two seasons, is the Brewers' everyday center fielder. That sense of security, he says, helps explain his hot start.
"I don't have to come and not see my name in the lineup," Gomez said.
Guerrier was touched again in the eighth inning, when Maldonado delivered another two-run homer to extend the lead to 6-3. It was Maldonado's first homer of 2013, and it loomed very large when Andre Ethier's home run leading off the bottom of the eighth inning snapped John Axford's streak of scoreless appearances at six.
Axford retired the next three batters in order, and Jim Henderson earned his sixth save in a tense ninth. Third baseman Yuniesky Betancourt booted a two-out grounder to give Dodgers catcher A.J. Ellis a chance to bat representing the winning run.
He hit a grounder up the middle, but Alex Gonzalez, manning shortstop in Segura's stead, fielded the ball, spun to his left and bounced a perfect throw to first base.
"It got a little tense. It seems to always get a little tense," Roenicke said. "Great play by Alex. His range was good, he barely got it, and then the spin-throw was right there. Nice way to end the game."
Young starters Peralta and Matt Magill were mostly in control through the game's first six innings. Peralta touched 97 mph against his first batter and allowed only one extra-base hit. Magill, making his Major League debut, limited the Brewers to two runs on four hits in 6 2/3 innings and exited in line for the win.
For Peralta, it was nearly death -- he was in line for a loss before Gomez homered -- by a thousand cuts, from the Ellis RBI single in the third inning that eluded a leaping second baseman Rickie Weeks by merely an inch, to the rare throwing error charged to usually reliable Gonzalez that sent home a run in the fourth, to the Luis Cruz groundout that gave the Dodgers the lead in the sixth.
"For me, that was an outstanding game," Roenicke said. "Two balls were squared up [against Peralta]. ... His fastball was great -- explosive, down in the zone. I thought he had a really good slider today. Lost it a few times, but it was consistently down where he needed it. If he pitches like that, he's going to win a lot."
Adam McCalvy is a reporter for MLB.com. Read his blog, Brew Beat, and follow him on Twitter at @AdamMcCalvy. This story was not subject to the approval of Major League Baseball or its clubs.