Santana's seven shutout innings lead Royals
Perez provides support with opposite-field, two-run homer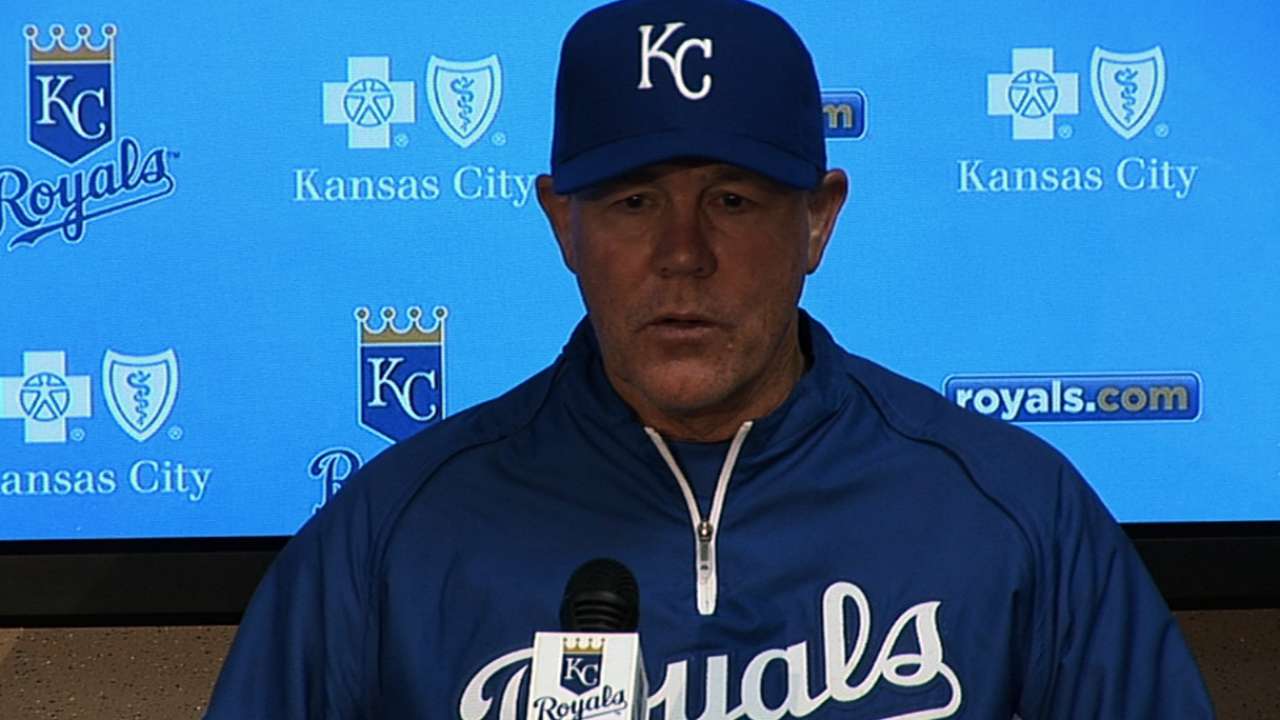 KANSAS CITY -- Ervin Santana continued the growing Royals custom of going deep, for the starting pitcher that is.
Santana shut out the Cleveland Indians for seven innings as the Royals fashioned a 3-2 victory on Saturday night at Kauffman Stadium. The win was the fourth in the last five games for the first-place Royals, who survived a ninth-inning comeback by the last-place Indians.
His catcher, Salvador Perez, delivered the big blow -- a two-run homer that brought the crowd of 19,224 to its feet.
Santana gave the Royals their 16th outing of six innings or more by a starting pitcher in their 20 games, increasingly validating the decision to restructure the rotation over the winter. They didn't get that many such starts until their 41st game last year.
In all five of Santana's starts, he's gone six or more innings. In his seven innings against the Tribe, he gave up six hits and no walks with five strikeouts.
Afterward, Perez got on the fringe of a ring of reporters who were interviewing Santana.
"I'm just trying to stay on the same page with the catcher and not shake [him off] too much and just throw strikes," Santana said seriously.
Perez let a big smile play across his face.
"He didn't shake me, that's why he's good," Perez said, not so seriously.
Perez, a big right-handed hitter, hit his first home run with an opposite-field drive just inside the foul pole in right. It came on Scott Kazmir's 0-1 pitch with Jeff Francoeur, who walked, on base in the second inning.
"That ball wasn't even a strike. It was up and away and it just shows you how strong he is, to be able to muscle a ball right down the line out of the ballpark," Royals manager Ned Yost said. "It was a big lift for us."
Perez was prepared for such a pitch.
"It was up and away. I don't know how I hit it," Perez said. "But I saw a lot of video on him and he throws away a lot to a righty. ... I like to hit the ball the other way."
Kazmir was rather amazed that Perez could reach the pitch.
"It was probably behind a left-handed batter if he was in that box," Kazmir said. "I've never seen anything like that, someone to connect with a ball that far off the plate. But he did and he didn't miss it."
The Indians made a big production of trying to come back against Santana in the third, but failed. Singles by Drew Stubbs, Jason Kipnis and Asdrubal Cabrera loaded the bases with one out. But Nick Swisher promptly lashed a double-play grounder to second baseman Elliot Johnson to stifle the threat.
"That was big right there," Santana said. "Especially when I could keep the ball down -- I just threw the sinker down and away and I got the groundball double play."
Kazmir, who pitched last year in an independent league, went five innings and gave up five hits and two walks. The two-time All-Star with Tampa Bay notched the 1,000th strikeout of his career when he fanned Miguel Tejada in the fourth inning. Pretty good, considering Tejada had hit .414 against Kazmir over the years.
Indians manager Terry Francona wore a path to the mound in the seventh when he employed five -- count 'em -- five relievers in the inning. It worked pretty well because the Royals got just one run out of a big two-out threat.
But, as it turned out, it was the winning run.
After two outs, Alex Gordon singled and, while Francona determinedly mixed and matched his relievers with hitters, two walks loaded the bases for Eric Hosmer. Left-hander Rich Hill fed Hosmer a succession of slow curveballs. Hosmer missed one, but the count went to 3-1. What he wanted to do was whack an opposite-field liner to left.
"You've just got to step out, take a deep breath, not let the situation get out of control and slow everything down," Hosmer said.
He did just that and took ball four, forcing in Gordon. But that's where the fun stopped because Joe Smith relieved Hill and got Lorenzo Cain to tap out.
After such a long inning, Yost decided against sending Santana out for the eighth.
"He was at 97 pitches and, after the long layoff, we got [Kelvin] Herrera going quick and got him into the game," Yost said.
Herrera survived Michael Brantley's leadoff double and a two-out walk to send the game into closer Greg Holland's hands. And it almost slipped away.
Following a pop out, the Indians got two runners on without a ball leaving the infield. Mark Reynolds' slow roller down the line was let go by third baseman Mike Moustakas and the ball hit the bag for a single.
"I thought it was going foul and it just kind of held up there," Moustakas said.
Yost approved: "He wasn't going to get the guy anyway. For me, it was a great decision."
Then Hosmer botched Lonnie Chisenhall's bouncer at first base for an error.
"It was just a mental mistake by me," Hosmer said. "I wanted to take a step back and throw to second. ... In that situation, you just want to play for an out and step on first and then throw to second."
Holland struck out Stubbs, but Brantley lashed a triple into the right-center gap to score both runners and the score was 3-2 with a runner at third.
"It just shows you how big a three-run lead is," Holland said.
When Kipnis missed swinging on strike three, the ball got away from Perez by a few feet. But Kipnis, instead of making Perez throw to first base for the out, didn't run and was tagged out to end the game.
"He didn't even make an effort which was nice," Holland said.
Dick Kaegel is a reporter for MLB.com. This story was not subject to the approval of Major League Baseball or its clubs.