Kazmir delivers solid outing, but late rally falls short
Left-hander allows two runs while striking out four in five frames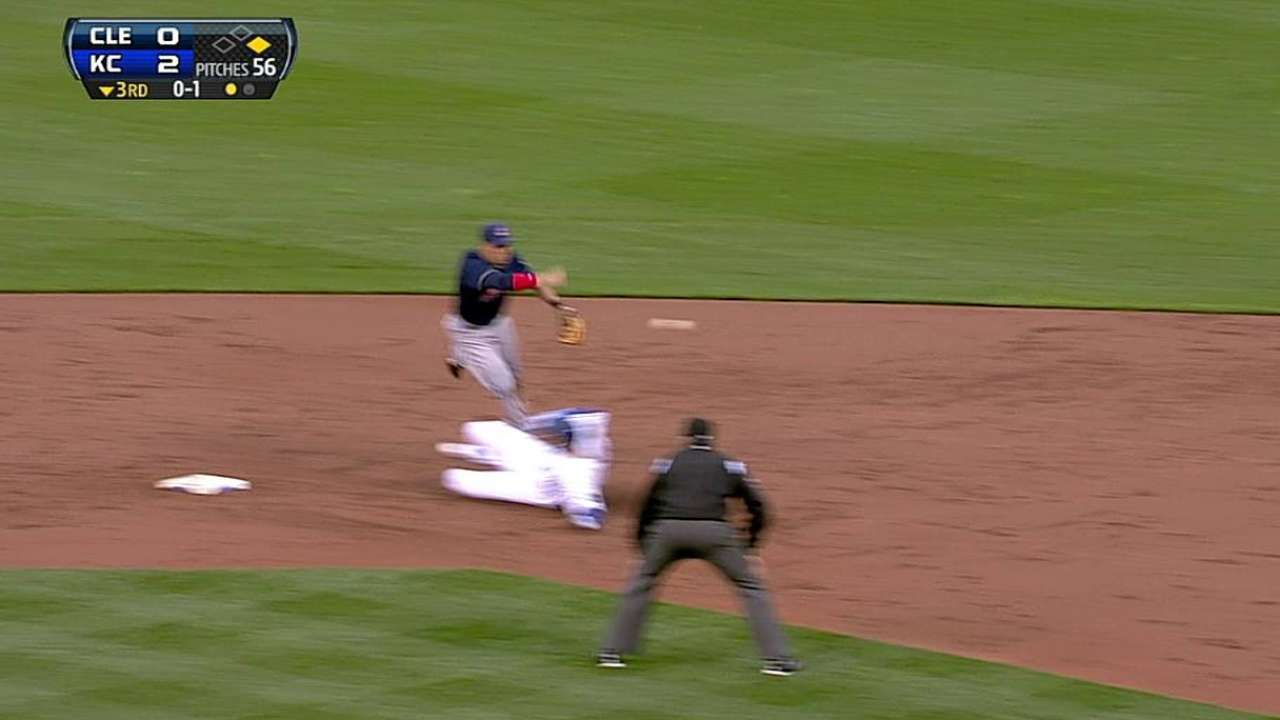 KANSAS CITY -- A comeback trail can sometimes be littered with moral victories before actual victories. In Scott Kazmir's case, the outing he gave the Indians on Saturday night marked his best performance in the big leagues in three years.
An old foe came back to haunt the Tribe, though.
Royals right-hander Ervin Santana, who no-hit Cleveland two seasons ago, blanked the Indians over seven innings to send them to a 3-2 loss at Kauffman Stadium. Santana's silencing of the Tribe's bats was more than sufficient in pushing Kazmir's start to the side and overcoming a late push from the Indians offense.
"We had pitches to hit. We just didn't do it," Indians first baseman Mark Reynolds said. "I think a lot of guys were frustrated in the dugout. We were kind of rolling over pitches and I think everybody was trying to do too much instead of just taking a single or whatever and getting on base."
Despite the end result, Kazmir's effort did not go unnoticed.
Indians manager Terry Francona said he was extremely encouraged by the effort turned in by Kazmir, who allowed one hit to the final 11 batters he faced after surrendering four hits to the first 11 Royals hitters he encountered. Kazmir established his fastball better than in his previous outing, and sat around 92-93 mph throughout the night.
"He pitched and held his velocity with his fastball," Francona said. "And then, when he wanted more, he went and got it and stayed in his delivery. He pitched the entire time. Early in the game, I thought he was leaving some balls that were wandering back and he couldn't quite get it in. Once he started getting it in, that opened everything up."
For Kazmir, the five-inning performance against Kansas City was a kind of milestone outing. It represented the first time since Sept. 30, 2010, when the lefty pitched for the Angels, that he lasted at least five innings in a Major League start. Los Angeles released Kazmir in 2011 and, since then, he has climbed from independent ball last year to earning a spot in the Tribe's rotation this year.
Kazmir was stuck with a hard-luck loss to the Royals, but really only paid for one mistake.
"All in all," Kazmir said, "it was a start I feel I can build on, for sure."
In the second inning, Kazmir issued a leadoff walk to Royals right fielder Jeff Francoeur. Two pitches later, Kansas City catcher Salvador Perez reached at an offering outside the strike zone and ripped it deep to right, where it tailed around the foul pole and into the seats for a two-run home run. Kazmir could not believe Perez made such strong contact with the errant pitch.
"It was probably behind a left-handed batter if he was in that box," Kazmir said. "I've never seen anything like that, someone to connect with a ball that far off the plate. But he did and he didn't miss it."
The Royals' 2-0 lead proved ample enough for supporting Santana's strong showing.
The Royals added an insurance run in the seventh inning on a bases-loaded walk issued by Tribe lefty Rich Hill, who was the fifth reliever used in the inning. That ended a shutout streak of 20 innings for Cleveland's bullpen, marking the third-longest run of that kind for the Indians since 2000.
Santana, who turned in a no-hitter in Cleveland as a starter for the Angels on July 27, 2011, scattered six hits and finished with five strikeouts and no walks in his seven innings of work against the Indians. Over his past four starts, the righty has gone 3-0 with a 1.20 ERA for the American League Central-leading Royals.
"I saw a lot of great stuff," Royals manager Ned Yost said. "But, for me, the key was his slider -- he had a lot of bite to it. Throwing good two-seamers, keeping the ball down in the zone. He just pitched a fantastic game."
Cleveland's best scoring chance against Santana came in the third inning, when Drew Stubbs, Jason Kipnis and Asdrubal Cabrera each singled to load the bases with one out. Cleanup hitter Nick Swisher then rolled over a 1-0 pitch, grounding into a hard-hit, inning-ending double play to bring an abrupt end to the rally.
"Swish hit the ball on the button," Reynolds said. "We just didn't take advantage of our opportunities pretty much all night."
Following Santana's exit, the Indians attempted a rally against the Royals' bullpen. Cleveland put two runners on in the eighth, but came up empty. In the ninth, the same opportunity arose, and Michael Brantley took advantage, pulling a pitch from Royals closer Greg Holland into the right-center field gap for a two-run triple. Unfortunately for the Tribe, that is where the comeback ended.
On the final play of the game, Kipnis struck out swinging, but stood in the batter's box seemingly unaware that the pitch skipped away from Perez. With Brantley on third base, Perez retrieved the ball and hustled back to the plate to tag Kipnis to seal the Tribe's loss. Had Kipnis run to first base, he would have forced a throw and increased the chances for a game-tying mistake.
"I don't think he even knew," Francona said of Kipnis. "Kip's such a hard-nosed kid, if he saw it, he would've taken off. I think he was frustrated with his swing and didn't even realize it. By the time he did, it was too late."
Kipnis declined comment after the game, but did address the issue via Twitter.
"I pride myself on playing the game hard and the right way," Kipnis wrote. "And in that last at-bat I didn't do it. Already apologized to Tito [Francona] and the gang. Would it have changed the outcome, probably not. But running to first on a [dropped third strike] is always the right thing to do."
It was hardly the only missed chance for the Indians in the ballgame.
Santana saw to that.
"Unfortunately, I think I've seen him good more than I haven't," Francona said. "His arm is tremendous."
Jordan Bastian is a reporter for MLB.com. Read his blog, Major League Bastian, and follow him on Twitter @MLBastian. This story was not subject to the approval of Major League Baseball or its clubs.