Porcello gets redemption as Tigers roll behind homers
Infante, Peralta contribute two-run jacks to back pitcher's first win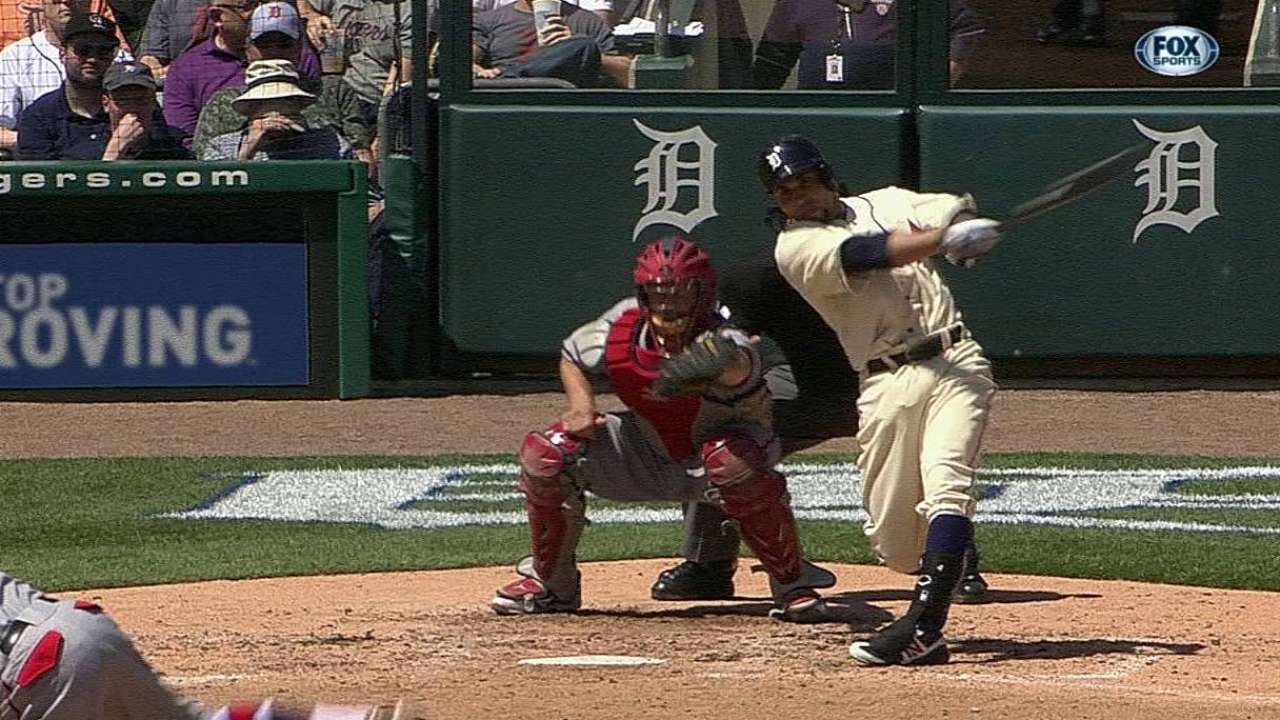 DETROIT -- Rick Porcello's job, at its root, is to get opponents to hit the ball on the ground. That doesn't mean he'll pass up a chance to square something up.
When somebody asked why he had a better breaking ball Saturday on his way to 6 1/3 quality innings against the Braves, he swung away.
"I just think I stayed in the game long enough to get a feel for it today," he said with a wry smile after the Tigers' 7-4 victory Saturday at Comerica Park.
It was arguably the best liner at Porcello's expense all day, which meant nothing good for Atlanta's homer-happy lineup. Yet that was why Tigers manager Jim Leyland had a good feeling about this game for his young sinkerballer.
"If we can keep them in the ballpark, then we've got a shot," Leyland said afterwards. "They live with that home run ball quite a bit. … That's why Ricky was a pretty good matchup, because he can keep the ball on the ground, and he did that for the most part."
Porcello did not have the same level of optimism.
"That's a heck of a hitting team to call it favorable," Porcello said.
Nevertheless, the matchup has favored the Tigers through two games of this series. For Anibal Sanchez, the Braves were his route into the Tigers' record books Friday night. For Porcello on Saturday, Atlanta was his road to redemption.
A week after Angels fans were serenading Porcello on his way off the mound in the first inning, Tigers fans gave him a standing ovation on his way out in the seventh inning. He retired 11 of the last 12 batters he faced after a three-run third inning that had the makings of the nine-run first the Angels put up on him last Saturday. He made pitches, and his middle infielders made plays, in the field for nine ground-ball outs, and at the plate for two two-run homers.
"It's always nice to get an applause," Porcello said. "The fans, obviously, know the game well and know when you're effective and not effective. And they let you know both ways, and that's the way it should be."
Atlanta came to town with baseball's best record, a homer-happy offense and stingy starting rotation. With a nationally televised Sunday night game remaining, the Braves have shown few signs of life against a Tigers club playing arguably its best baseball of the season to date.
Not until Justin Upton pounced on a Joaquin Benoit changeup in Saturday's eighth inning, the 17th inning of the series, did Atlanta find the fences at Comerica Park. Saturday's three-run third came off singles and walks.
They wanted more, and they were swinging for it. In this case, they worked right into Porcello's game plan, and Porcello didn't make a mistake for them to hit like the Mike Trout grand slam last Saturday.
"I think at some point we got a little aggressive on him and didn't get our pitches to hit. Sometimes that happens," Justin Upton said. "We feel like we're about to break through and put some runs on the board. Sometimes, you get aggressive. It didn't work out in our favor."
Porcello sent down Atlanta's first six hitters in order before B.J. Upton hit a slow chopper in front of third base leading off the third. It would have been excusable for Porcello to wonder if he was watching a replay from there.
The next three singles in that inning were a grounder to left, a blooper down the right-field line and another blooper to short center. A Justin Upton ground ball that had a chance for an inning-ending double play yielded one out when Omar Infante struggled to handle the ball at second base.
"Even that inning, with the exception of the walks, I made some good pitches, got some ground balls, broke some bats," Porcello said. "They threw up some runs and found some holes, but throughout the course of the game, I was trying to stay down in the zone and sink the ball and change speeds."
Even the walks, he felt, weren't the worst-case scenario for him. The first, to Juan Francisco after the leadoff single, added fuel to a rally waiting to ignite. The second, the bases-loaded pass to Dan Uggla driving in Atlanta's first run, he felt he could justify.
"Obviously I don't want to walk him there," Porcello said, "but I made some good sinkers down in the zone. In that situation, if I'm going to get beat, it's going to be with my best pitch. He laid off of them."
With Freddie Freeman's blooper threatening to break the game open, Porcello (1-2) needed to make a pitch. Chris Johnson swung at it and lined out to short.
Meanwhile, Detroit's offense went to work on Kris Medlen (1-3), who had allowed only one home run in his first four starts before Peralta's two-run home run opened the scoring in the second. The third-inning rally erased that advantage, but three consecutive singles -- capped by Miguel Cabrera's single up the middle -- quickly tied it in the bottom of the inning.
Alex Avila's two-out walk in the fourth inning extended the inning for Infante. A two-strike fastball rising over the plate was his opportunity.
"I know him," Infante said of his former Atlanta teammate. "He likes to throw a lot of good changeups, good sliders. Today he threw me a lot of fastballs."
Infante hit a liner to the top of the bullpen dugout for his first home run of the year and a 5-3 lead. Justin Upton's 12th home run of the season halved the lead, but Jose Valverde held it in the ninth for his second save since rejoining the Tigers on Tuesday.
Infante fell a triple shy of the cycle, going 3-for-4 with three RBIs. He has gone 10-for-21 over his last five games to raise his average to .307.
Jason Beck is a reporter for MLB.com. Read Beck's Blog and follow him on Twitter @beckjason. This story was not subject to the approval of Major League Baseball or its clubs.