Braves' slide continues behind rocky Medlen
Mechanical issues hamper right-hander as Tigers' homers prove costly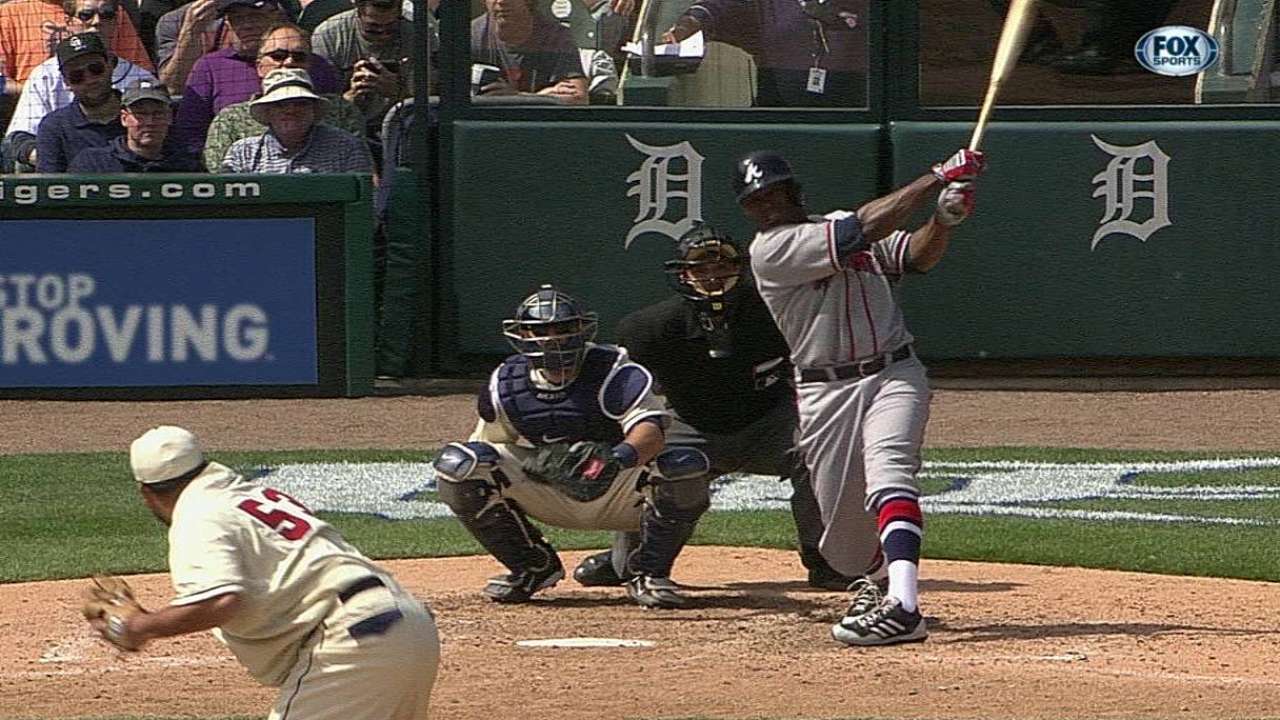 DETROIT -- Before this season began, the Braves were not looking forward to spending most of April on the road. Now that the opening month is nearing its end, they look like a fatigued club that has been worn down by travel and the mounting struggles encountered over the past week.
Less than 24 hours after striking out a season-high 18 times and suffering their third shutout loss in a span of nine games, the Braves were hoping to break out of their offensive funk against Rick Porcello, who had allowed nine runs and recorded just two outs during his previous start against the Angels.
But instead of burying Porcello during an opportunity-filled third inning at Comerica Park on Saturday afternoon, the Braves were unable to overcome the two costly home runs Kris Medlen surrendered in a 7-4 loss to the Tigers.
"I think every pitcher is going to get their [butt] kicked at some point this year," Medlen said. "Hopefully, it was my day today to get my butt kicked a little bit. I battled my [butt] off today. But they did some damage with a couple of pitches."
Medlen surrendered a career-high 10 hits and allowed five runs during a 5 1/3-innings effort marred by the mechanical inconsistencies that prevented him from putting Jhonny Peralta and Omar Infante away before they hit two key home runs.
Peralta opened the afternoon's scoring when he stayed back and launched a hanging 0-1 curveball over the left-field wall for a two-run home run in the second inning. Two innings later, Infante provided the crushing blow by hitting an 0-2 fastball over the left-center-field wall for what proved to be a decisive two-run homer.
"I was 1-2, 0-2 on guys, standing on the mound thinking, 'What the [heck] am I supposed to throw right now? I've got nothing for this guy right now,'" Medlen said. "You go out there trying to make pitches and they're not working that day. Obviously, I'm trying to make the adjustments and they just didn't work."
Medlen's inability to get comfortable with his mechanics proved to be just part of the problem for the Braves, who have lost six of eight since beginning the season with a 13-2 record. Their offensive production was limited to Justin Upton's eighth-inning home run and a three-run third inning that could have proven disastrous for Porcello.
Courtesy of four singles, two walks and a fielder's choice, each of the first seven batters the Braves sent to the plate in the third inning reached first base. Dan Uggla drew a bases-loaded walk to score the inning's first run and Justin Upton followed with an RBI on a fielder's choice. But the only other run scored via this threat came on Freddie Freeman's soft two-out single to shallow center field.
Porcello proved perfect in four of his six complete innings and surrendered just a two-out fourth-inning single after minimizing damage in the third inning, which began with B.J. Upton getting thrown out attempting to steal second base after recording an infield single.
"I think at some point we got a little aggressive on him and didn't get our pitches to hit," Justin Upton said. "Sometimes that happens. We feel like we're about to break through and put some runs on the board. Sometimes, you get aggressive. It didn't work out in our favor."
The Braves have hit .213 (10-for-47) with runners in scoring position in their past eight games. Some of their offensive struggles could be a product of the fatigue that has built as they have played just two of their past 15 games at home. They have won three of the first nine games of the current 10-game road trip that will conclude on Sunday.
"We're playing good teams and running into teams that are playing well," Medlen said. "You never like to make excuses. But I think we're ready to play at Turner Field."
Medlen had appeared to distance himself from the mechanical struggles that plagued him during Spring Training and the first two innings of his season debut against the Phillies. But as he faced the dangerous Tigers lineup, he struggled to command his fastball on both sides of the plate and found some inconsistencies with his offspeed pitches.
As a result, Medlen lost a second consecutive start for the first time since dropping the first two starts of his career in 2009. The 11 earned runs he has allowed in his first five starts are two more than he surrendered in the 12 starts he made last year.
"When I'm able to locate, I'm able to drive my legs and my body to where I want to locate," Medlen said. "Today, I just felt like I was planting and spinning my upper body to try to get it there. Mechanically, it just wasn't clicking today."
That has recently been a common theme for the Braves, who cut the deficit to one run when Justin Upton hit his Major League-leading 12th home run in the eighth inning. But their hopes of completing a comeback were damaged when Infante capped his three-hit game with an RBI double that fueled Detroit's two-run eighth inning.
"This has been a long road trip," Justin Upton said. "We haven't been home much. It's starting to weigh on us a little bit."
Mark Bowman is a reporter for MLB.com. This story was not subject to the approval of Major League Baseball or its clubs.