Besides Donaldson, A's lack timely hitting in loss
Griffin surrenders four runs in the fourth, A's can't recover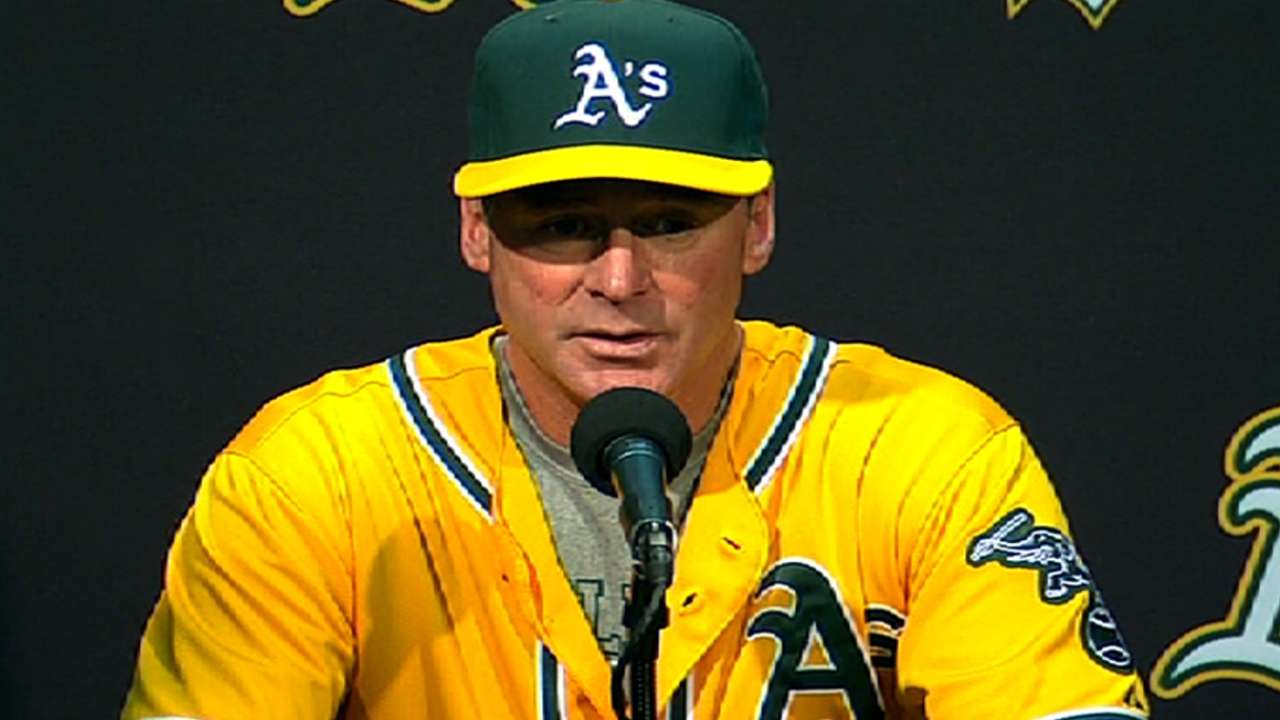 OAKLAND -- On a day celebrating the A's World Series championship team of 40 years ago, A.J. Griffin preferred to look toward tomorrow.
Maybe then, the A's will stop their losing streak, now up to four games after Saturday's 7-3 loss to the Baltimore Orioles.
"We'll get that big hit," Griffin paused, "tomorrow. We'll get that big hit tomorrow. We'll get the ball rolling again, and it'll be a good day tomorrow."
The A's dropped to 13-12 and lost their eighth game out of their last nine, this one in front of 31,292 fans, in attendance for the 40th anniversary celebration and reunion of the 1973 World Series champion A's.
In recent games, the A's haven't often had a lead, and when they do, it hasn't lasted long. After the series-opening 10-2 loss Thursday in which the A's led 2-0 early, manager Bob Melvin mentioned afterward that the team needed to hold on to those types of leads. On Saturday, it happened again after the A's were up, 2-0, heading into the fourth.
Oakland scored once each in the second and third innings, but the Orioles (15-9) responded quickly off starter A.J. Griffin (2-2): Nick Markakis hit a two-run home run to left to tie it, and Adam Jones immediately followed with a solo homer to center. With one out, Chris Davis got a great jump from first and scored on J.J. Hardy's single to center to make it 4-2.
Other than Josh Donaldson's second-career four-hit game (4-for-4, two RBIs) and John Jaso's 3-for-5 performance, the A's could not cash in on their 10 hits, seven against Orioles starter Chris Tillman (1-1). The right-hander struck out seven, walked two and allowed seven hits and two runs in six innings. The A's were 2-for-14 with runners in scoring position.
That rough, 34-pitch fourth inning spoiled what could have been a solid outing by Griffin. He threw seven innings, allowed four runs, five hits and two walks, and struck out seven. When he struck out the side in the second frame, it looked as if the A's were turning the corner on the starting pitching they rely on heavily, especially with Yoenis Cespedes on the disabled list.
"[Griffin] pitched well pretty much every inning but one," Melvin said. "When you only score two runs and give up four in one inning, it's gonna end up costing you. It shouldn't, one bad inning. But we're not putting up runs across the board to overcome a big inning, and the big inning has been our Achilles heel recently."
Nate McLouth went 3-for-5, notching Baltimore's third homer of the day with a solo shot in the eighth.
"Griffin's a guy who goes out and works both sides of the plate," said Markakis, who went 2-for-4. "He keeps you off balance, in and out. He does a good job. He just left a couple over the plate."
A's Reliever Jerry Blevins, who came in Saturday having not allowed a run in 10 of his last 11 outings, was tagged for two runs in the eighth: the homer by McLouth and a sacrifice fly that made it 6-2.
Despite having as many hits as the O's, the A's didn't have much outside of Donaldson to engineer run production. Oakland loaded the bases with no outs in the ninth with Jaso's single off closer Jim Johnson. Seth Smith popped out to left -- not deep enough for Adam Rosales to tag for home -- and Jed Lowrie grounded into a game-ending double play.
"Everybody's trying too hard right now, regardless of position," Melvin said. "Some of the at-bats, too. We get some guys on base, and some of the guys want to be 'the' guy and put a little too much pressure on themselves."
Donaldson has been cool and productive, batting .397 in his last 17 games. After Brandon Moss singled to lead off the second, Donaldson followed with an RBI double to left, making it 1-0.
Donaldson came through again in the third, this time with two outs and runners on first and second. He chopped a 3-2 slider that appeared to deflect off Tillman and scored Smith from second to extend the lead, 2-0.
Donaldson even contributed with his glove at third base. In the fifth, he snared a grounder to start a double play and ended the inning with a sliding over-the-back basket catch at the A's bullpen mound.
"He's an animal out there," Griffin said. "You always know JD is gonna play his butt off."
In the eighth, with Moss on first, Donaldson doubled down the right-field line, then Josh Reddick scored Moss on a sac fly, making it 6-3.
Donaldson was two batters away after Lowrie's game-ending double play.
"We had a good feeling in the dugout," Melvin said of loading the bases in the ninth. "We felt like, based on past experiences, you feel good in the ninth inning when you get some guys on, and there was good energy in the dugout. It just ended abruptly."
The A's hope the losing streak will, too. Maybe tomorrow.
Willie Bans is a contributor to MLB.com. This story was not subject to the approval of Major League Baseball or its clubs.