Haren, Harper lead Nats to third consecutive victory
Veteran righty notches first quality start as a member of the Nationals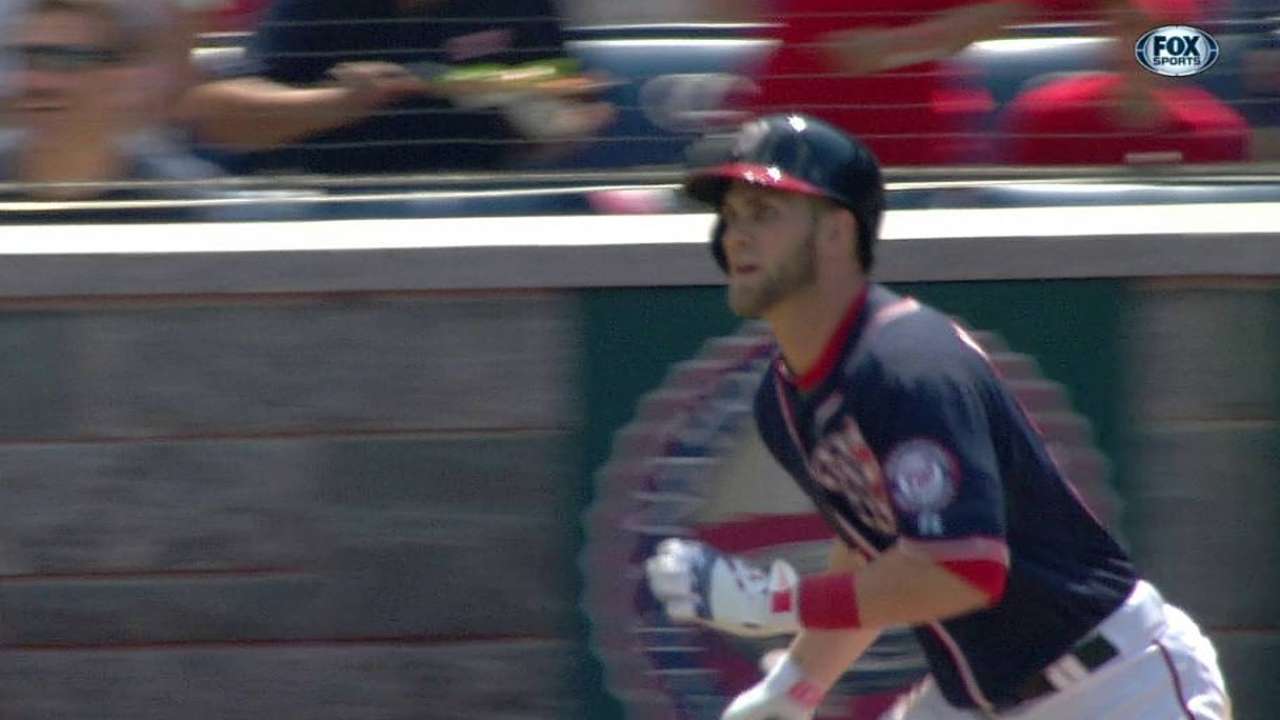 WASHINGTON -- Right-hander Dan Haren pitched his best game as a member of the Nationals on Saturday afternoon at Nationals Park. He pitched six solid innings as Washington defeated the Reds, 6-3.
Before Saturday's outing, Haren did not look like himself on the mound. Through four starts, he had a 7.36 ERA and threw extremely hard like the rest of the pitching staff. As pitching coach Steve McCatty put it recently, he was trying to fit in with the rest of the starting staff by trying to throw hard.
But Haren is all about location. When he is at his best, Haren's fastball is clocked between 89-91 mph. That was the case Saturday, as he allowed two runs on six hits. During the first three innings, Haren faced the minimum number of batters and allowed one hit.
"That was more like him," manager Davey Johnson said. "It's like what we talked about before ... he just changes speeds, he moved the ball around. He pitches. That's what he did today, which is nice to see.
"[The Reds] are a good hitting club. You have to make pitches, and he made good pitches. I'm impressed. That was a good start."
By having a quality outing, Haren now feels like a part of the team. The funny part was that he felt horrible in the bullpen before the game, but he felt like he was in a groove by the second inning.
"I have to be like this or better the rest of the year. There is no excuse not to be," Haren said. "I'm happy with the way it went. I'm not going to get too [overboard] about it. It's just one start. I think I'll be throwing the ball a little bit better as the year goes on. I'll definitely try to build off this one as well."
In the meantime, Haren was given run support in the early innings against Reds right-hander Mike Leake, starting in the second frame. With runners on first and second, Haren helped himself by hitting a single to right field, scoring Ian Desmond. Denard Span followed with a single to center, which drove in Anthony Rendon.
The Nationals added two more runs against Leake the following inning. Desmond drove in Bryce Harper with a single to center field. Jayson Werth then scored the fourth run of the game on a throwing error by third baseman Jack Hannahan.
Harper once again proved his value to the Nationals, hitting a two-run homer in the fourth inning against Alfredo Simon. Harper now has nine home runs and 18 RBIs, a Nationals record for the month of April.
If you talk to Harper about what he accomplished at age 20, he'll tell you he doesn't think it's a big deal.
"It's early in the year. We have [138] games left. I'm just happy we are in the win column the last three nights. I'm excited to get going tomorrow and heading to Atlanta and Pittsburgh," Harper said.
By the seventh inning, however, Washington's bullpen made the game interesting. With right-hander Tyler Clippard on the mound, pinch-hitter Todd Frazier singled to left field, scoring Jay Bruce to make it a 6-3 game. Clippard then walked Shin-Soo Choo to load the bases. But he was able to get Zack Cozart to line out to Span -- who made a great running catch -- to end the threat. It was Span's second web gem of the day.
An inning earlier, with Haren on the mound and a runner on first, Joey Votto hit a ball to deep left center field. Span climbed the wall and made a spectacular catch for the second out of the inning to prevent a run from scoring.
"With Votto, I was already playing deep. You respect his power. I'm not sure if the ball would have went over, but I was prepared to bring it back if it went out," Span said. "The Cozart ball, that was my favorite out of the two today, because I was shading him over to the opposite field and he lined it to the left-center gap. It was fun for me to go out there to run and show my speed and grab the ball in the gap."
Clippard was grateful that Span was able to save him from being the goat of the game.
"Span gets really good reads on jumps. The thing about Denard is, he is fast," Clippard said. "And there are a lot of fast outfielders, but some of them don't get the best jumps. A lot of the times, the great plays or the diving plays you see guys get, it's because they are not getting good jumps, but they are fast and athletic enough to make those diving plays. And a play like that, [Span] didn't have to dive. He had such a good read, he just cruised under it."
Despite the loss, Reds manager Dusty Baker thought his team showed signs of life on offense. In their last four games prior to Saturday, the Reds scored a combined four runs.
"We're getting better. That was a better game. We were two hits away -- had it not been for Span -- from tying that game up or even going ahead," Baker said. "... Very rarely do you see two web gems in one game."
Drew Storen and Rafael Soriano blanked the Reds during the final two innings as the Nationals have won three straight games and improved their record to 13-11.
Bill Ladson is a reporter for MLB.com and writes an MLBlog, All Nats All the time. He also could be found on Twitter @WashingNats. This story was not subject to the approval of Major League Baseball or its clubs.