Choo, Phillips help revive offense; Leake struggles
Cincinnati tallies nine hits; starter surrenders four runs in three frames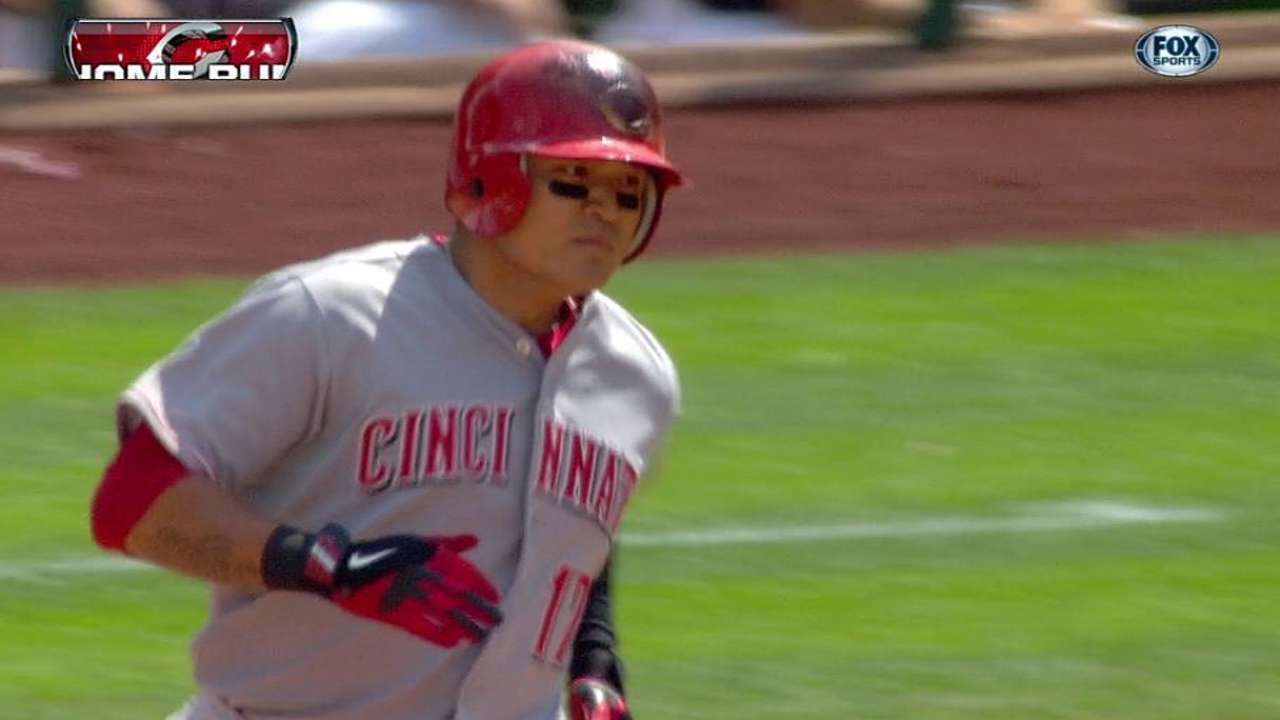 WASHINGTON -- There were a few plays Saturday that left Reds right fielder Jay Bruce shaking his head.
There was Nationals center fielder Denard Span's leaping catch into the left-center-field wall in the sixth inning, which robbed Reds first baseman Joey Votto of what would have been a stand-up double. Or Span's sprinting grab on Zack Cozart's liner in the seventh, which also saved a run. Then there was the line drive in the ninth that was so perfectly aimed at shortstop Ian Desmond that he barely had to raise his glove to catch it.
"There's not really an explanation for it," Bruce said. "We hit the ball right at people. There were a couple balls today that could've changed the game. But that's, as they say, how the cookie crumbles."
The crumbs just didn't fall Cincinnati's way on a cool, sunny afternoon at Nationals Park. Shin-Soo Choo homered to right field in the sixth inning to give the slumping Reds a spark, but the Nationals got six strong innings from Dan Haren to send Cincinnati to its third straight loss, 6-3, before a crowd of 38,903. The Reds have now lost eight of their nine road games this season.
"We're getting better," manager Dusty Baker said. "That was a better game. We were two hits away -- had it not been for Span -- from tying that game up or even going ahead. ... Very rarely do you see two web gems in one game. But like I said, we're getting the barrel on the ball, so we're close. We're pretty close."
When the Reds last saw Haren on April 5, they hit four home runs over four innings and won in a blowout. He looked like a completely different pitcher on Saturday, allowing just six hits and two runs over six innings, with five strikeouts.
"That was more like him," Nationals manager Davey Johnson said. "[The Reds] are a good hitting club. You have to make pitches, and he made good pitches. I'm impressed. That [was] a good start."
While Haren was dealing, Reds righty Mike Leake had his worst start since Sept. 5 of last season. He gave up six hits and three earned runs over just three innings of work, walking three and striking out one. It was the shortest start by a Reds pitcher this season.
"Once I got ahead, they were kind of making me throw the pitch they wanted so I wasn't able to put them away, or I was getting behind," Leake said. "It was a combination of both: they had a good plan, and I wasn't attacking them completely."
Leake struggled with his command early and walked three of the first seven batters he faced. He walked Desmond and Anthony Rendon back-to-back in the second inning and watched his counterpart, Haren, loop a single to right field, scoring Desmond. The next batter, Span, also singled to drive in Rendon for a 2-0 lead.
The Reds finally scored a run in the fourth, their first in their last 17 innings of play. Votto doubled to the left-field corner and Brandon Phillips singled him home, one of his three hits on the afternoon.
"Sometimes, you can hit the ball hard and get no hits, and then you hit the ball soft and get a lot of hits," Phillips said. "All you can do is just roll with it, just take it how it is."
After making solid contact in his first two at-bats of the game, Choo homered off Haren in the sixth, depositing a 90-mph fastball into the right-field seats. The Reds scored again in the seventh, when pinch-hitter Todd Frazier hit a single to bring Bruce home. But ultimately, it was too little, too late.
Still, there were positives. The Reds' offense, which had collected just one hit in each of its past two games, accounted for nine hits and scored one more run that it totaled the past three games combined.
"We got more than one hit, we scored some runs. That's basically it," Phillips said. "When you lose, regardless of how many hits [you have] or whatever your team does, a loss is a loss."
Tom Schad is an associate reporter for MLB.com. This story was not subject to the approval of Major League Baseball or its clubs.