Mets opt to keep Edgin close at Binghamton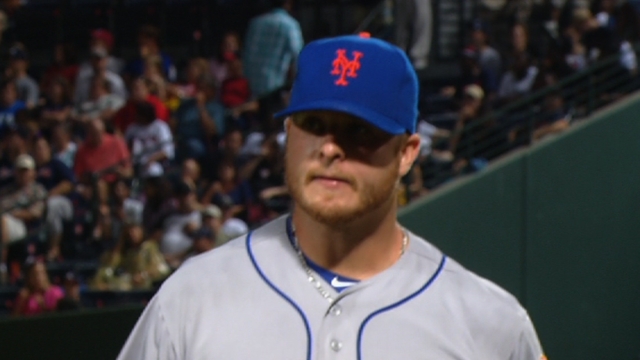 NEW YORK -- The Mets used proximity to protect both their staff and an individual reliever on Saturday, when they optioned Josh Edgin down to Double-A Binghamton. The Mets moved Edgin to make room for starter Shaun Marcum, but they also did it to try to restore his confidence.
The left-hander has posted a 9.64 ERA in his first 11 games this season, and the Mets sent him to Double-A both to keep him close and to avoid the hitter-heavy lineups in the Pacific Coast League. Edgin, 26 years old, was told to keep his head up and work his way back to the Majors.
"If something happens, I want to be able to get him here fast," said manager Terry Collins. "I just said, 'Go to Binghamton. You're close. Go work and get your confidence back.' Again, that's what it's all about. When you're on that mound, you need to know you're going to make the pitch."
Edgin, selected in the 30th round of the 2010 First-Year Player Draft, has already beaten the odds just by making it to the Majors, and Collins thinks he can have a long career ahead of him. Edgin was given a trial by fire last year after southpaw Tim Byrdak suffered a season-ending injury.
And while that experience helped Edgin, it also served to pigeonhole him. Collins said that it's a tough adjustment for a young pitcher to become a situational southpaw, because he has to get up in the bullpen so often. Sooner or later, said Collins, that can begin to take a toll on your arm.
"I can only go on my experience of seeing a young pitcher who gets up and down that many times," he said. "It's just that their arm doesn't respond. They're not making the pitches. There's just not the crispness on the fastball, and I don't necessarily mean velocity. His velocity's been OK. ... We know it's still there, it's just that all of a sudden, that free-and-easy action and that confidence to make a pitch [is missing]. I just think there's some wear and tear on the arm after all that up and down."
That wear and tear is natural, said Collins, and it can disappear in time if Edgin is treated carefully at his next destination. Edgin made just six appearances at Binghamton last year before being promoted to Triple-A and then to the Majors, a fast track after dominance at the lower levels.
Now he's going in the opposite direction, but Collins said there's no reason to believe it will be permanent. The Mets still believe in Edgin, and they want him to share that belief.
"For the first time in his career, he's struggling," said Collins. "It's not that something's wrong with his arm. When you start struggling for the first time in your career, it gets in your head. The worst place you can send a pitcher who's struggling mentally is to [Triple-A] Las Vegas. Or Colorado Springs. Or Albuquerque, one of those places where you make a good pitch and the guy hits a two-run double."
Spencer Fordin is a reporter for MLB.com. This story was not subject to the approval of Major League Baseball or its clubs.