Phils flex in fifth as Pettibone wins with ease
Brown, Mayberry give club second set of back-to-back jacks in '13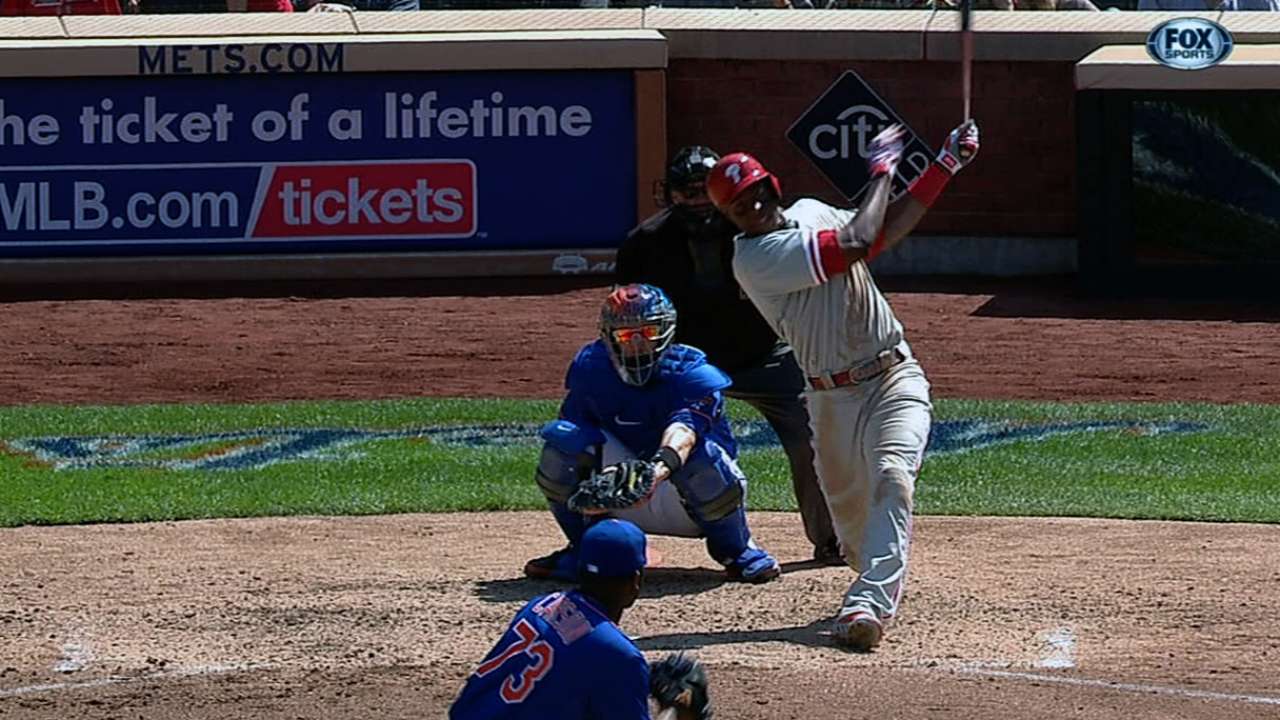 NEW YORK -- Phillies outfielders entered Saturday's action with three home runs through their first 24 games. Successive pitches in a five-run fifth at Citi Field nearly doubled that total.
Left fielder Domonic Brown and center fielder John Mayberry hit back-to-back homers on consecutive pitches from Mets reliever Robert Carson, breaking the game open as the Phillies earned a 9-4 victory and gave rookie Jonathan Pettibone his first career win.
"That's what we've been waiting for," said manager Charlie Manuel, "and we have to do it more often."
The five runs the Phillies scored in the fifth inning alone were more than they scored in any game since putting up seven in a win Sunday against the Cardinals and more than they managed in 18 of their first 24 games. But their bats have shown significantly more life against the National League East-rival Mets all season, and Brown's three-run shot into the visitors' bullpen ensured that trend continued.
"Especially with runners in scoring position, we've just been trying to do a little too much," Brown said. "Today, we had a different outcome, and that's what we're capable of doing."
The Phillies scored three runs or fewer in 11 of their past 14 games entering their weekend series in New York. That stretch was preceded by seven- and eight-run games against the Mets in early April, though, and four proved enough in Friday's shutout.
They average 3.15 runs per game against every other team this season, but six against the Mets.
"We haven't been hitting in the right situations to knock those runs in, but today we did," Manuel said. "We had a little bit of everything. We had some sac flies, we had some doubles, we had some homers. We were fortunate enough to hit with guys on base."
Brown and Mayberry's homers marked the second time the Phillies went back to back this season, with the first coming from Ryan Howard and Michael Young on April 9 -- also against the Mets.
Brown was looking for a fastball away -- where the Mets have been throwing to him all series, he said -- but instead caught Carson's hanging slider.
"I missed with my slider up and in right there, and Brown just hammered it as we all saw," Carson said. "And then I tried to go in -- fastball in -- to Mayberry. I didn't get it in far enough, and he just ambushed it, got it over the wall."
The win gave Philadelphia five consecutive victories at the Mets' ballpark, in addition to a series win in the three-game set that concludes Sunday.
It also saw the 22-year-old Pettibone collect a pair of firsts in his second Major League start -- a win and a hit, with the latter sparking the Phillies' scoring in the third.
"Definitely the win," Pettibone said, asked which first felt better, though teammates gave him a scuffed ball, which they claimed was from his first hit.
Pettibone smacked a single to left field off counterpart Shaun Marcum to start the third inning, advanced on a Jimmy Rollins single and scored on Chase Utley's ground-rule double. Rollins scored on a wild pitch from Marcum, making his Mets debut after missing the start of the season with a neck injury, and Utley scored two batters later, tagging from third on Howard's second fly ball to the left-field warning track.
A 3-1 lead and some time on the basepaths appeared to settle Pettibone down in the third, when he faced the minimum three batters after allowing the Mets to score the game's first run with consecutive doubles in the second inning. But he was back in trouble in the fourth, allowing a pair of singles to start the frame before walking John Buck on four pitches to load the bases with nobody out.
"It felt like every inning I was in some sort of circumstance, struggling somewhere, but I was able to make a few good pitches at certain times to get out -- some big double plays," said Pettibone, who threw 96 pitches, 60 for strikes. "My teammates picked me up, offensively and defensively."
Ike Davis was first-pitch swinging with the bases loaded, and while his sacrifice fly gave the Mets back a run, it also gave Pettibone the inning's first out, and he recovered to escape the inning with only one run allowed.
"When Davis hit that ball to the wall, I was concerned about [Pettibone] right there. It seemed to me that when he fell behind, that's when he made pretty good pitches to get out of it," said Manuel, who added Pettibone deserves to remain in the rotation.
"He kept his composure and he kept pitching. For a kid who just came up in his second game, he got in some tight jams there, but wheeled his way out of it. That was good."
Pettibone induced a ground ball that Jordany Valdespin narrowly beat to avoid a double play, but the Mets sent pinch-hitter Justin Turner to the plate to bat for Marcum, and Pettibone struck him out looking. And with Marcum out of the game, the Phillies jumped all over the lefty Carson, showing their bats still have life, especially against New York.
"[Carson] just didn't get his breaking ball over or his changeup over," said Mets manager Terry Collins. "When you're facing guys with one pitch that are that good, you're going to get hurt."
Steven Miller is an editorial producer for MLB.com. This story was not subject to the approval of Major League Baseball or its clubs.