Staked to early lead, Peacock unravels vs. Sox
Righty lasts just 3 1/3 frames; Porter hints changes may be coming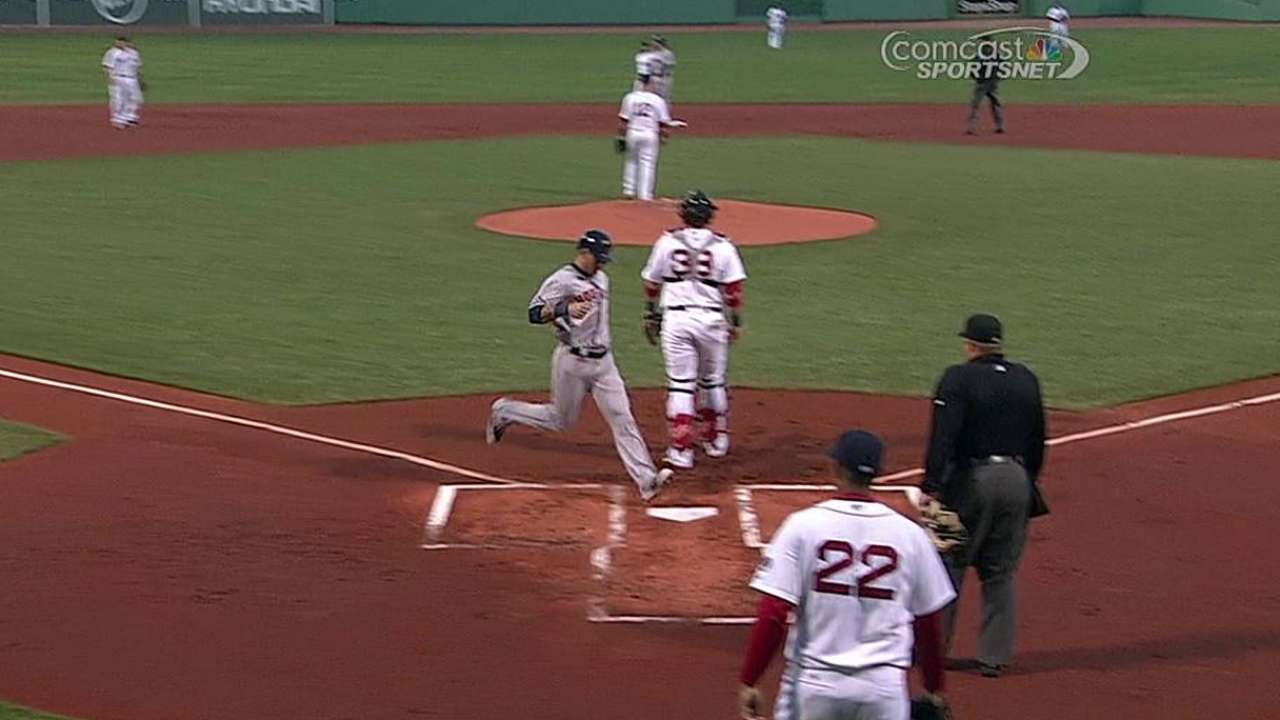 BOSTON -- Clearly frustrated by the inability of his club's starters to consistently work deep into games, Astros manager Bo Porter said following an 8-4 loss to the Red Sox on Saturday night at Fenway Park that changes could be on the horizon.
Rookie right-hander Brad Peacock became the latest starter to struggle to reach even the fourth inning, allowing six hits and five earned runs in 3 1/3 innings. Houston starters Philip Humber, Erik Bedard and Peacock have pitched 11 innings in the first three games of the series against Boston and allowed 17 runs and 24 hits.
"It's either adjustments are going to be made or we're going to find people that are going to throw strikes," Porter said.
Astros starters have posted an 11.18 ERA in the team's last 12 games, allowing 77 hits in 44 2/3 innings. The abbreviated outings continue to take a toll on a bullpen that has thrown more innings than any other team. Houston relievers were forced to pick up 4 2/3 innings Saturday.
"It's definitely something that needs to be addressed and corrected, and whenever you're 3 1/3 [innings], 90 some odd pitches, I don't know how many walks -- I think we had eight as a team -- against a team that when they get men in scoring position, they basically showed how it's done," Porter said. "You look at all the hits with men in scoring position and the ball was where? Driven the other way.
"It's a professional approach, and you have to give those guys credit, but at the same time, we're not helping ourselves by not throwing strikes."
Peacock (1-3) has lasted 4 1/3 innings or fewer in four of his five starts and has an ERA of 8.44.
"I know we have to start doing better, but I'm going to keep working every day and hopefully I can get out of this," Peacock said.
The Red Sox had 12 hits, with Daniel Nava, Dustin Pedroia, David Ortiz and Will Middlebrooks each getting two hits. Boston was 5-for-13 with runners in scoring position, compared to 1-for-12 for the Astros (1-for-24 the last two nights).
"You can just take a look across the diamond and they put on a clinic on what to do when you get men in scoring position," Porter said. "You look to the big part of the ballpark, you drive the ball the other way, and their guys are not getting any more information than our guys are getting. Their guys are doing a better job than our guys are doing, and that's the difference in the ballgame. They hit with men in scoring position. We did not."
The Astros also struck out 12 more times, giving them double-digit strikeouts for the fifth time in the past six games.
"We didn't pitch well enough, we didn't hit well enough, we had opportunities, and when we had opportunities, we didn't take advantage of them," Porter said. "Tonight, once we finish talking here, it will be over with for me and we'll move forward to the next game."
When asked how the team's recent performance has been weighing on him, Porter didn't flinch.
"I'm a tough man, and I've always said this: tough times don't last; tough people do," he said. "I'll show up tomorrow with a smile on my face and we're going to continue to give them opportunities and expect them to take advantage of the opportunities. If the opportunity is not taken advantage of, as an organization we'll decide to make changes."
Red Sox starter Felix Doubront tried to give the game away in the first inning, allowing a single to Jose Altuve, hitting a batter and walking three more in the first six batters he faced. The Astros had the bases loaded four times in the inning, but they only managed runs on a bases-loaded walk to Chris Carter and a Ronny Cedeno sacrifice fly.
"Seriously, I don't know what happened in the first inning," Doubront said. "I was feeling like I was using more of my arm than my body. I was a little frustrated because of what I was doing from thinking too much. After the first inning, I was really focused and in the strike zone. I wasn't thinking about my mechanics at all. Just throw the ball and get quick outs to go deep in the game. I was so proud that I did that. I flipped the switch after the first inning and I got the 'W.'"
Once Doubront (3-0) found his control, he made quick work of the Astros. He retired 17 of 19 batters following a four-pitch walk in the first inning and watched Boston pull away with three runs in the seventh inning off Hector Ambriz.
"He threw the ball everywhere and we scored two runs, and after that, he took a breath and he was outstanding," Altuve said. "He threw his pitches where he wanted and he got back into the game early enough and could do the job."
Brian McTaggart is a reporter for MLB.com and writes an MLBlog, Tag's Lines. Follow @brianmctaggart on Twitter. This story was not subject to the approval of Major League Baseball or its clubs.