Shake it up: Doubront rebounds to stymie Astros
After yielding two runs in wild first, lefty settles down to get third win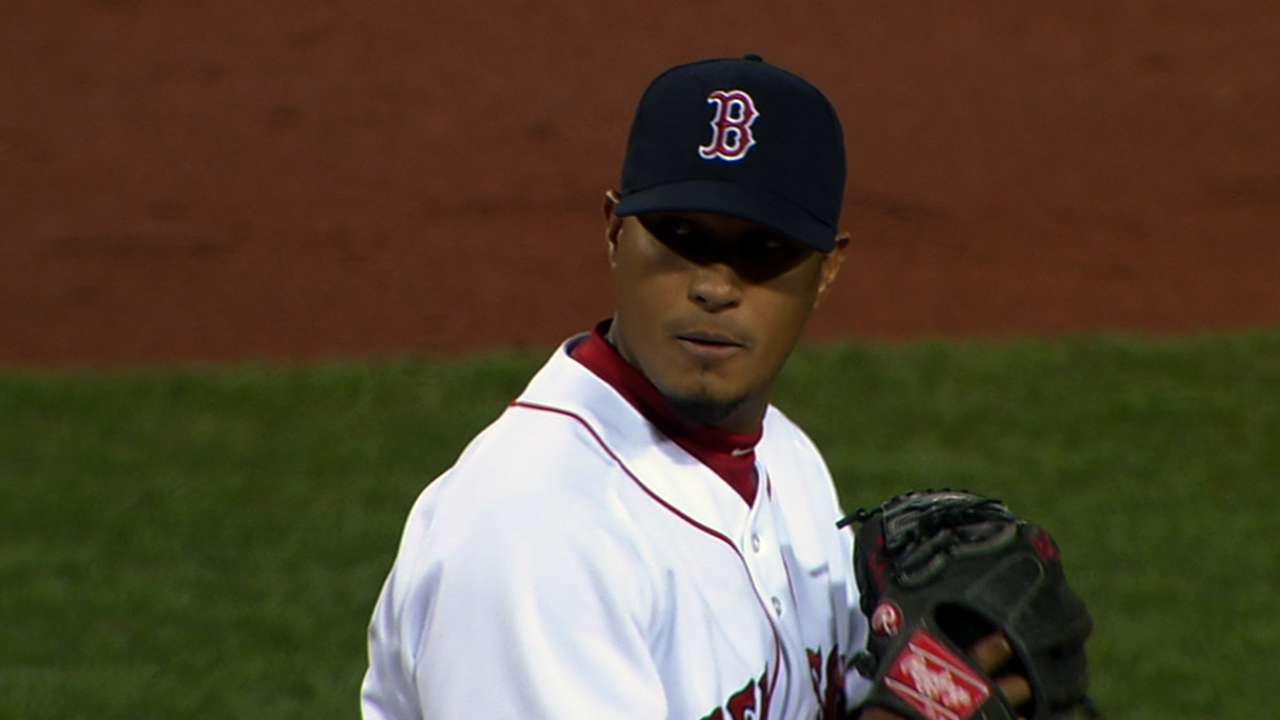 BOSTON -- Felix Doubront is confident there will come a day when he won't be navigating himself through bouts of inconsistency.
In the meantime, he will take pride from those occasions when he navigates himself through a storm and pitches his team to victory.
Such was the case on Saturday night at Fenway Park, as Doubront helped the Red Sox past the Astros, 8-4.
After a first inning that was beyond shaky, Doubront picked himself up in impressive fashion, hardly encountering a bump for the rest of the night.
In that opening frame, Doubront fired 31 pitches, walked three, hit a batter and uncorked a wild pitch. The one thing he did was minimize the damage, holding the Astros to two runs while facing eight batters.
"Seriously, I don't know what happened in the first inning," Doubront said. "I was feeling like I was using more of my arm than my body. I was a little frustrated because of what I was doing from thinking too much."
When the seventh inning started, Doubront was still out there. It wound up as a quality start, as Doubront gave up four hits and three runs over 6 2/3 frames. The lefty walked four and struck out eight to improve to 3-0.
The difference was simple. Doubront let his talent take over.
"After the first inning, I was really focused and in the strike zone," Doubront said. "I wasn't thinking about my mechanics at all. Just throw the ball and get quick outs to go deep in the game. I was so proud that I did that. I flipped the switch after the first inning and I got the 'W.'"
Meanwhile, the Red Sox ran their record to 17-7, the best in the Majors.
"We've had a very good offensive approach, even on nights where we've only scored a few runs," said manager John Farrell. "We've done a very good job of chasing a starting pitcher to get into the middle of the bullpen. Our starting pitching has been very consistent. I think we've played very good defensively. There's still room to improve in areas. The fact is, we have three areas of the game where we're operating pretty well right now."
Doubront didn't ask his offense for much, but they granted his request -- and then some.
"We have a great offense," said Doubront. "I wasn't worried about that. I just said to the guys, 'Just get me three runs. That's it."'
The climb back took a minimal amount of time.
Back came Boston in the second, as it was Brad Peacock's turn to lose command. Jarrod Saltalamacchia started the rally with a one-out walk. Will Middlebrooks followed by clubbing a double high off the Green Monster, and Stephen Drew walked to load the bases.
Jacoby Ellsbury then lofted a two-run single into center to tie the game. Dustin Pedroia drew the third walk of the inning, and David Ortiz made it a costly one by drilling a two-run double to left to make it a 4-2 game.
Ortiz delivered an insurance run in the fourth, hitting a sacrifice fly to left against lefty reliever Travis Blackley.
In seven games since returning from the disabled list, Ortiz has been marvelous, hitting .519 with two homers and nine RBIs.
"The fact is, he has a major injury he suffered a year ago that's behind him," Farrell said. "We all know what type of hitter he is. You see the progression and the continued improvement the last two years, particularly against left-handed pitching. Tonight that was the case again. Blackley's got good stuff, and the sac fly on a good fastball off the plate away -- that's not easy to do.
"We're all recognizing he's doing things that look to him to be very easy, but it's hard to imagine or script out that he would come back and have this type of performance given the layoff."
The Sox tried to put it out of reach with three runs in the seventh, making it an 8-3 game. The key hits came from Drew (RBI single), Daniel Nava (RBI single off the Monster) and Pedroia (opposite-field RBI single to right).
As it turns out, that cushion was big.
Daniel Bard opened the eighth by walking the only two batters he faced, throwing just one strike.
"My slot got a little high," said Bard. "I was locked in in the bullpen. I was throwing it as good as I can throw the ball, and then I got into the game and it probably crept up a little high, which is usually not what I want to be doing.
"It's just a matter of adjusting it back to a lower slot. It's nice when you're able to recognize it right away, get to work and fix it for the next time."
Alex Wilson came on and was greeted by an RBI single to left from Matt Dominguez.
With one out, Jonny Gomes made a terrific catch for the second night in a row in left, this one a lunging grab on a liner by Robbie Grossman.
"There's been a couple times he's entered the ballgame and he's been challenged right away," said Farrell. "He makes a heck of a play on a line drive right at him. If that ball gets over his head, that inning has a chance to get more interesting than it was already. He's done an excellent job defensively in left field for us."
Then there was Doubront, who relished his night of redemption.
"I'm just waiting for that moment that I can put it all together to get more efficient," Doubront said.
Ian Browne is a reporter for MLB.com. Read his blog, Brownie Points, and follow him on Twitter @IanMBrowne. This story was not subject to the approval of Major League Baseball or its clubs.