Lincecum sharp but offense stifled in San Diego
Right-hander in strong form, fans nine over seven innings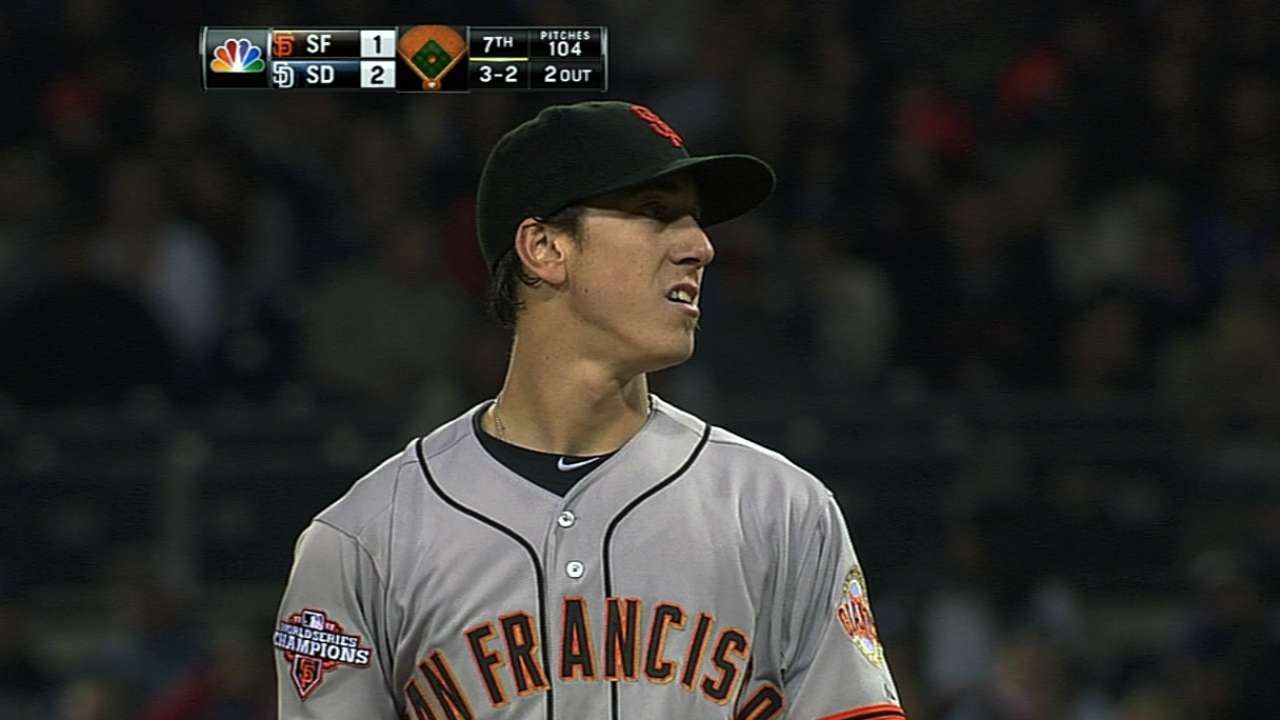 SAN DIEGO -- Attention, free-agent shoppers: Tim Lincecum provided further evidence Friday night that he remains capable of being an effective pitcher.
Unfortunately for the Giants, their hitters couldn't match Lincecum's excellence, as the offense went virtually silent for the final seven innings in a 2-1 loss to the San Diego Padres.
During their three-game losing streak, the Giants are 2-for-24 with runners in scoring position. In the series opener against the Padres, they went 0-for-5 in those situations and scored their lone run on a wild pitch.
Little was heard from the Giants' offense after they had runners on first and second with nobody out in the third inning, as Padres right-hander Andrew Cashner and four relievers combined to retire the next 19 Giants batters.
Padres closer Huston Street surrendered ninth-inning singles to Buster Posey and Brandon Belt but coaxed Brandon Crawford's groundout to end the game.
Amid this silence, Lincecum's performance spoke volumes.
The right-hander worked seven innings, marking the first time he lasted that long since Aug. 10 against Colorado, 14 regular-season starts ago.
"On a personal note, it was great to go seven and not be all over the place," said Lincecum, who walked three. "I'll take it as a positive that I put the team in position to come back."
Lincecum also struck out nine, including at least one in every inning but the second. That was his highest figure since he totaled 11 against Houston on July 14, a 19-start stretch.
But the two-time National League Cy Young Award winner wasn't interested in dredging up his past, especially last year's disappointing 10-15 finish.
"I'm trying to get away from comparing this year to last year," Lincecum said, adding that his primary concern was to "do my job and put the team in best position to get a win."
Lincecum duly impressed Giants manager Bruce Bochy. "I'll take that outing every time out," he said.
Combined with his 6 2/3-inning shutout of the Padres last Saturday, Lincecum has made back-to-back quality starts, something he didn't do last season until June 22 and 27.
"I thought he was not too different from what we saw last weekend," Padres manager Bud Black said. "The split has good action. He's throwing the ball well. This guy knows how to pitch."
Should Lincecum continue even a semblance of this pace, he'll likely be a popular commodity this offseason when he enters free agency, as is expected. The Lincecum who posted a 5.63 ERA in his first three starts wouldn't be extremely marketable. The version who owns a 1.35 ERA and 17 strikeouts in 13 2/3 innings in his last two games should prompt owners to reach for their checkbooks.
The Giants were 4-1 in Lincecum's April starts, but he cautioned against reading too much into that. "The team did a great job of bailing me out of a couple of games where they scored a [lot] of runs," he said.
That didn't happen this time.
Lincecum received spectacular defensive help in the second inning, when center fielder Angel Pagan dashed to his right for a diving catch of Jedd Gyorko's line drive. That helped Lincecum escape a two-on, none-out jam.
An inning later, third baseman Pablo Sandoval plunged forward to snare Everth Cabrera's bunt attempt in foul ground. Unlike Pagan's play, this didn't save Lincecum as the Padres proceeded to score twice. Lincecum compromised himself by allowing Cashner's leadoff single, which preceded consecutive two-out singles from Chase Headley, Carlos Quentin and Yonder Alonso. Quentin's hit tied the score and Alonso's put San Diego ahead to stay.
Chris Haft is a reporter for MLB.com. This story was not subject to the approval of Major League Baseball or its clubs.