Cashner impressive to win duel with Giants, Lincecum
Right-hander delivers six strong innings in second start of year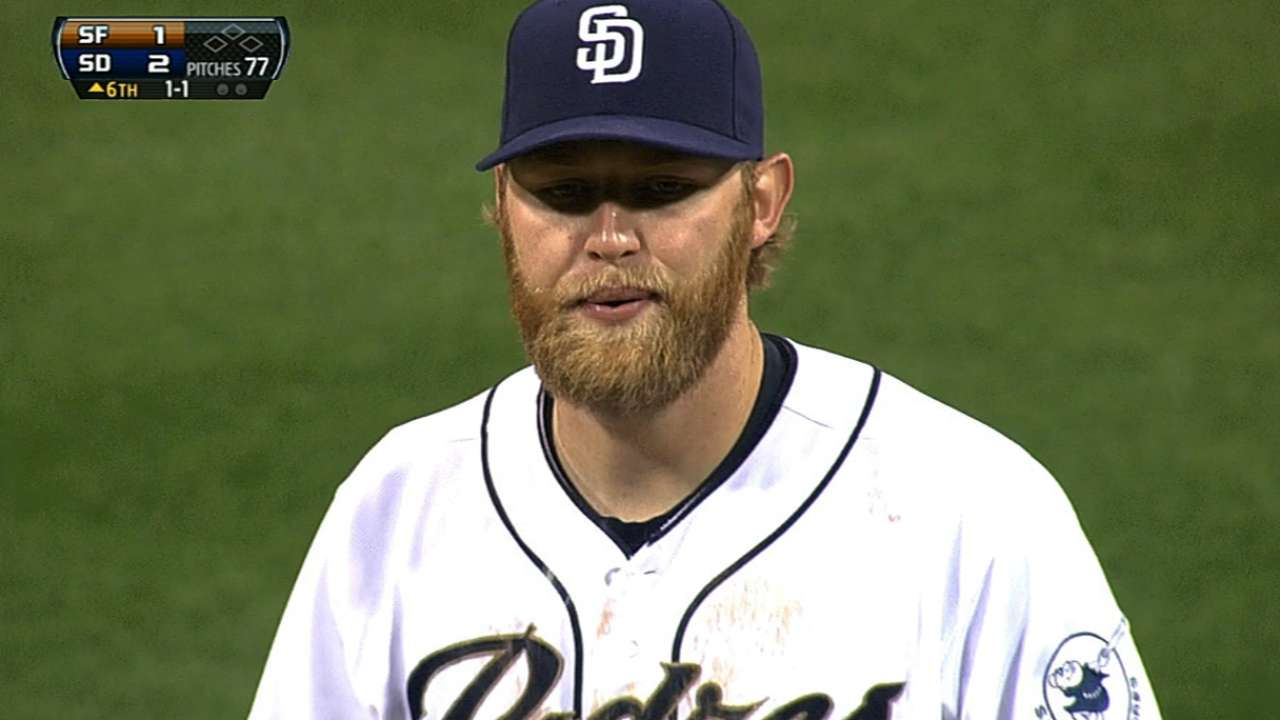 SAN DIEGO -- Catching Andrew Cashner, John Baker said on Friday, was sort like the blissful afterglow of Christmas morning.
"It's like a fun new toy to play with," Baker said.
Baker was referring to the type and quality of pitches that Cashner used to his advantage in the Padres' 2-1 victory over the Giants before a crowd of 34,929 at Petco Park.
Making his second start since moving into the rotation last week for the injured Tyson Ross, Cashner (1-1) allowed a run on five hits over six innings. He retired the last 12 batters he faced in a start that lasted 83 pitches, 52 of which went for strikes.
"He was great. Obviously we have to think that, because he shut us down. The guy has a great arm and he just shut us down. It's that simple," said Giants manager Bruce Bochy.
Using a mid- to high-90s fastball and changeup, Cashner tossed in a pitch he didn't get much mileage out of his last time out against the Giants (13-10) last Saturday -- the curveball. It was the three-pitch mix, something he didn't really need in long relief, which worked well for him.
"It's easier to use all your weapons when you start," said Padres pitching coach Darren Balsley. "It opens up more options and gives you good things to choose from. He's getting better and better."
That wasn't so much the case early, as Cashner allowed a run in the first inning, courtesy of a wild pitch, as leadoff hitter Angel Pagan, trotted home easily from third base for a 1-0 lead. But that was the extent of the Giants' offense.
In the third inning, Pagan singled and Marco Scutaro walked to start the inning. But Cashner came back to strike out Pablo Sandoval looking on a 98-mph heater before getting Buster Posey and Hunter Pence on consecutive ground balls to shortstop Everth Cabrera.
"I wasn't making pitches at the beginning of the game, but then I started to make better ones," Cashner said. "They're a really aggressive team so I was trying to make pitches in the zone. I wanted to cut down on my walks."
The walk to Scutaro was the only one Cashner issued. He cruised in the middle part of the game before relievers Joe Thatcher, Dale Thayer, Luke Gregerson and Huston Street combined to get the last nine outs.
Street allowed two hits in the ninth inning and the tying run was at third base in pinch-runner Joaquin Arias. But Street got ahead in the count of Brandon Crawford and eventually got him to ground out to collect his fourth save of the season.
The Padres (7-15) didn't have -- or need -- much in the way of offense against Giants starting pitcher Tim Lincecum (2-1), who tossed 6 2/3 shutout innings his last start against the Padres last Saturday. Lincecum allowed two runs on six hits with three walks and nine strikeouts in seven innings.
"I thought he was not too different from what we saw last weekend," said Padres manager Bud Black.
Cashner singled to start the third inning and eventually stole second base but then was held at third as Chase Headley singled to right field with two outs. Carlos Quentin then lined a single to center field to tie the game. Yonder Alonso followed with an RBI single that was good for a 2-1 advantage.
But the story of the game was Cashner, who opened the season as a long reliever. Black and the front office have maintained that they see Cashner as a starter and that he likely would have joined the rotation at some point. But last Saturday, he filled in for a sick Clayton Richard and remained in the rotation after Ross landed on the disabled list with a left shoulder impingement.
Cashner likely would have been in the rotation to start the season, but he had surgery in December to repair a lacerated tendon in his right thumb and came to camp in Arizona in February a little behind his teammates. But he made up ground fast to make the team.
"The ability to make pitches when you need to ... that was great to see," Black said. "Today was another steppingstone. Let's continue on that path with Cash."
In other words, Cashner won't be headed back to the bullpen anytime soon.
"He hasn't reached his ceiling," Balsley said. "When he starts rolling, the sky is the limit."
Corey Brock is a reporter for MLB.com. Keep track of @FollowThePadres on Twitter. This story was not subject to the approval of Major League Baseball or its clubs.