A's unable to back Milone's strong effort
Southpaw allows just one unearned run over 6 2/3 innings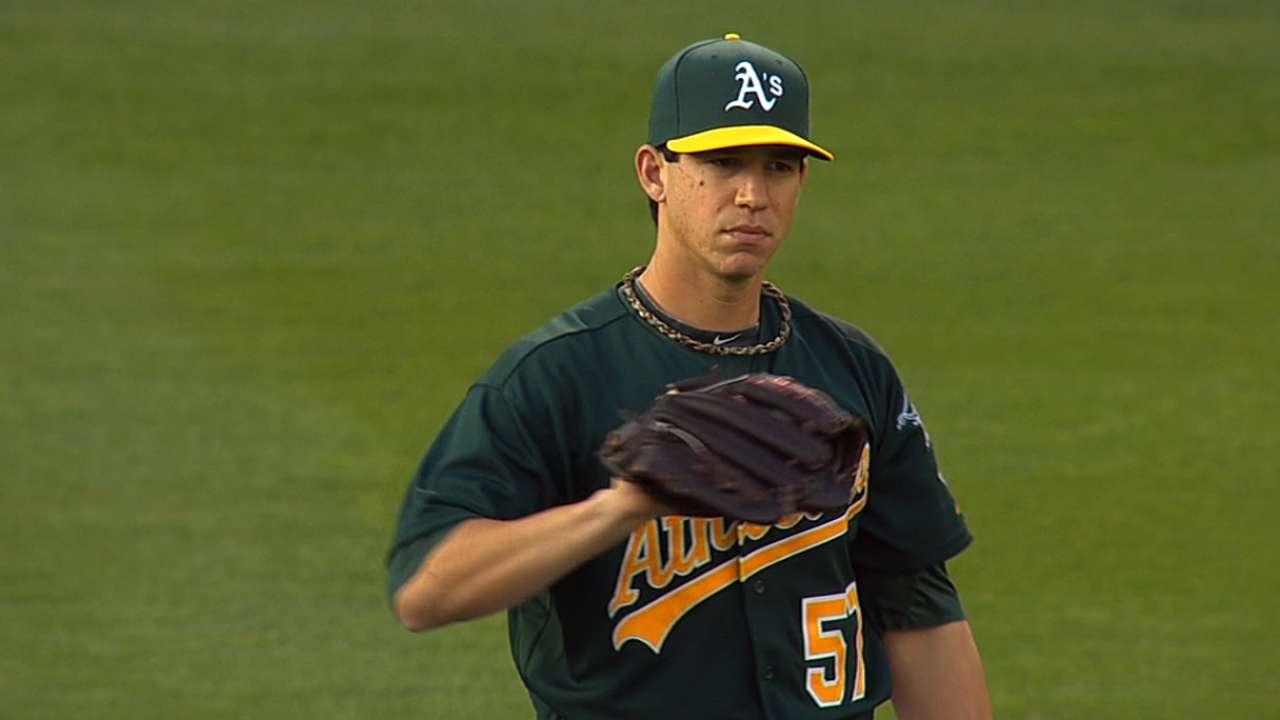 OAKLAND -- This was exactly the type of night needed by a member of Oakland's struggling starting staff.
At least on paper it was.
But Tommy Milone's encouraging performance was unfortunately upstaged by one too many miscues in the field by his teammates, whose season-high three errors -- next to only three hits -- helped the Orioles to a 3-0 victory on Friday night.
And so Milone, previously undefeated in his two other starts at home, where he has a 1.77 ERA, was stuck with a loss.
For the A's, who have been shut out three times through 24 games, it was their third straight defeat and seventh in their last eight games. They're 4-9 since winning nine straight.
"We know we're better than this," said Jed Lowrie, guilty of one of the errors. "We're not playing with a whole lot of energy. We're facing guys that have pitched well, but I don't think we've put up a strong enough fight against them.
"I think it's just one of those ruts early in the season, where the quicker you get out of it, the better you're going to be in the long run."
Starting-pitching woes -- A's starters entered the day with a 6.12 ERA over the last 16 games -- have contributed to this sudden spiral, but they were of no concern on this night, as defensive blunders and a weak offensive showing against tough lefty Wei-Yin Chen proved to be the culprits this time around.
Milone pitched out of a pair of jams in the early going and retired 15 of the last 19 batters he faced, scattering six hits with one walk and five strikeouts while allowing one unearned run in 6 2/3 innings.
"That's really what we're expecting of ourselves every time out, especially me," said Milone. "I have high expectations for myself, and outings like this are what I'm looking for every time, so it's good to get it."
"We always feel good when Tommy takes the mound, and even when we struggle to get runs and even hits, he still keeps you in the game," manager Bob Melvin said. "To an extent, it just takes you one good inning to get in the game, and now you're in a position to win. We weren't able to do that. He knew he couldn't give much up, and he didn't."
It was in Milone's last frame that the Orioles found their way to home plate, with J.J. Hardy leading off with a routine single and advancing to second when Josh Reddick slipped and fumbled the ball in right field while making the play to set up a scoring opportunity for Nolan Reimold. Reimold was jammed by Milone and could only muster a popup, but Steve Pearce followed with an RBI knock that plated Hardy.
In the ninth, righty Ryan Cook loaded the bases with one out, and a potential double-play ball off the bat of Nate McLouth was misplayed by Lowrie -- making his first start at second base since 2010 -- and led to a run. Nick Markakis' ensuing sacrifice fly extended his club's lead.
"I've been playing shortstop every day for the last year at least," Lowrie said, "and I think I just need to get more reps to be confident in those plays."
"It's frustrating, obviously," Melvin said. "When you're in close games like that, defensive miscues end up really costing you. It's maddening for us, but you can't lose your focus, and when you're in close games you have to play flawless defense."
The A's couldn't answer back against a dominant Chen, who allowed just two hits while tossing a career-high eight innings in the win. He moved to 3-0 with a 0.44 ERA in three career starts against Oakland.
Suddenly, the A's are 2-9 with a .198 team average against non-American League West competition, compared to 11-2 with a .291 showing vs. division opponents.
"We have to find a consistency," Melvin said. "We have the ability to do it. We're just in a little bit of a rut right now and we have to find our way out of it. Earlier in the season, we were scoring runs. We were very good early on, and we've hit a dry spell at this point."
Jane Lee is a reporter for MLB.com. Read her blog, Major Lee-ague, and follow her on Twitter @JaneMLB. This story was not subject to the approval of Major League Baseball or its clubs.