Chen goes eight scoreless as Orioles top A's
Continuing solid stretch, Pearce collects two hits and key RBI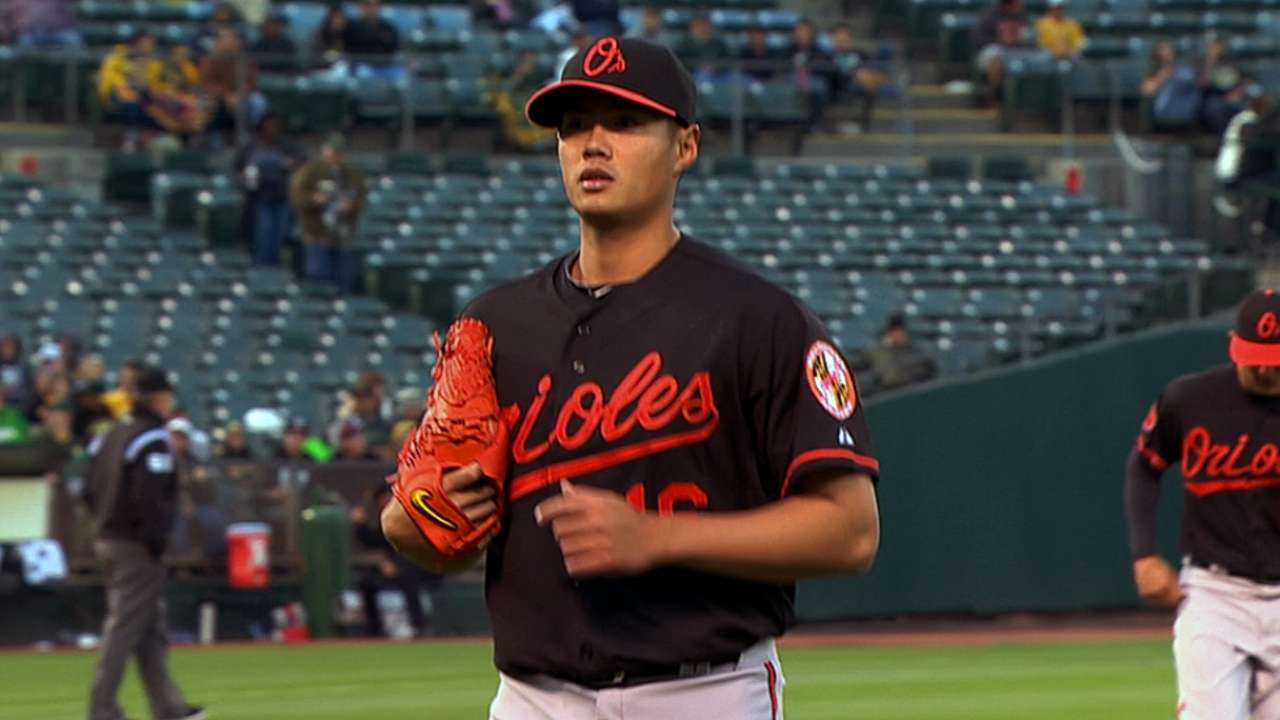 OAKLAND -- Steve Pearce has one of the hardest jobs in baseball as a part-time player. He understands it, though, and seems to have things figured out.
Appearing in just his eighth game, Pearce recorded a pair of hits, including a single in the seventh inning that drove in a run spoiling a pitcher's duel between Baltimore's Wei-Yin Chen and Oakland's Tommy Milone as the Orioles beat the A's, 3-0, on Friday night at the O.co Coliseum.
"No matter how many at-bats, I have to find a way to compete," Pearce said. "Personally, when I can do something to help myself and help the team win, it's huge."
After going hitless in his first 17 at-bats, Pearce is 5-for-8 with four RBIs.
"I started slow, but once I got the first hit I started feeling more comfortable," Pearce said. "Now I just want to keep it going. You have to grind baseball out."
Orioles manager Buck Showalter can certainly appreciate a guy like Pearce, who has accepted his role and continues to develop his skills.
"I see all the work he does," Showalter said. "He plays sporadically, but he wants to help and he's a good teammate. I thought his best at-bat may have been the walk he drew [in the ninth]. That set up everything we did in the inning."
Chen (2-2) is used to pitching in tight games, especially on the road. He did his job by holding Oakland to two hits over eight stellar innings, his longest start in the Major Leagues.
"He pitched an awesome game tonight," Pearce said. "When you see him pitch that way, it takes the pressure away from the offense."
In three career starts against the A's, Chen is 3-0 and has allowed a total of one earned run.
"It was the best start I had mentally," Chen said through an interpreter. "The last couple of outings I was thinking too much. Tonight I just wanted to throw the ball and not think."
Nursing a 1-0 lead after eight innings, the Orioles added a pair of insurance runs in the ninth, aided by the A's third error of the game.
"It was a tough game," Pearce said. "They were pitching well. There was almost a sense of who scored first would win."
Milone was tough on the Orioles. Pearce and J.J. Hardy had four of Baltimore's six hits against the A's left-hander, and the only run was unearned.
"He was hitting all his spots," Orioles catcher Matt Wieters said. "He's tough, especially on a cold night."
Chen retired the leadoff hitter in every inning and set down 11 of the last 12 batters he faced.
"He threw the ball well tonight," Wieters continued. "He was able to mix in his offspeed stuff and locate with his fastball. Getting ahead of hitters is something we're trying to improve upon, and he sure did that."
"He seemed like he was in a groove no matter what he did," Showalter said. "It was great to see that, especially on the road."
A's manager Bob Melvin would probably be happy if his team missed Chen the next time around.
"He does a little something different each and every time," Melvin said. "But at the end of the day, he's got a fastball that gets on you a little quicker than you think. He gets a lot of popups and fly balls."
Hardy singled into right field in the seventh and continued to second when Josh Reddick fumbled the ball. After Nolan Reimold flied out, Pearce singled sharply to plate Hardy.
That's where things stood until the ninth. With one out, Hardy singled and Reimold and Pearce walked and pinch-hitter Nate McLouth hit an infield grounder that was mishandled by Jed Lowrie, allowing a run to score.
"When you're in close games like that, defensive miscues end up really costing you," Melvin said. "It's maddening for us, but you can't lose your focus, and when you're in close games you have to play flawless defense."
Nick Markakis followed with a sacrifice fly that scored pinch-runner Chris Dickerson, and Jim Johnson pitched the ninth for his ninth save in as many opportunities.
The Orioles won two straight in Oakland for the first time since Aug. 15-17, 2005. Adam Jones singled in the third and has reached base safely in 22 of 23 games, recording a hit in 21 of them.
Rick Eymer is a contributor to MLB.com. This story was not subject to the approval of Major League Baseball or its clubs.