Cards cruise past Bucs amid testy tone
Hit batsmen, ejections set mood early as Cardinals take home win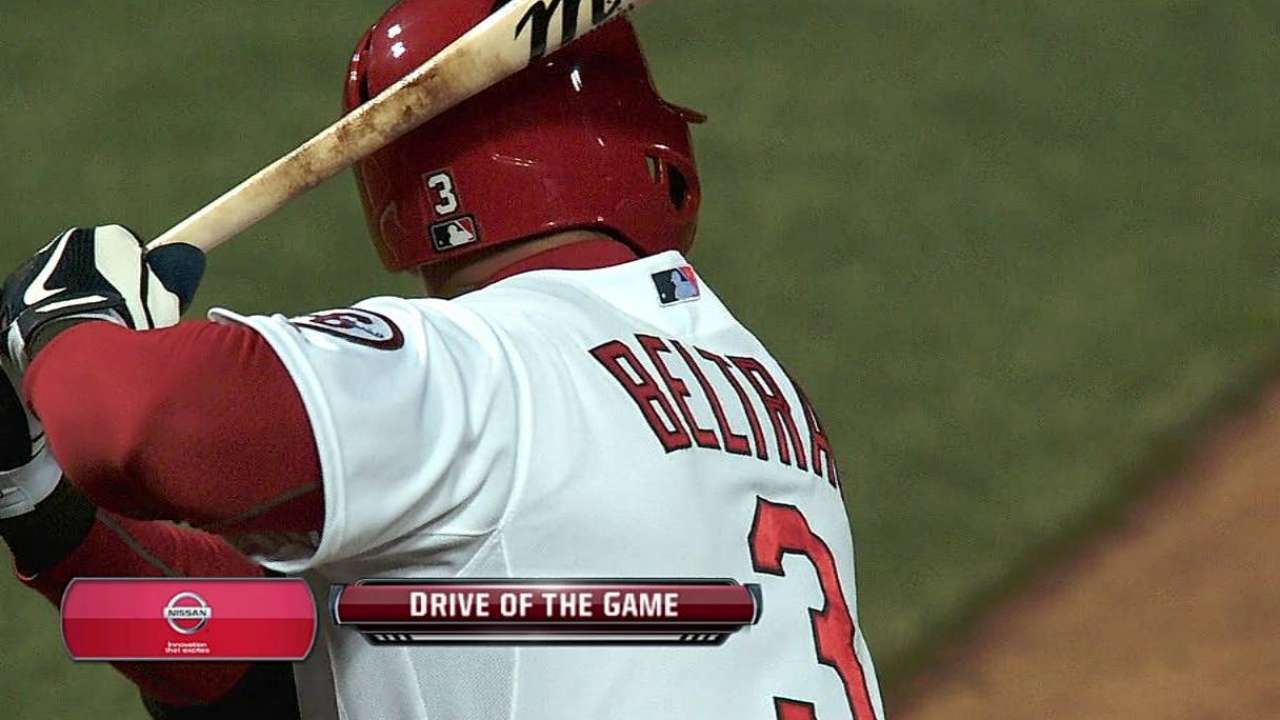 ST. LOUIS -- The Cardinals kicked off the first inning of a series against the Pirates with back-to-back blasts and a bruise, the latter of which set the tone on an evening of increased tension between two clubs that entered the night separated by only a half-game in the division standings.
Yet, even amid all the extracurricular noise, St. Louis exited with a 9-1 win Friday behind another strong performance from Lance Lynn and Carlos Beltran's two home runs. A sellout crowd of 44,090 fans was at Busch Stadium for the first game of a six-game homestand.
Matt Carpenter and Beltran opened the first with consecutive home runs off Pirates lefty Jonathan Sanchez. It had been a little more than nine years since the Cardinals last started a game with back-to-back homers.
Matt Holliday followed with a sharp single to center, after which Sanchez's next pitch -- a 92-mph fastball -- struck Allen Craig on the left shoulder. The timing of the plunking was enough to prompt home plate umpire Tim Timmons to immediately eject Sanchez.
"It surprised me," Sanchez said of his first career ejection. "I just wanted to get the ball inside on him, and the ball kept going up, and it hit him. That was it."
Pirates manager Clint Hurdle was tossed, too, after arguing on behalf of his pitcher. Timmons issued warnings to both dugouts, yet there were more hit-by-pitches and brushbacks, and another ejection later in the game.
"You've got two home runs, and then you've got a line-drive single up the middle, and then the very first pitch is up around the shoulder and head area," Timmons told a pool reporter after the game. "He threw intentionally at him, and in that area I deemed that intentional, and he's done. Very dangerous."
Neither Cardinals manager Mike Matheny nor Craig speculated afterward on whether they sensed similar intent by Sanchez.
"It's not my job to judge intent on stuff like that," Craig said. "I'm not the one throwing the ball."
Added Matheny: "I'm not really going there on that. The umpire, that's his call, that's his decision. My opinion doesn't really matter on the topic."
After seeing 17 pitches from Sanchez, the Cardinals faced reliever Jeanmar Gomez for the next four-plus innings, during which they built a five-run lead. Craig drove home a run with a third-inning single. Two innings later, Beltran followed Carpenter's walk with his second homer of the night.
The two-run shot gave Beltran the 35th multi-homer game of his career and pushed him to sixth on the all-time list for home runs (340) by a switch-hitter. He hit a home run from each side of the plate Friday, a day in which he took the field while still battling the effects of a stomach virus that began bugging him Thursday.
Beltran did not alert Matheny of the illness until after he knew he was in the lineup.
"I feel weak, but sometimes when you feel like that it's good, because you go out there not thinking about anything and not trying too hard," Beltran said. "Good things happen when you play the game, not sick, but relaxed."
As the Cardinals built up their lead, sparks continued to fly between the two teams. Lynn hit Pirates outfielder Starling Marte on the hand in the third inning and then again in the fifth. Because Timmons did not perceive there to be intent behind either plunking, Lynn was not ejected.
"The pitch is just off the plate," Timmons said. "It's up, but it's not intentionally throwing at him."
"You never want to hit anybody, in general," Lynn said. "And then in that situation, to hit him twice, I wasn't even trying to. Both of them just ran back up a little bit and got him in the hand."
Pirates hitting coach Jay Bell was ejected for comments he made from the dugout after Marte was plunked for the second time. Marte, who has been hit by a pitch five times this season, said afterward that he had no issue with the way Lynn pitched him.
"They were just pitching me inside all game," Marte said.
In the bottom of the fifth, Gomez brushed Craig off the plate on a two-strike changeup. An inning later, Lynn, while squared to bunt, fell to the dirt to avoid an inside pitch from Jared Hughes. Lynn said Pirates catcher Russell Martin immediately spoke up, telling him the sinker had gotten away from Hughes.
Cardinals reliever Mitchell Boggs then hit pinch-hitter Gaby Sanchez in the eighth. Like Lynn, Boggs was not ejected because Timmons did not perceive there to be purpose behind the pitch.
The errant sinker came during a tumultuous inning for the beleaguered right-hander, who has already lost the handle on the closer's job. Boggs loaded the bases before Randy Choate relieved him and worked out of the jam with a double play.
"I think today could be a big turning point for him," Matheny said of Boggs. "Choate comes in and bails him out, and he doesn't have to suffer any runs on that one."
Choate recorded the two outs without allowing any of the three inherited runners to score. That helped Lynn join teammate Adam Wainwright and New York's Matt Harvey as the National League's first four-game winners. The Cardinals have supplied Lynn with at least five runs of support in each of his five outings.
He struck out nine and allowed only two hits in Friday's seven-inning, 106-pitch outing. Lynn carried a string of 14 scoreless innings into the sixth before the Pirates scored their only run. Pittsburgh had tagged him for four runs in a five-inning start last week.
"I feel like I'm in a little bit of a groove here," Lynn said. "It was good to be able to stay in that."
The Cardinals pushed the game out of reach with a four-run eighth, during which Craig pushed his team-high RBI total to 18. Pete Kozma and Holliday also drove home runs in the frame.
Jenifer Langosch is a reporter for MLB.com. Read her blog, By Gosh, It's Langosch, and follow her on Twitter @LangoschMLB. This story was not subject to the approval of Major League Baseball or its clubs.