Gee runs out of gas, while bats can't get in gear
Sharp for five, righty allows four runs in sixth; Mets held to three hits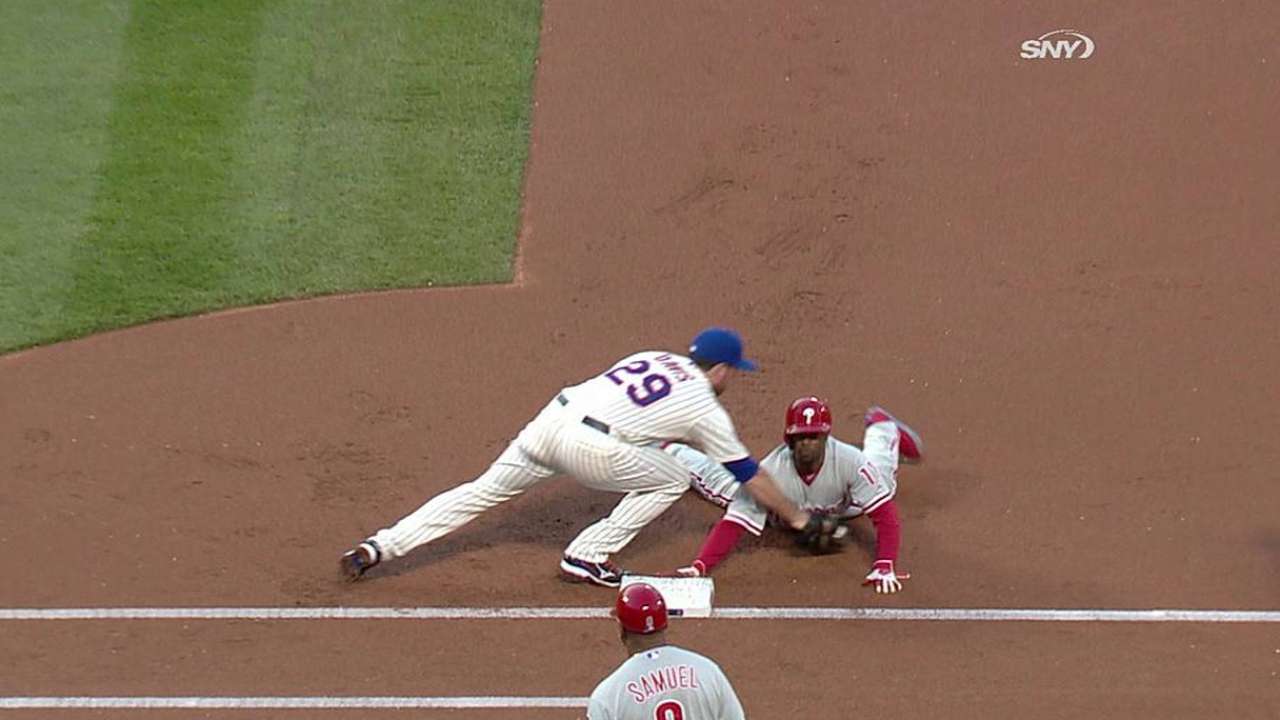 NEW YORK -- Danger found Dillon Gee suddenly Friday night, taking one of the best stretches of his career and rendering it a faded memory. Gee held the game in his grasp for five innings against Philadelphia, but then a four-batter flurry caught the Mets off guard.
And how could they have seen it coming? Gee went into Friday night with a scoreless streak of 5 2/3 innings, and he held Philadelphia to three hits in the first five innings. But then came the sixth, and the Phillies blitzed him for four hits and four runs en route to a 4-0 victory.
"All of a sudden, everything was belt-high," said manager Terry Collins of the sixth inning. "The top of that order is so good. You've got to make pitches and in the sixth, he didn't make them."
It really was that simple, and all of Gee's hard work went out the window before Collins could go to the bullpen. The right-hander came within one-third of an inning of matching the longest scoreless streak of his career, but in the aftermath, he was more concerned with how things got away from him.
"That happens," said Gee of his reversal of fortune. "You leave a couple balls up in one inning and that's how quickly it can turn. I wouldn't say it's surprising, but it definitely flipped pretty quick."
Indeed, Gee (1-4) went from casually dominating the game to instantly struggling when he faced Philadelphia's batting order for the third time. Jimmy Rollins started the key rally with a leadoff single, and he moved all the way to third base on a hit by second baseman Chase Utley.
Gee had allowed just one runner to reach scoring position in the first five innings, so Collins may have wanted to see if he could get out of the jam. But that possibility quickly evaporated, as Michael Young singled in a run and cleanup man Ryan Howard drilled a three-run homer to center field.
Gee would work his way out of the inning after that, but the damage was already done.
"Jimmy's tough and he gets a base hit. Two pitches in, Utley gets a base hit," said Collins of the rapid sequence of events. "By the time you get somebody warmed up, the four hits have already been taken care of. It was just uncharacteristic because he has been throwing the ball well. ... We'll go back and get him ready for his next start. Hopefully he doesn't have another bad inning like that."
Gee, for his part, said that he only missed location on a couple pitches all night. The Phillies (10-14) made him pay both times. Young took advantage of a changeup over the plate, and Howard hit another errant offspeed pitch and elevated it to the deepest part of the ballpark.
Howard has four career hits against Gee, and all of them are home runs. That total is the most Gee has allowed to a single opponent, but this game was about more than a single matchup. For Gee, it was more about how he found a groove and then suddenly lost it.
"The changeup was there most of the night," said Gee after the loss. "If I would've executed a pitch, it probably would've been a bit different. If you don't execute, that's what happens."
If the Mets wanted to see the flip side of that lesson, they didn't have to look far. Kyle Kendrick was impeccable for the Phillies, holding the Mets to three hits and striking out five. Kendrick (2-1) allowed just one runner to reach scoring position, and that came in the first inning.
"Last game, I threw 30 pitches in the first inning. I wanted to be more efficient this time," said Kendrick in the aftermath of his second career shutout. "It helps when you get ahead and get some early contact. I just wanted to throw strike one. It's a lot easier to pitch when you get strike one."
Kendrick didn't just frustrate the Mets, he did it on a night in which they had juggled their batting order. Collins elected to bat David Wright in the cleanup slot for the first time all season, and then watched as his offense struggled to find any kind of comfort level.
"We didn't get any hits. He threw the ball well," said second baseman Daniel Murphy, who came in batting .346. "I don't think I put the greatest [at-bats] on him, but he threw the ball well tonight. That guy only had about 105 pitches for the complete game."
The Mets, who were shut out 12 times last season, came away scoreless for the first time in 2013. But perhaps more importantly, New York (10-11) also fell below .500 for the first time. Collins didn't want to make too much of that fact, other than to say his players know all about it.
"I've had some people want to know if you've got to talk to the players," said Collins. "They're pretty aware of what's going on. They know that they slipped under .500 tonight; That's why we've got to pick it up and get after it again tomorrow. Come out here and fight. But certainly, I'm not going to go in there and hold a meeting. 'We're under .500. We've got to pick it up.' They know better than that."
Spencer Fordin is a reporter for MLB.com. This story was not subject to the approval of Major League Baseball or its clubs.