Rizzo leaves yard twice in former backyard
South Florida native's homers enough to back Feldman in first win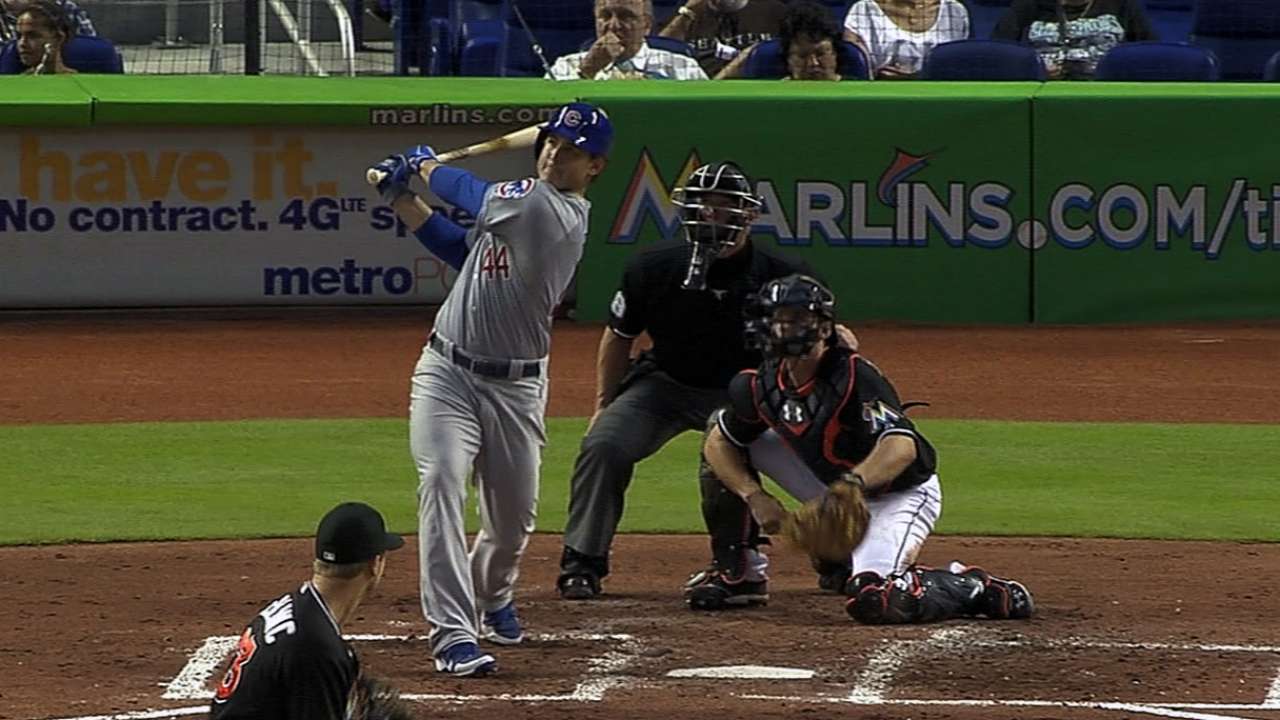 MIAMI -- Thursday night wasn't quite the homecoming Anthony Rizzo wanted. The native of nearby Parkland went hitless and struck out three times in his first Major League appearance at Marlins Park.
But Rizzo rebounded with a vengeance on Friday night. He had his second career multi-home run game, going yard twice in the first three innings to lift the Cubs over the Marlins, 4-2, in front of a crowd of 16,017, including many of his friends and family.
"The swing was where I wanted it to be, and I was just staying consistent with it," said Rizzo. "It was a good win overall."
Scott Feldman went 6 2/3 innings for the Cubs, giving up two runs on seven hits to earn his first win of the season. Marlins starting pitcher Wade LeBlanc went six-plus innings, giving up eight hits and four runs while striking out two.
"Winning is just much more fun than losing," said Feldman with a laugh. "Hopefully this is the start of a little hot streak here and we can keep playing well."
After James Russell and Shawn Camp were brought on in relief and combined for a scoreless inning and a third, Kevin Gregg came in to close. Manager Dale Sveum is currently operating without a regular closer, but was extremely impressed by Gregg's one-two-three effort.
"I'm sure he will be used in that role again," Sveum said.
The Marlins got to within two in the seventh as Rob Brantly walked and advanced to third on a double by Chris Coghlan. Chris Valaika's sacrifice fly drove in Brantly, but that's as close as the Marlins were able to get. The loss dropped their record to 5-18.
The fifth and sixth innings were perfect on both ends, as all 12 batters fell in order.
Joe Mahoney began chipping away at the Cubs' lead in the fourth, responding with a homer of his own into the upper deck in right field. The 423-footer was his first career home run.
"I played against Rizz coming up when he was in the Red Sox [system]," said Mahoney, who was previously in the Orioles' organization. "I've known him for a few years now. He's a pretty good hitter. He's definitely got that power swing. It was fun. But he came out on top tonight."
The Marlins had several scoring chances early on, but Feldman managed to work his way out of each jam. Brantly and LeBlanc reached third base in the second and third inning, respectively, but were stranded as the Marlins' bats failed to produce.
"He got through those innings pretty easy except for the long home run, but the two walks almost got him in big trouble there," Sveum said. "He was pretty sharp."
The Cubs' offense was hot early, as Dave Sappelt singled on the first pitch of the game before Rizzo stepped up to the plate. The power-hitting first baseman slugged the first pitch he saw 420 feet over the fence in right-center field.
After nothing in the second, the Cubs' half of the third was a case of déjà vu. Sappelt singled to get on base before Rizzo took LeBlanc deep again, this time crushing a 413-foot homer into the upper deck in right field.
Rizzo's season average is only .173, though he's hit eight home runs and has 18 RBIs.
"It's nice, because we know it'll all come when he gets hot," Sveum said.
Rizzo, on the other hand, is frustrated by his lack of base hits. Teammates are amused when he returns to the dugout after hitting a home run and mentions how he's still waiting for hits.
"It's going to sound stupid, but the single in my last at-bat was probably my favorite [hit tonight]," Rizzo said.
"It's all about production. That's what I'm supposed to do. I mean, I want to hit for average, and the hits are going to come. But as long as the RBIs and home runs keep coming, just keep driving in runs to help the team win."
Nearly a hundred friends, family members and other supporters attended the game to cheer Rizzo on while decked out in Cubs gear. He said he'd been bombarded with text messages of support.
"It feels good," he said. "Last night was a little embarrassing, but to come back today and get the win in front of everyone that's here feels really good."
Darci Miller is a reporter for MLB.com. This story was not subject to the approval of Major League Baseball or its clubs.