Mahoney's first homer trumped by Cubs' shots
Marlins can't pick up lefty LeBlanc, who allows two dingers to Rizzo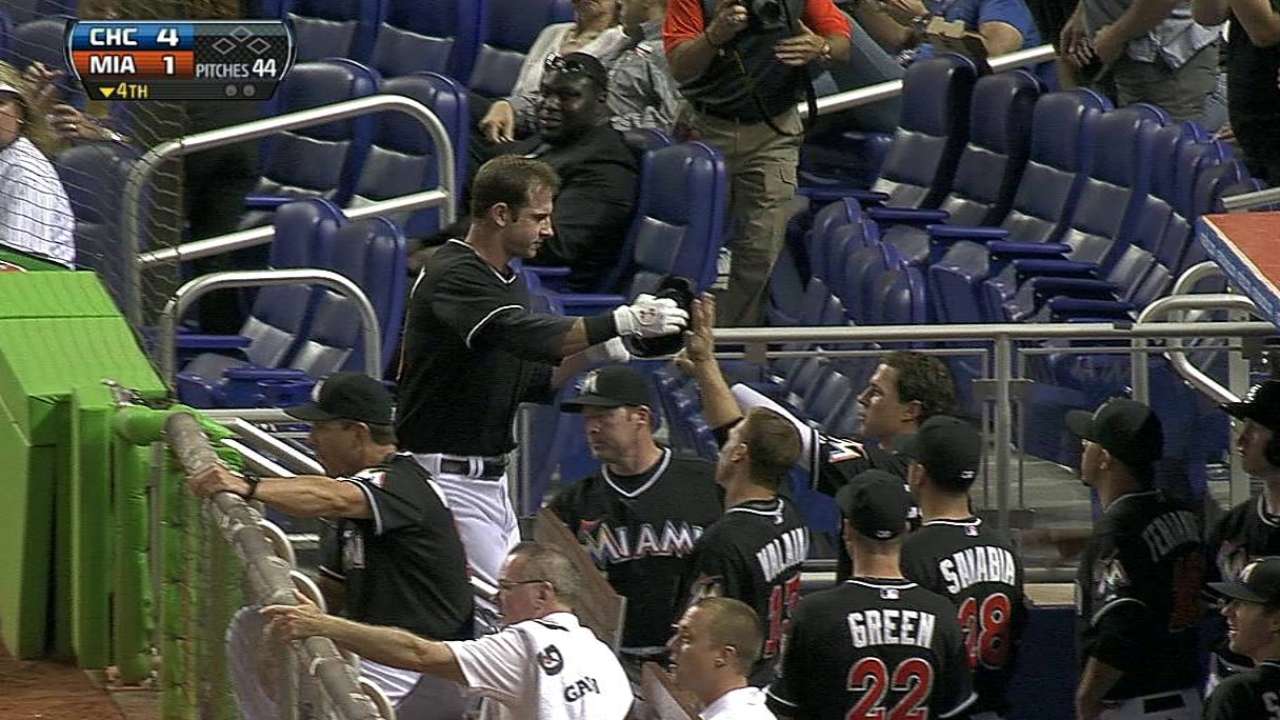 MIAMI -- Joe Mahoney, an intriguing rookie first baseman, displayed the power the Marlins have been looking for from their cleanup spot.
Unfortunately for Miami, it was the Cubs' left-handed hitting first baseman who made the biggest difference.
Anthony Rizzo connected on a pair of two-run home runs that propelled the Cubs to a 4-2 win over the Marlins on Friday night in front of 16,017 at Marlins Park.
On a night Mahoney belted his first big league homer, it wasn't enough to prevent the Marlins from dropping the first two of their four-game set with the Cubs.
Scoring runs has been a struggle all season, and Miami has just 59 in 23 games, which keeps it on pace for the lowest April total in club history. To see Mahoney come through with the club's seventh homer was encouraging.
"We've all seen the power," Marlins manager Mike Redmond said. "It was nice to see him put it together in a game. That's what we're looking for out of him. He's kind of a wild card. He's never been given an opportunity. He's getting a chance to go out there and put together some at-bats. Hopefully he will make the most of it. We'll see how it all shakes out."
Marlins lefty Wade LeBlanc (0-4) surrendered both blasts to Rizzo, a South Florida native from Parkland.
In six-plus innings, LeBlanc gave up four runs on eight hits.
Chicago right-hander Scott Feldman (1-3) yielded two runs, including a homer to Mahoney, in 6 2/3 innings.
At 6-foot-6, 245 pounds, Mahoney is getting a long look at first base. In the fourth inning, he showed some pop with his home run to right field. The drive, estimated at 423 feet, came on Mahoney's 23rd at-bat of the season and the 27th of his career.
"In the heat of the battle, I was thinking, we're three down at this point," Mahoney said. "I'll reflect more on it, probably tonight. It's starting to sink in. It's good to get that first one out of the way, to settle in. I've been waiting to get that one for a while now. It's definitely a good feeling."
Mahoney received the baseball from a fan, exchanging a signed hat and signed bat.
But it was Rizzo who struck first for the Cubs.
Mahoney is well acquainted with Rizzo. In the past when he was in the Orioles' system, Mahoney played against the Chicago first baseman.
"I played against Rizz coming up when he was in the Red Sox [organization]," Mahoney said. "I've known him for a few years now. He's a pretty good hitter. He's definitely got that power swing. It was fun. But he came out on top tonight."
Rizzo enjoyed the second multi-homer game of his career. He previously accomplished the feat on Sept. 16, 2012, against the Pirates.
Rizzo enjoyed a three-hit, two-homer night in front of his family and friends. He had his big game after striking out three times on Thursday.
"There were a lot of people here, friends and family, and a lot of people I don't even know are here supporting me," Rizzo said. "It feels good. Last night was a little embarrassing, but to come back today and get the win in front of everyone that's here feels really good."
Rizzo and the Cubs struck first against LeBlanc, whose first-inning struggles continued. The left-hander's first pitch was lined by Dave Sappelt for a single, and with one out, Rizzo belted a two-run homer to right-center.
"At some point, I have to figure out something to do to give these guys a shot," LeBlanc said. "I can't keep forcing these guys to try to hit from behind from the very first inning. I've got to figure out how to get three outs and give these guys a chance to get a lead for us, relax and play with the lead. This is four out of five now that I've given up runs in the first inning. It can't keep going like that."
In the third inning, Rizzo struck again with a two-run blast, this time unloading a home run to right field. To LeBlanc's credit, he was able to work into the seventh inning on a night that could have been disastrous.
"Give LeBlanc a lot of credit," Redmond said. "He battled. What looked like could have been a short night for him turned into a grind. He gave us some innings, which was nice. It saved our bullpen. But he went out there and pitched. He didn't give up. He didn't quit. He kept fighting."
Miami closed the gap to 4-2 in the seventh inning on Chris Valaika's sacrifice fly to left, which scored Rob Brantly, who walked. Chris Coghlan doubled in the inning off Feldman after the righty walked pinch-hitter Austin Kearns with two on and two out. But a chance for more was thwarted when lefty reliever James Russell retired Juan Pierre on a flyout to left.
Now 5-18, the Marlins are in danger of having their lowest win total in April. The club was 6-17 in April 1999, and 6-16 in the month in 2006.
"I think we have to stay positive," Redmond said. "If they see me panic, that puts more pressure on everybody else. I'm not that way. We keep talking to these guys. We keep talking about approach and at-bats. Stay positive.
"That's me. Some people may say, 'You shouldn't do that.' But I've found that over the course of time, when you stay positive with guys and you keep patting them on the back, it's all going to come together."
Joe Frisaro is a reporter for MLB.com. He writes a blog, called The Fish Pond. Follow him on Twitter @JoeFrisaro. This story was not subject to the approval of Major League Baseball or its clubs.