Mariners can't overcome Harang's rough start
Angels homer twice, score five runs in righty's three innings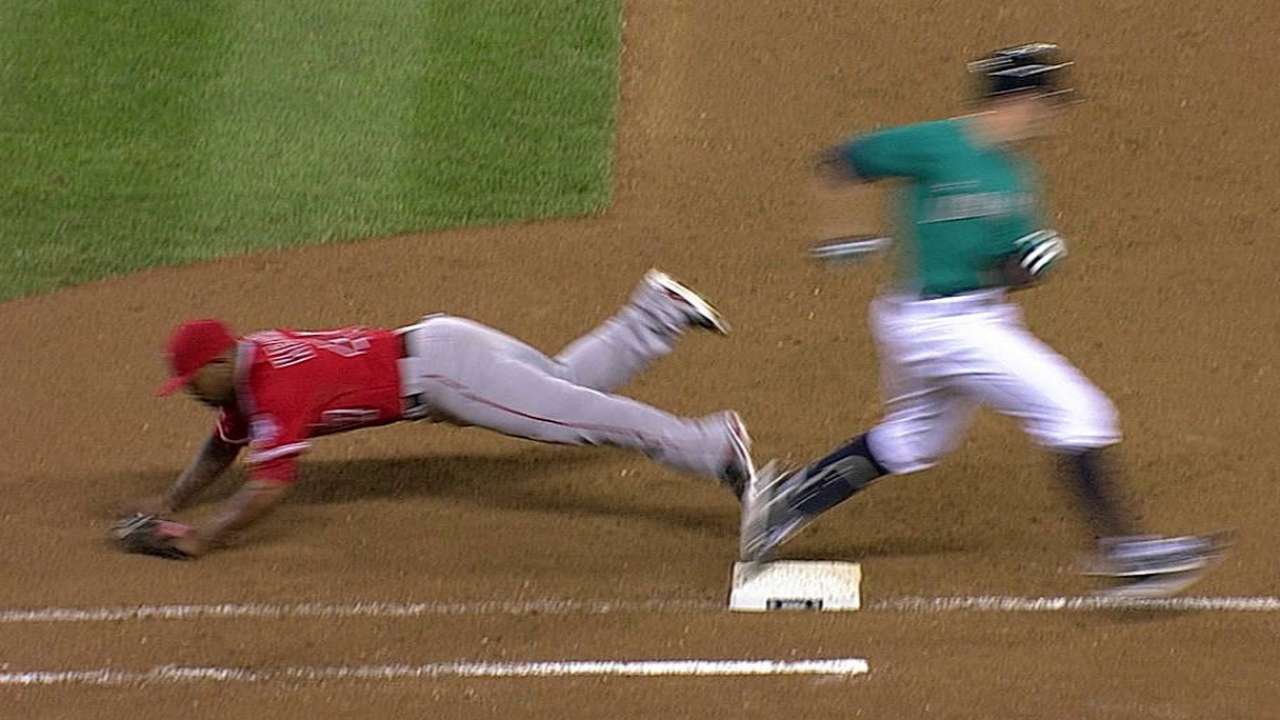 SEATTLE -- The Mariners are still searching for their true identity, so they're not afraid to try new things.
Take Friday night at Safeco Field. Seattle introduced a never-before-seen, possibly grunge-inspired promotional item called the "Beard Hat." They had Jason Bay lead off, something that he'd never done in more than a decade in the Major Leagues. The newest member of their starting rotation, Aaron Harang, took the ball for his third outing as a Mariner.
Not all of it worked in a 6-3 loss to the Angels before 31,543 fans, but there were a few positives.
Battling back to make the game interesting was one. The team spotted the Angels a 5-0 lead but scrapped and grinded back into it in the middle innings and came close to breaking through.
"If our guys battle and fight like that, we're going to win a lot of ballgames," Mariners manager Eric Wedge said. "And that's what they're all about. And that's what we saw all spring, that's what we saw early, that's what we've seen the last couple of days, and that will play."
A 1-for-12 clip by the offense with runners in scoring position did not play on Friday, though. Neither did Harang's performance.
Since arriving via trade from the Rockies, the veteran right-hander has struggled to find his old form, and Friday's effort was his shortest so far. Harang gave up one run in the first inning on two hits and an Albert Pujols sacrifice fly, two more in the second on a home run by Hank Conger, and two more in the third on another two-run blast, this one by Mark Trumbo.
Harang was pulled after three innings having given up up five runs on six hits while walking two and striking out one. This came after a 4 2/3-inning outing at Texas on Sunday in which he gave up eight runs, including three homers.
Harang's ERA climbed to 11.37, which could lead to speculation about how long he'll hold onto the fifth spot in the rotation, but a potential suitor for that role, Triple-A left-hander Danny Hultzen, is now on the shelf for at least two weeks with a rotator cuff strain and tendinitis.
Wedge's postgame comments indicated that Harang will get at least one more chance to fix things.
"I'm not concerned," Wedge said. "I mean, obviously he needs to do a better job with his fastball. He didn't quite have the same fastball tonight, he didn't quite have the same command. ... He's a veteran pitcher. He knows how to win at this level, and I'm sure he'll be better next outing."
Long reliever Hector Noesi came in for Harang and mostly pitched well in his 3 1/3 innings. Noesi cruised through the fourth, fifth and sixth, striking out three and only allowing a single and a walk along the way.
Noesi has said he's been more comfortable this season because he's trusting his stuff and "not thinking" when he's on the mound. He's merely looking at the catcher, getting the sign, and throwing the pitch.
His work on Friday allowed the Mariners to scratch back into it. They scored one in the fourth against tiring Angels starter C.J. Wilson by loading the bases and scoring when Kelly Shoppach was hit by a pitch, and they cut the lead to 5-3 in a two-run sixth that chased Wilson. Shoppach led off with a single, moved to third on a Robert Andino double, and scored on an Endy Chavez sacrifice fly. Wilson was pulled for reliever Sean Burnett, who was greeted by a safety-squeeze bunt off the bat of Brendan Ryan.
Noesi ran into a spot of trouble in the seventh when he gave up a hustling double to Peter Bourjos, who took third on a wild pitch and scored on another Pujols sacrifice fly. Noesi was removed at that point and Charlie Furbush and Yoervis Medina each recorded a strikeout to get out of the inning. Noesi now has a 1.23 ERA in 7 1/3 innings, with five strikeouts.
The Mariners continued to try to chip away throughout the game. In the bottom of the seventh, they started a two-out rally, with Justin Smoak legging out an infield single and Shoppach blooping a base hit into center field.
Dustin Ackley pinch-hit for Andino and bounced a single off Angels reliever Scott Downs that went in and out of the outstretched glove of Angels second baseman Howie Kendrick. Smoak steamed around third base, but was thrown out at the plate by Kendrick, who made an amazing recovery and throw to end that threat.
Wedge said he liked the aggressive move by third-base coach Jeff Datz to wave Smoak home. But it was just one of those nights.
"That was a great play by Kendrick," Wedge said. "He knocks it down, comes up, throws it, falls down and somehow or another makes a perfect throw. And I went out there, the umpire told me Smoak's foot was up going near the plate and if his foot's down, he's safe. He just had that front foot elevated."
The Mariners kept getting runners in scoring position and not delivering when they needed it the most. Smoak struck out twice with the bases loaded. Kyle Seager extended his hitting streak to 15 games, the best such streak in the Majors this season, with a single in the fourth inning, but he struck out twice with runners on base.
Still, the Mariners racked up 11 hits and drew five walks and got Wilson to throw 110 pitches in his 5 1/3 innings.
"Those guys battled back," Angels manager Mike Scioscia said. "Their bullpen did a great job of holding us down. Their hitters did a good job, whether it was drawing a walk or moving a runner, to get back into the game. We had to use a lot of pitching to get it done tonight."
Wedge was passionate after the game in saying that the Mariners will start getting it done sooner than later with similar effort every night.
"It's a loss, it's a tough loss, and they all are, but with the way these guys fought and competed and just grinded through at-bats, stayed alive defensively, the way they worked, that will play," Wedge said. "With the talent we have in there, and going about their business like that, like I said, that's what they're all about, that's what we're all about, and that's what's going to make the difference."
Doug Miller is a reporter for MLB.com. Follow him on Twitter @DougMillerMLB. This story was not subject to the approval of Major League Baseball or its clubs.