Brewers drop series opener to Dodgers
Bullpen can't secure late lead after Burgos throws quality start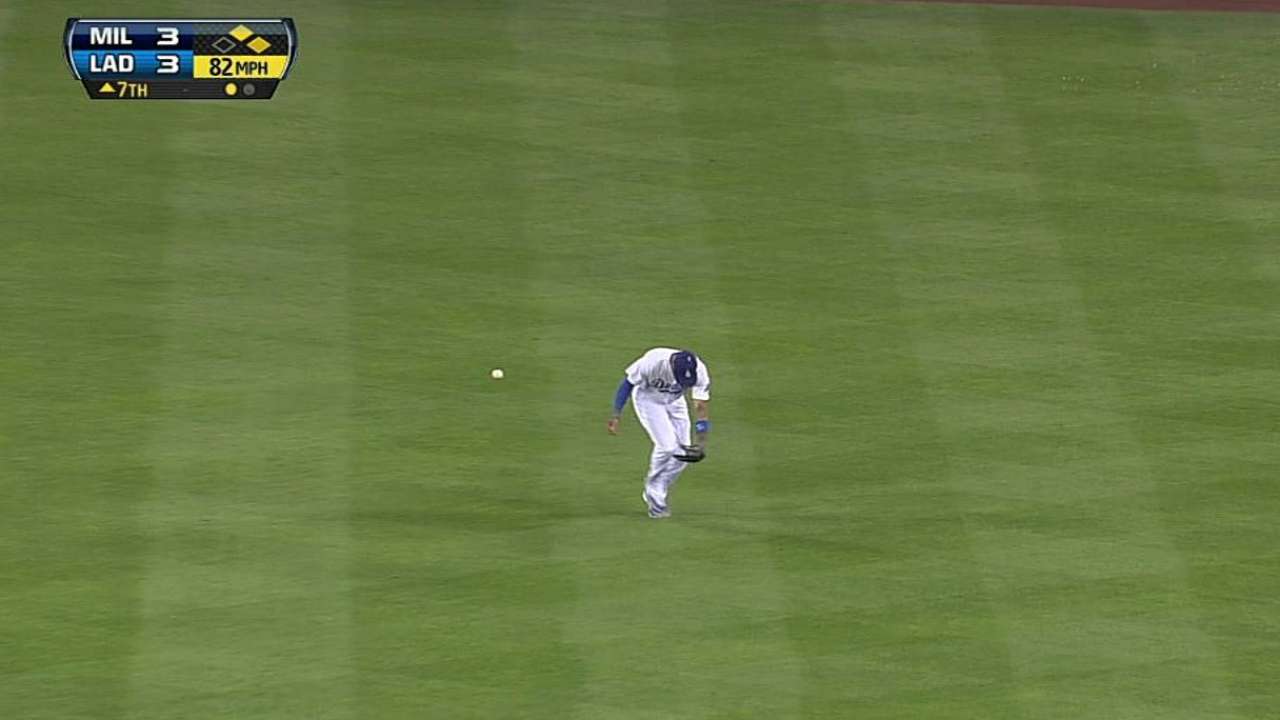 LOS ANGELES -- Brewers relievers were one Carlos Gomez catch away from extending a scoreless streak that had already spanned a week. But the pained look on reliever Mike Gonzalez's face in the moment, and the stern one from manager Ron Roenicke after the final out, told the story of a 7-5 loss to the Dodgers on Friday night.
"We should have won the game," Roenicke said. "At least we should have gone into the eighth and ninth inning with a lead. We didn't make a play."
If Gomez snares that two-out, two-on, Adrian Gonzalez drive to center field in the bottom of the seventh inning, then the Brewers take a 4-3 lead to the eighth, with Roenicke planning to use some combination of John Axford and Jim Henderson for the final two innings.
Instead, Gomez got a late jump, raced back quickly enough to position himself to make a play -- but just did not make it.
The ball ticked off his left forearm, two runners scored and the Brewers were staring at only their third loss in their last 11 games at Dodger Stadium.
The Brewers did some things well. Ryan Braun and Yuniesky Betancourt homered, right-hander Hiram Burgos pitched six innings and was briefly in line for his second win in as many Major League starts, Alex Gonzalez had three hits and scored three runs and Jean Segura drove in a pair.
But it was the mistakes that burned Roenicke, chief among them Segura's inability to get down a bunt on a suicide squeeze in the top of the seventh inning and Gomez's non-catch minutes later.
When it was suggested to Roenicke that it would have been a great catch, the manager disagreed.
"No, Gomey? He should make that play," Roenicke said.
"I had it," Gomez said. "I just took a quick look to the wall to see where I am, and when I come back to look at [the ball] again, it's on me. The ball hit me right here."
He pointed to his left forearm, near the wrist.
"It's tough, but I know a play like that, I've made it before, easy," Gomez said.
Said Michael Gonzalez, who fell to 0-2 with the loss: "Gomez feels like he needs to get everything, that's how he is. He makes nine of [10 of] those catches right there."
The Dodgers added two insurance runs in the eighth against Brandon Kintzler to take the opener of a three-game series. Those two runs, plus the two in the seventh -- one charged to Burke Badenhop and another to Gonzalez -- were the first surrendered by a Brewers reliever since exactly one week earlier, when Tom Gorzelanny was charged with a Cubs run in the eighth inning, but combined with Axford, Badenhop and Henderson to finish a 5-4 win. In the longer term, Brewers relievers had combined for a 1.03 ERA and were 5-for-5 in save opportunities over the team's last 12 games.
"It was just kind of one of those games, back and forth," Dodgers manager Don Mattingly said. "Adrian got a couple of big hits. We got big outs."
The Brewers' late-inning letdown got Dodgers center fielder Matt Kemp off the hook for his own mistake.
Tied at 3-3 after the teams traded runs in the fifth inning, Alex Gonzalez was at second base in the top of the seventh when Norichika Aoki, with five hits in his previous 42 at-bats, knocked a single to center against Dodgers rookie left-hander Paco Rodriguez. It bounced right past the charging Kemp, allowing Gonzalez, who had paused at third base, to trot home for a 4-3 lead and allowing Aoki to get all the way to third.
Mattingly called for another reliever, Ronald Belisario, and Roenicke tried for more, calling for a suicide squeeze on a 2-and-1 pitch to the next batter, Segura.
Segura whiffed on his bunt attempt and Aoki was an easy out. Segura then struck out looking.
"He just missed a sinker," Roenicke said.
"It was a tough pitch to bunt on," Segura said. "I did the best I can. I know he has a sinker, but I was looking for something that I could bunt the ball, to get a squeeze down. It didn't happen."
It was the Brewers' second unsuccessful squeeze on the road trip. The other came in San Diego, with Aoki at the plate. But this time it came with Segura, who had driven in a run with a fifth-inning single and would drive in another in the ninth on an infield hit. Braun, who had homered in the fourth inning, was on deck.
The risk is "part of it," Roenicke said. "I just try to outweigh what he's got a better chance of doing -- putting it in play and driving in a run, or [bunting].
"It's a sinkerball, a heavy sinker, which is actually an easy pitch to bunt. Easier to bunt it than it is to hit."
Even with that missed opportunity, the Brewers had briefly put Burgos in position to win. At the beginning, it appeared his second Major League start would be much more troublesome than his first -- a win against the Cubs six days earlier in which Burgos surrendered five hits, four of which were singles and none of which were hit particularly hard.
The Dodgers managed more solid contact in the early innings, but Burgos limited the damage to three runs on five hits, including a Carl Crawford home run, in six innings. He was the pitcher of record when Aoki's single bounced past Kemp in the seventh.
"They had pretty good swings on a couple of pitches," Burgos said. "I was too much over the plate. But I did adjustments, and I kept a couple of hitters off balance, and the defense made really good plays for me. I just tried to keep it close."
Adam McCalvy is a reporter for MLB.com. Read his blog, Brew Beat, and follow him on Twitter at @AdamMcCalvy. This story was not subject to the approval of Major League Baseball or its clubs.