McCarthy remains winless after six-run start vs. Rox
Right-hander struggles to put away hitters with two outs, falls to 0-3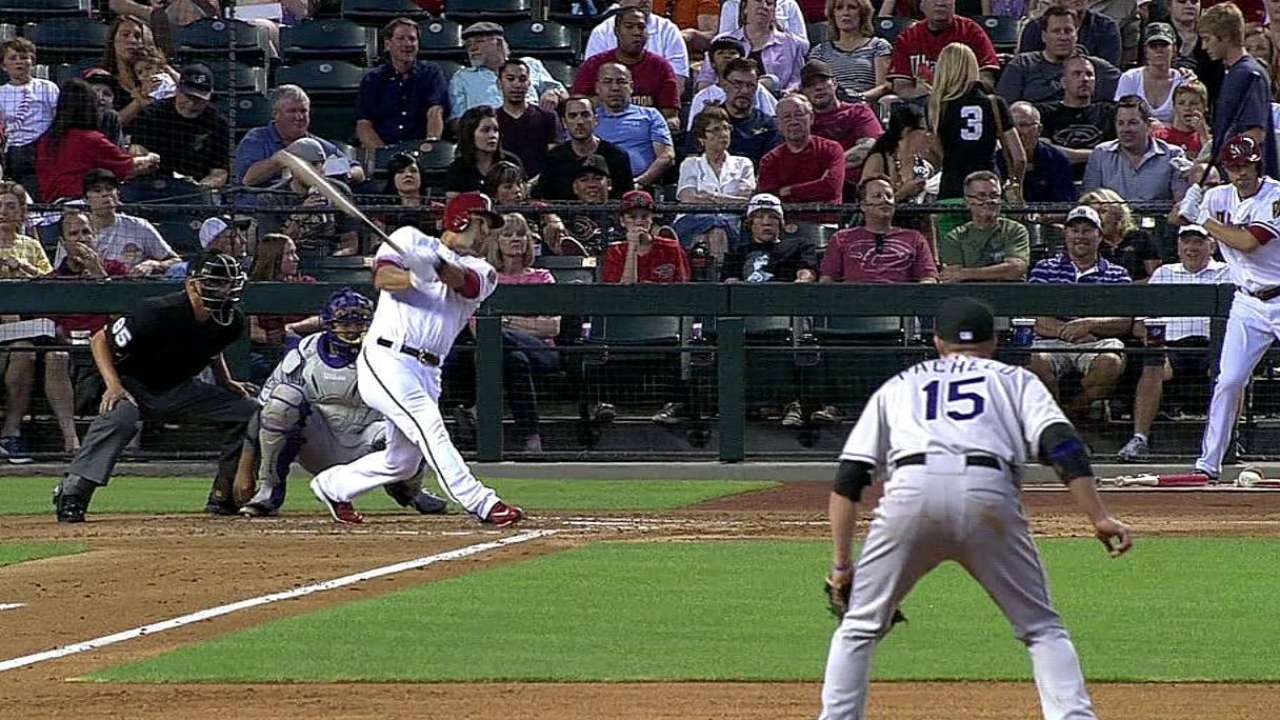 PHOENIX -- One of Brandon McCarthy's strengths as a pitcher is how he is able to mentally focus on each pitch and not let any frustration linger.
But everyone has their breaking point, and the D-backs' right-hander sounded like he was near his as he tried to explain another loss, this one a 6-3 defeat to the Rockies on Friday night at Chase Field.
"I've never been through a stretch like this," McCarthy said. "I'm not one to sit around and feel sorry for myself, but it gets to a point where when the heck is the ball going to go to somebody?"
McCarthy was signed to a two-year free-agent deal this offseason, and after five starts he is 0-3 with a 7.48 ERA.
There have been some poor performances in those starts, but there have also been nights like Friday, when he felt like he had good stuff but was the victim of some bad luck and a couple of poorly located pitches.
Five of the six runs that McCarthy allowed came with two outs, when a well-placed pitch might have made the difference.
In the first inning, the Rockies got a base hit on a grounder through the hole at third and Carlos Gonzalez blooped a single to left. Then with two outs, McCarthy made what he thought was a good pitch to Michael Cuddyer, but the veteran was able to drive the ball to right for a two-run single.
"Things finding holes, bunt hits and that's like the third CarGo hit this year," McCarthy said. "It gets pretty frustrating pretty quick, and it makes your margin for error so small. [The] Cuddyer pitch [was] not bad, it was where I wanted it, he just hit it."
The D-backs tied the game with a pair of runs in the second, one of which came on an opposite-field homer by Eric Chavez.
After the first, McCarthy seemed to settle in, and he threw three consecutive scoreless innings.
In the fifth, some well-placed hits and one misplaced pitch would tip the game in the Rockies' favor.
Reid Brignac legged out an infield single and was wiped out on a failed sacrifice attempt by Juan Nicasio. Dexter Fowler reached on a bunt single, and a single to center by Jordan Pacheco loaded the bases.
McCarthy, though, seemed poised to get out of the inning when he got Gonzalez to strike out on a nifty two-seam fastball.
That brought Troy Tulowitzki to the plate, and he jumped on a first-pitch cut fastball that McCarthy left up in the zone and drove it for a three-run double and a 5-3 Colorado lead.
"The Tulo pitch [stunk]," McCarthy said.
The Rockies added a run in the sixth on a home run by Wilin Rosario.
"There were two bad pitches tonight that I'd like to have back," McCarthy said. "It's the Tulo one and the home run."
The mistake to Tulowitzki was more about location than pitch selection.
"First-pitch cutter, that's how we've attacked him," McCarthy said. "That's what I would throw again, I just wouldn't throw it there again. It just kind of came out of my hand funny."
Which led to no one laughing.
"It's frustrating, even for me," D-backs catcher Miguel Montero said. "I'm calling the games and I just feel like I can't help him to get through it and it's just tough. He threw the ball good, he just missed a couple of bad pitches at the wrong time, like he said. I thought it was a good pitch down and away to Cuddyer in the first inning and he put a good swing on it, so there's nothing you can do about it."
The D-backs had their opportunities against Nicasio and the Colorado bullpen, but were 1-for-9 with runners in scoring position.
They will get no sympathy from the Rockies, who went 1-for-11 with runners in scoring position in losing the first game of the series Thursday.
"We were able to get the big hit tonight," Rockies manager Walt Weiss said. "Juan gave us a chance and the bullpen gave us the rest."
The D-backs also had a scare when shortstop Didi Gregorius was hit in the helmet by a 93-mph fastball from Rockies reliever Josh Outman in the seventh inning.
The club initially listed the rookie as day to day with a contusion to the right temple, but he could land on the seven-day disabled list if a CT scan reveals he suffered a concussion.
D-backs manager Kirk Gibson said the 23-year-old underwent a written concussion test upon leaving the game and passed it "with flying colors."
"That shows he has no neurological problems," Gibson said.
Steve Gilbert is a reporter for MLB.com. Read his blog, Inside the D-backs, and follow him on Twitter @SteveGilbertMLB. This story was not subject to the approval of Major League Baseball or its clubs.