Gonzalez's double leads Dodgers to victory
M. Ellis leaves with injured quad in series opener against Brewers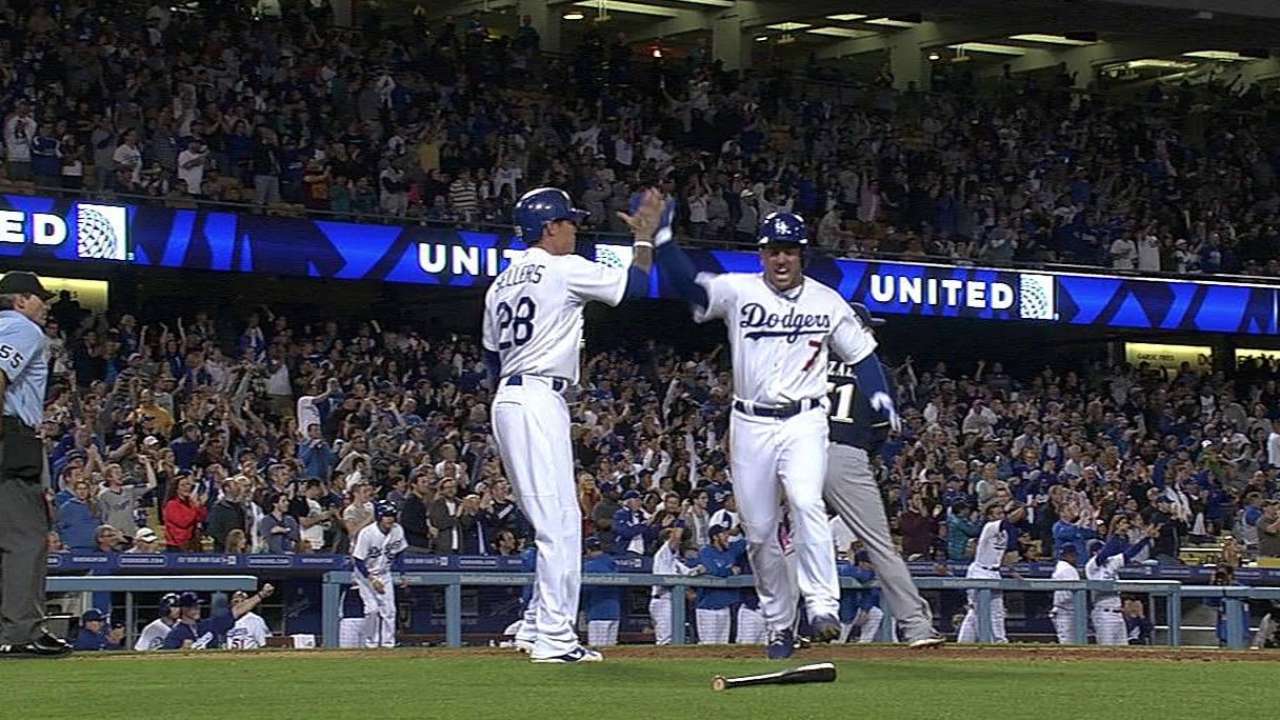 LOS ANGELES -- The Dodgers won the game, but lost Mark Ellis to injury.
Adrian Gonzalez doubled twice and drove in three runs to lead the Dodgers past the Brewers, 7-5, on Friday night at Dodger Stadium. But Ellis left the game after five innings with a strained right quad and the second baseman could land on the disabled list.
The Dodgers didn't let Ellis' injury affect their demeanor, however, and rallied from a 4-3 deficit with two runs in the seventh and eighth innings to improve to 4-1 in their last five games.
Nick Punto, Ellis' replacement at second, scored the go-ahead run on Gonzalez's two-run double in the seventh. Punto also turned a crucial double play in the sixth inning to help Matt Guerrier get out of a jam with the Brewers threatening.
"He's been a sparkplug for us," Dodgers manager Don Mattingly said of Punto. "He's played really well, he's got a lot of energy."
The Dodgers will need that energy, and more, to fill the void if Ellis is sidelined for an extended period. The veteran second baseman has been the most consistent player for the Dodgers with a .342 average, two homers and 11 RBIs, not to mention sound defense at second. He singled and scored in the first to extend his hitting streak to six games. But Ellis came up lame while running out a ground ball in the fifth.
"It's tough, he's been playing so good for us," said Gonzalez, who leads the Dodgers with 17 RBIs. "He's been a great guy at the top of the order and with his defense. He's been really good. It's definitely a tough loss if he's going to be out for a little bit. He's such a great player for us."
While the Dodgers have been hit hard by injuries early in 2013, they caught a break on Gonzalez's go-ahead double in the seventh as center fielder Carlos Gomez misplayed the line drive.
"I had it," Gomez said. "I just took a quick look to the wall to see where I am, and when I come back to look at [the ball] again, it's on me. The ball hit me right here."
He pointed to his left forearm, near the wrist.
"It's tough, but I know a play like that, I've made it before, easy," Gomez said.
Gonzalez's heroics made a winner of Ronald Belisario, and erased an underwhelming start by Josh Beckett.
Beckett's night was a mix of good and bad. He allowed three runs on seven hits in 5 2/3 innings, with five strikeouts against two walks. After he walked the leadoff hitter in the first, the right-hander recorded 11 straight outs. But the Brewers got to Beckett the second time through the lineup.
With the Dodgers leading 2-0, Ryan Braun launched a 3-1 offering from Beckett into the right-field bleachers in the fourth. Yuniesky Betancourt led off the fifth with a homer, and Jean Segura added an RBI single to give the Brewers a 3-2 lead.
Beckett remains winless in four starts, but the Dodgers won for the first time with him on the mound.
"We just needed a win," Beckett said. "They played great behind me. I don't really care who gets the win."
Belisario fired 1 2/3 scoreless innings and struck out three to earn his second victory. The right-hander has not allowed a hit in his last three outings, spanning 4 1/3 innings.
"The ball is going down, and if we can get him to keep the ball down you can see the swing those guys take, it's just filthy," Mattingly said.
Brandon League allowed a run in the ninth, but got Braun to ground out to first with a runner on second to record his seventh save in eight chances.
The Dodgers capitalized on their scoring chances and matched their season high for runs scored. The club was 4-for-9 with runners in scoring position.
Carl Crawford broke out of a 2-for-19 skid with his ninth multi-hit game. He led off the third with his first homer at Dodger Stadium. Crawford belted a 1-0 pitch from Brewers starter Hiram Burgos into right-center.
"I had a tough road trip and I'm just trying to get back on track," said Crawford, who added an RBI single in the eighth for insurance. "A home run never hurts."
Justin Sellers went 2-for-4 with a double and scored twice. The shortstop raised his average to .224, and is hitting .333 (7-for-21) over his last six starts.
"He's swinging the bat pretty well," Mattingly said.
Luis Cruz also showed signs of breaking out of his slump with a pinch-hit single in the eighth to raise his average to .106.
Austin Laymance is an associate reporter for MLB.com. This story was not subject to the approval of Major League Baseball or its clubs.