Early power, late leather lift Angels in Seattle
Trumbo, Conger go deep; Kendrick comes through on defense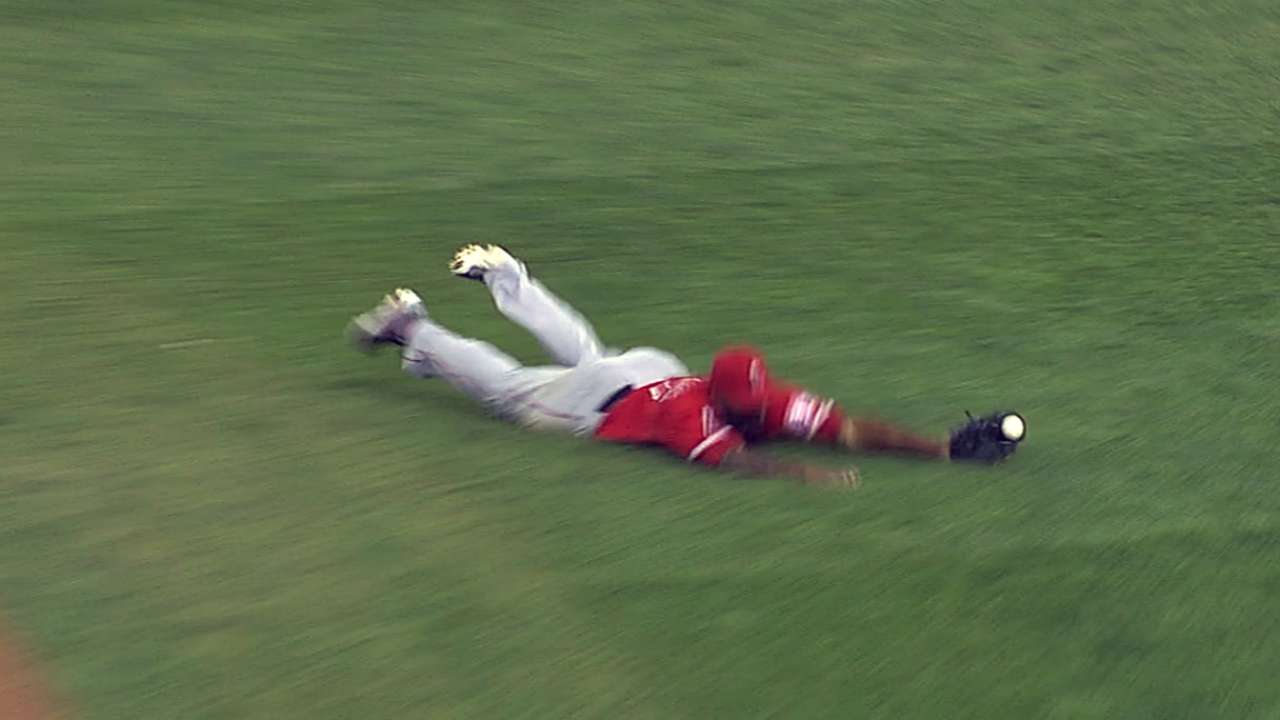 SEATTLE -- Little, if anything, has come easy as these star-studded Angels have navigated through another sluggish April. Even when they win. Even when the first three innings against a struggling team sees the offense plate five runs and the starter retire nine of 10 batters.
The Angels beat the Mariners, 6-3, at Safeco Field on Friday night, but they had to sweat out every bit of it.
C.J. Wilson allowed nine of his last 16 batters to reach and needed to work out of back-to-back bases-loaded jams. Howie Kendrick needed to make a game-saving play in the seventh inning, knocking down a potential two-out RBI single and twirling to make a perfect throw home. And the Angels' pitchers -- from Wilson to Sean Burnett to Dane De La Rosa to Scott Downs to Ernesto Frieri -- needed to navigate through a lineup that put a runner in scoring position with none out in five of the last six frames.
Angels pitchers finished having stranded 13 runners on base, the most in a nine-inning Angels win since 2010.
"There was a lot of runners on base tonight," Kendrick said. "But even in these tough games, when we come out victorious, it's uplifting. Whether we have to scratch or fight to win or not, wins are wins. I think once the bats start rolling a little more, we start getting the pitching going a little more, I think we're going to be right where we need to be."
The Angels aren't where they need to be yet. Friday marked their ninth win in 22 tries; their third in 10 road games. And it came on the heels of getting outscored 17-3 over the previous two contests.
Nearly four weeks of season have been played, and the Angels have basically had only three lopsided wins. Three others have come in extra innings, and the other three have closely resembled Friday's battle.
"We're really searching for chemistry in a lot of areas on the field," Angels manager Mike Scioscia said. "Part of it is some guys aren't in their game yet. Josh [Hamilton] hasn't hit stride, some of our pitchers haven't hit stride. And some of it is some key players being out of the lineup, when you look at Erick [Aybar] and Alberto [Callaspo], Kevin Jepsen, Jered Weaver. That makes it a challenge to find that chemistry. But we're going to find it."
The Angels built an early five-run lead against a struggling Aaron Harang, getting one of two sacrifice flies from Albert Pujols in the first, a two-run homer from Hank Conger in the second and a two-run shot by Mark Trumbo in the third. Meanwhile, Wilson needed only 35 pitches through the first three innings and looked primed for his first gem of the season.
But a rough inning or two seems inevitable every time Wilson takes the mound these days, and it happened again against a Mariners team that's now 9-16.
The positive from Wilson's fifth start -- in which he went 5 1/3 innings and was charged with three runs on seven hits and two walks while striking out nine -- was that he skated out of trouble. When the Mariners had the bases loaded with none out in the fourth, he gave up only one run and struck out the side. And when they loaded the bases with one out in the fifth, he kept them from crossing home plate altogether.
The negative was the one he continually harped on postgame.
"My job is to go out there and throw seven innings and I haven't done that yet, and that's really the most frustrating part of the season for me," said Wilson, now with a 4.30 ERA. "There's a lot of talent offensively. Our starting pitching just needs to go deeper in the games, and I'm the biggest issue. I've been throwing 20 pitches an inning, which is no good."
The Mariners made it a two-run game in the sixth on a sacrifice fly by Endy Chavez -- Wilson's final batter -- and an RBI safety-squeeze bunt by Brendan Ryan, which was nearly a base hit were it not for an impressive lunge at first base by Kendrick, who gathered Pujols' flip just before Ryan hit the bag.
Then, nursing a three-run lead in the seventh, Kendrick saved a run when he knocked down Dustin Ackley's two-out single, retrieved the ball in shallow right field, spun and made a perfect one-hop throw home to nail Justin Smoak on his attempt to score from second.
"That was a great play," Mariners skipper Eric Wedge said.
"It was instinct," Kendrick said. "I didn't think of how tough or what kind of a throw it was. I just threw it. It was one of those plays where I knew he was going, and I just got the ball and threw it. It just happened to be in the right area."
The Marines threatened again off an erratic Downs in the eighth, putting the first two runners on before the sage lefty got a double-play ball and a strikeout. They threatened one last time in the ninth, with left fielder Mike Trout dropping Kendrys Morales' fly ball and Frieri issuing a one-out walk. But the Angels' closer retired the next two batters, the last of which was a grounder Ackley almost beat out.
Finally, they could breathe.
Alden Gonzalez is a reporter for MLB.com. Read his blog, Gonzo and "The Show", and follow him on Twitter @Alden_Gonzalez. This story was not subject to the approval of Major League Baseball or its clubs.