Late homer not enough to pick up Diamond's start
Twins manage just five hits against impressive Rangers rookie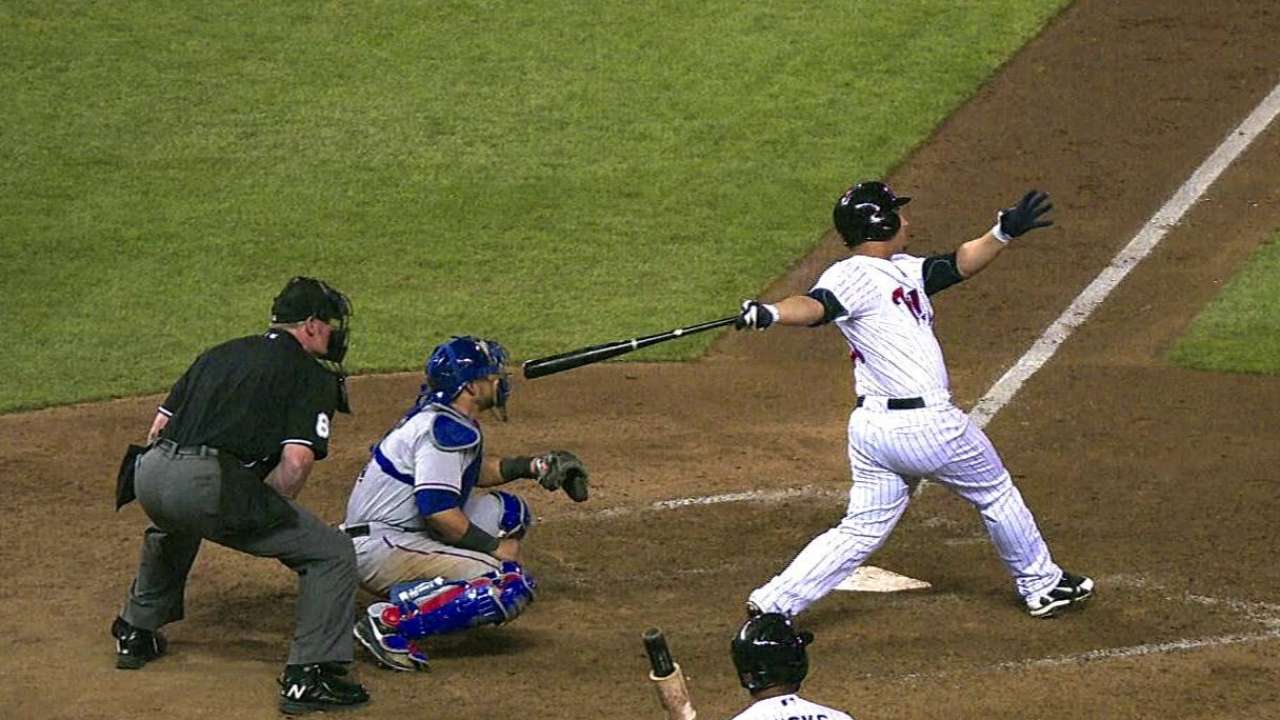 MINNEAPOLIS -- It was a familiar script for the Twins.
A day after being shut down by a rookie pitcher and rallying late before ultimately losing by just one run in a 2-1 defeat to the Rangers on Thursday, the Twins fell into the same predicament Friday night.
This time the Twins were held in check by rookie right-hander Justin Grimm, who out-dueled Scott Diamond before Oswaldo Arcia launched a three-run homer in the ninth that proved to be too little, too late in a 4-3 loss to the Rangers at Target Field.
"We got behind early and it was an uphill battle all night," Twins manager Ron Gardenhire said. "Their young man pitched well against us and threw all of his pitches. Scotty gave up a lot of hits, but never really broke too awful much and was able to stay in there."
The Twins made it interesting in the ninth, as Josh Willingham doubled and Justin Morneau singled to put runners at the corners with nobody out against reliever Joe Ortiz. Chris Parmelee then struck out swinging, but argued with home-plate umpire Ted Barrett to no avail that he had fouled off the pitch.
Former Twins closer Joe Nathan came in and promptly struck out Trevor Plouffe, but then served up Arcia's second career homer on a first-pitch fastball to set the stage for pinch-hitter Ryan Doumit. But Doumit, who also made the last out on Thursday on a deep fly ball to left field, hit a hard line drive to center that was snared by Craig Gentry for the final out.
"We stayed after it and Arcia put one in the seats," Gardenhire said. "Doumit hit a rocket, but it was caught in center again. We ended up losing by a run, but we kept playing."
It came after the Twins couldn't do much against Grimm, who tossed seven scoreless innings against Minnesota in just his fifth career start.
The Twins only had five hits against Grimm and didn't have many scoring opportunities other than in the first inning, when they had runners at second and third with two outs, but Parmelee flied out to right to end the inning.
"I thought his performance was outstanding," Rangers manager Ron Washington said. "He had good pop on his fastball, had a real good breaking ball, kept the balls down in the zone, stayed off the fat part of their bats, moved it around. He did a good job of working his way through that lineup."
The Rangers got out to an early lead, as they tallied two runs in the opening frame, when Lance Berkman and Nelson Cruz both had RBI doubles off Diamond.
Diamond was able to settle down after a rocky first inning, as he didn't allow a run again until the sixth, when Adrian Beltre homered to deep center field.
Diamond ended up throwing a quality start -- allowing three runs over 6 1/3 innings -- but gave up a career-high 12 hits.
"I feel like I battled," Diamond said. "It's kinda frustrating the first inning mounted on me just a little bit, but I was able to battle from there. The defense made some nice plays behind me and I was able to make pitches and get groundballs when I needed to."
He was helped by Rangers baserunners, as Geovany Soto was thrown out at the plate in the third trying to advance on a double from Mitch Moreland and Elvis Andrus was nabbed at home on a throw from Plouffe in the third.
With the loss, the Twins dropped their third straight to fall below .500 at 9-10 this season. The Rangers, meanwhile, picked up their seventh win over their last eight games despite their baserunning gaffes.
"We're playing good baseball," Washington said. "Even when we're making some mistakes we're still playing good baseball."
Rhett Bollinger is a reporter for MLB.com. Read his blog, Bollinger Beat, and follow him on Twitter @RhettBollinger. This story was not subject to the approval of Major League Baseball or its clubs.