Grimm tosses seven shutout innings to down Twins
Beltre goes yard to back young starter's scoreless outing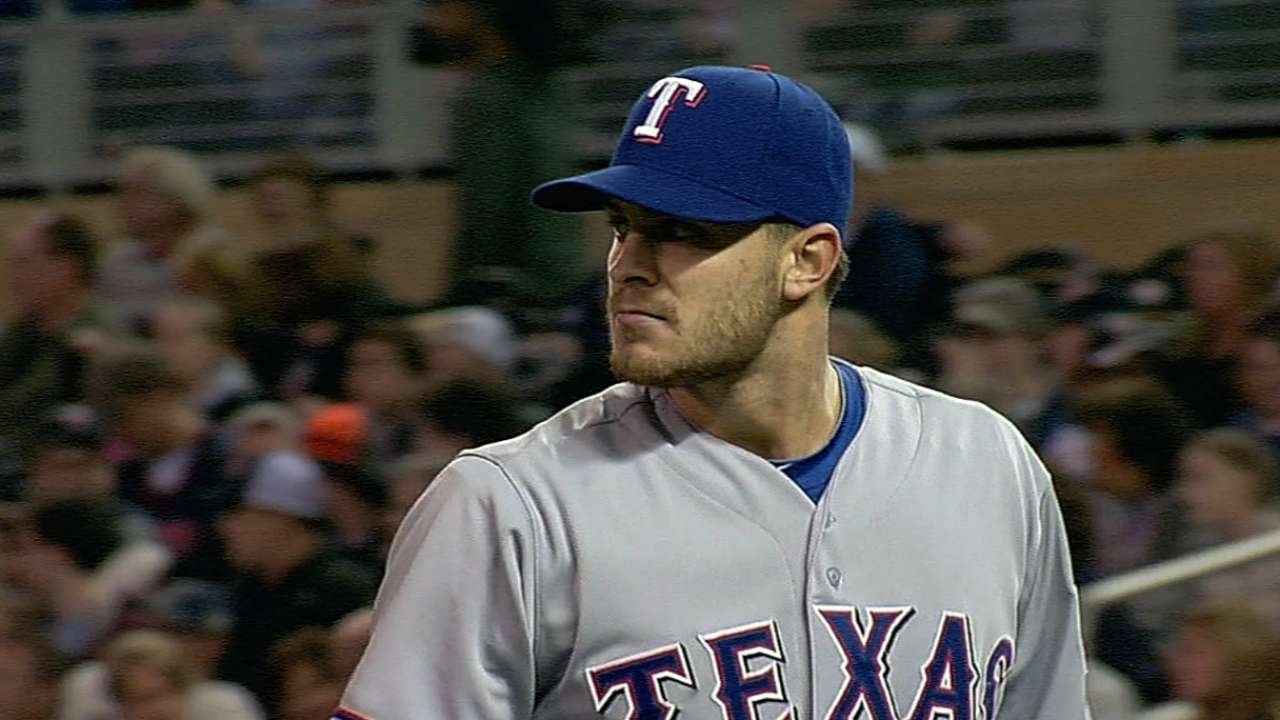 MINNEAPOLIS -- Texas' torrid start to the season has been fueled in large part by the dominance of its surprisingly resilient pitching staff.
The Rangers refused to cool down Friday as they rode seven scoreless innings from rookie starter Justin Grimm to their 16th win of the season in a 4-3 defeat of the Minnesota Twins.
Added to the rotation in early April as the result of an injury to Matt Harrison, Grimm is mounting a sturdy case for a long-term stay in the big leagues.
Making only the fifth start of his career, Grimm baffled a slumping Minnesota lineup throughout the night at Target Field. Much like his fellow rookie teammate Nick Tepesch did on Thursday, Grimm kept the Twins offense at a relative standstill by holding them to five hits in seven innings.
"I thought his performance was outstanding," manager Ron Washington. "He had good pop on his fastball, had a real good breaking ball, kept the balls down in the zone, stayed off the fat part of their bats, moved it around. He did a good job of working his way through that lineup."
Even with his breaking ball not working the way he would have preferred, Grimm's composure on the mound remained unfazed as he attacked the Twins with an aggressive fastball and changeup.
In Grimm's 2013 debut on April 11 against Seattle, the 24-year-old right-hander struggled to find much semblance of comfort, battling to stay efficient in a four-inning, 92-pitch appearance.
But he has done the opposite in his two starts since. After a lengthy conversation with Washington after his initial start, Grimm has focused on ridding himself of the constant worries about his performance that bogged him down in Spring Training.
"I was fighting with myself and worried about trying to get a job up here instead of going out and doing my job," Grimm said. "I want to prove that I belong here. That's the whole idea."
The renewed approach has worked so far, as he has surrendered only one run in his last 13 innings, bringing his ERA down to 1.59.
With the help of 13 hits, including third baseman Adrian Beltre's fourth home run of the year, the Rangers gave Grimm just enough offensive support to keep him comfortable. It started early as Texas used a barrage of three doubles in the first inning to jump to a 2-0 lead that the Rangers never relinquished.
Nelson Cruz, who is in the midst of a hot streak, contributed his 13th RBI in six games on a first-inning double that scored designated hitter Lance Berkman. In that stretch, which is tied for the longest RBI streak of his career, Cruz has bolstered his average to .322 with 10 hits.
Minnesota starter Scott Diamond recovered after his rocky opening inning to give up only one more run before he was pulled in the seventh. Diamond had to work out of several jams, but was aided by a Twins defense that tagged out three Texas runners, including two outs at home plate.
"I feel like I battled. It's kinda frustrating the first inning mounted on me just a little bit," Diamond said. "But I was able to battle from there. The defense made some nice plays behind me and I was able to make pitches and get ground balls when I needed to."
Ian Kinsler provided some insurance with an RBI double in the ninth to make it 4-0. It proved to be important as the Twins scored three runs in the ninth thanks to an Oswaldo Arcia three-run homer off closer Joe Nathan.
Nathan managed to hold on to get the next batter, Ryan Doumit, to fly out to center fielder Craig Gentry, sealing Texas' seventh win in its last eight games.
"We're playing good baseball," Washington said. "Even when we're making some mistakes, we're still playing good baseball."
Nate Sandell is a contributor to MLB.com. This story was not subject to the approval of Major League Baseball or its clubs.