Hernandez gives up three homers in defeat
Righty unable to protect 3-0 lead; Joyce, Longoria go yard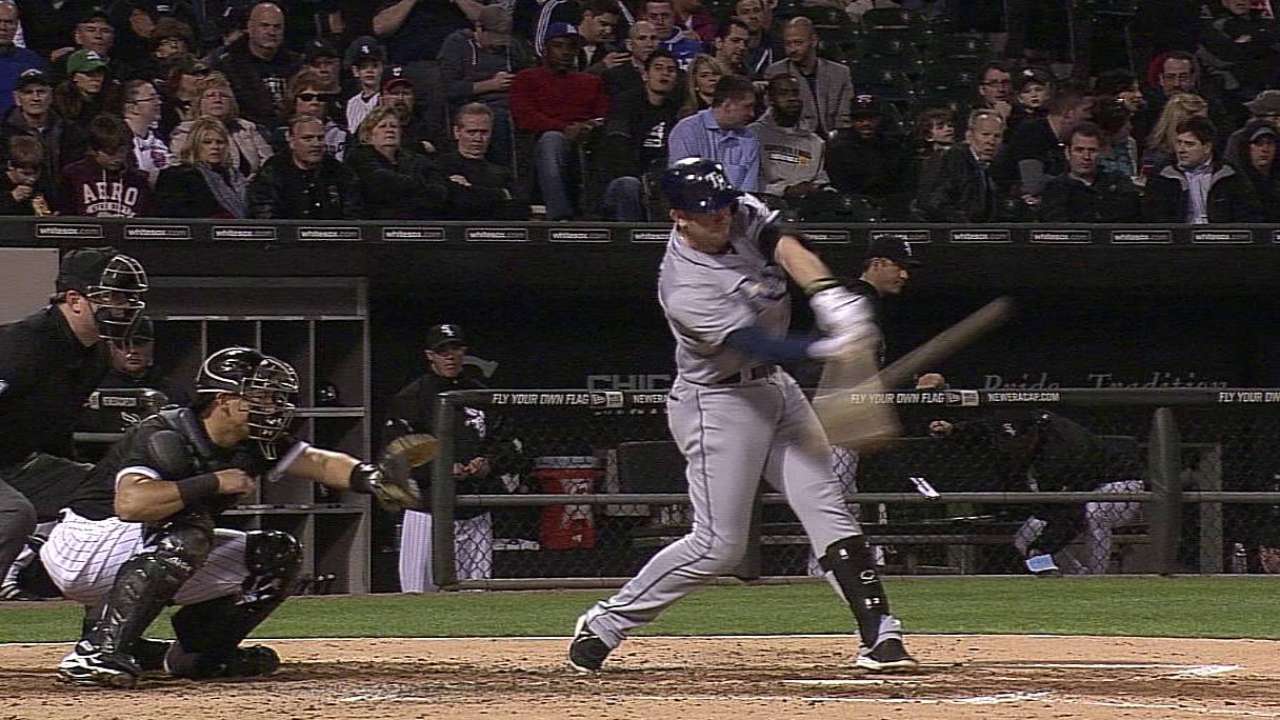 CHICAGO -- There's wildness where a pitcher struggles to throw strikes, and there's wildness where a pitcher throws too many strikes -- or better stated, too many hittable strikes.
Rays starter Roberto Hernandez didn't walk a batter in six innings Friday night, but was wild within the strike zone as he allowed three home runs in a 5-4 loss to the White Sox at U.S. Cellular Field.
"It was his location," Rays manager Joe Maddon said. "He was OK. Again, I just think he was probably missing a little bit from where he wanted the ball to be. From the side, his stuff looked a little flat, which I think the hitters sort of confirmed.
"I think he hit 93 [mph] once that I saw on the gun, so the velocity was down just a click. But overall, I don't think he was as sharp."
Hernandez (1-4) allowed five runs (all earned) on eight hits in six innings, with all of the runs except one coming courtesy of the long ball. It was the first time in his career that Hernandez surrendered three homers in a game and he was as perplexed as anyone afterward about his wildness in the zone.
"I tried to keep the ball down, but it wasn't working today," he said.
Actually, Hernandez got off to a good start and it looked as if he might be in for a strong performance. After allowing just one hit over the first three innings, he gave up a run in the fourth on a run-scoring single by Adam Dunn, but avoided further damage by stranding a couple of baserunners to preserve the Rays' 3-1 lead.
Hernandez, though, wasn't as fortunate in the fifth. He coughed up the lead after being taken deep twice by a couple of unlikely candidates. Rookie catcher Hector Gimenez led off the inning with his first Major League homer and two batters later, Tyler Greene followed with a two-run shot for his first homer of the season to give the White Sox a 4-3 lead.
Hernandez did a nice job spotting his pitches early on, but struggled with his location after that, especially in the fifth. The pitch to Greene was a 90-mph fastball right down the middle, belt high.
"The ball to Greene was in a bad spot," Maddon said.
The home run derby against Hernandez wasn't done. Conor Gillaspie made it 5-3 in the sixth with a one-out solo homer. Gillaspie's homer, his second, came on an 0-2 pitch right down the middle.
"I missed a couple of balls up and on the last home run I tried to throw the ball inside and it missed over the plate," Hernandez said.
With the loss, the Rays fell to 10-13 overall and 2-9 on the road.
"You have to capitalize on those close games," right-fielder Matt Joyce. "I think the good teams do. The good teams that make the playoffs, you see they have their moments where they win a lot of close games. For us, we still have a long way to go, but we have to figure out a way to win close games."
With regular leadoff hitter Desmond Jennings given the night off, Maddon inserted Joyce into the top spot in the batting order, hoping that might jump start him. It worked as Joyce drove in two runs on a solo homer in the third and a run-scoring single in the ninth.
In fact, early on it appeared this would be a breakthrough night for the Rays as they jumped out to the 3-0 lead in the fourth against White Sox starter Jake Peavy.
"I felt pretty good about it," Maddon said. "We were playing well, [Hernandez] was pitching well and then all of sudden they got the three runs in one inning and that's pretty much the tale."
The other part of the tale being Peavy (3-1) settling in to limit the Rays to just those three runs over 6 2/3 innings to get the win.
"When you fall behind 3-0 there, you know you have your work cut out for us," Peavy said. "At the same time, what better way for the team to show character and to not get down on the way things have been.
"Great team win. I think these wins, when you fall behind early and you are able to battle back off of a guy who was going good. I know [Hernandez] hadn't had a ton of success coming into tonight, but he was going good and had given us problems in the past. It was a good team win."
John Jackson is a contributor to MLB.com. This story was not subject to the approval of Major League Baseball or its clubs.