Power bats, Peavy pluck win from Rays
Gimenez, Greene and Gillaspie go deep; righty improves to 3-1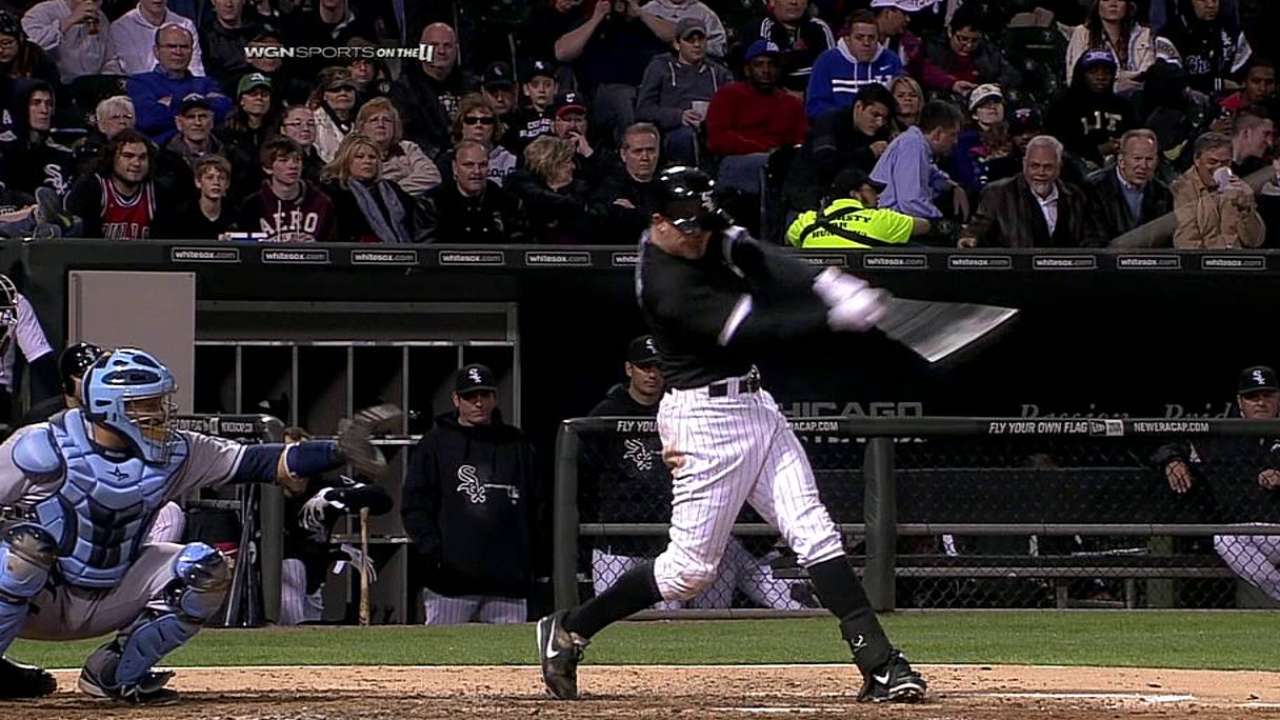 CHICAGO -- The 5-4 White Sox victory over the Rays Friday night at U.S. Cellular Field was brought to the 20,008 in attendance and countless others watching at home by Chicago's newest 3G network.
Gimenez, Greene and Gillaspie.
That trio of Hector Gimenez, Tyler Greene and Conor Gillaspie has combined for 21 career homers. But against Tampa Bay starter Roberto Hernandez (1-4), they all went deep to help produce a third straight White Sox victory and even the South Siders' record at 3-3 on this eight-game homestand.
"Great team win," said White Sox starter Jake Peavy, who benefitted from the 3G strength in improving to 3-1. "That's the way we've won. We knew who we were coming into this season. We hit some big homers. We battle pitching-wise. It was a battle, that was obvious."
"It's all about team effort," said Gimenez, who proudly displayed the baseball from his first career homer. "We are here to play and to look for wins. It's all about the whole team. As long as we win, we're all happy."
With the White Sox trailing, 3-1, on homers by Matt Joyce and Evan Longoria and Kelly Johnson's run-scoring single, Gimenez cut the team's deficit to 3-2 with a solo shot to right on a 2-2 pitch leading off the fifth. One out later, Alejandro De Aza singled and Greene launched a 405-foot blast out to left-center for his first homer as a member of the White Sox.
Greene received Friday's start at second and hitting second in the lineup because Jeff Keppinger was sidelined by lower back spasms.
"We were down early and we were able to battle and slowly inch back. We were able to take the lead there and just hold on," said Greene, far and away the career home run leader among Friday's G-men with 17. "It's special. This was my first start here in Chicago, so I was excited. I was really pumped up about it."
"Just one of those when the lineup does that and you get it from guys getting a shot, it's a big boost," White Sox manager Robin Ventura said. "[Hector], Conor and Tyler with the big one to kind of get us ahead, so you take it."
Gillaspie connected on an 0-2 pitch from Hernandez with one out in the sixth for his second homer this season, on a night when the 61-degree game-time temperature and the 17-mph wind blowing from right to left had U.S. Cellular playing kind of small.
"Better pitches from [Hernandez] would have kept them in the ballpark," said Rays manager Joe Maddon. "It's the same for both teams."
"When you fall behind 3-0 there, you know you have your work cut out for us," Peavy said. "At the same time, what better way for the team to show character and to not get down on the way things have been."
Peavy has always been demonstrative on the field, prowling around the mound like a cat ready to pounce on an occasional pitch that he misses. The right-hander moved a few times through the first four innings, showing special displeasure after Joyce connected on a cutter with one out in the third, but settled down to allow just the three runs on six hits over 6 2/3 innings, striking out six and walking one in his 101 pitches.
His night ended after retiring the first two hitters in the seventh, as he knocked down 10 of his final 11 batters. Matt Thornton, Jesse Crain and Addison Reed finished the game, but not without a little ninth-inning drama before Reed picked up his eighth save in eight tries.
Working for a third straight day, Reed needed 31 pitches to survive the ninth when he fanned Ben Zobrist to strand runners on first and second. The ninth included a run-scoring single from Joyce and the fifth all-time umpires' review at U.S. Cellular on Jose Molina's one-out double off the center-field wall, which stood as a double.
"He had a long stretch where he wasn't pitching a whole lot," said Ventura of Reed, who worked on April 14, 16 and 21 before this three-day stretch. "That's his job and it's one of those where it's pass or fail and tonight it's pass and he looks good."
"That's the White Sox way there," said a smiling Peavy. "It's never easy. We'd like to say those build character, but it would be nice to come out tomorrow and beat somebody 10-0."
Adam Dunn drove in the first run in the fourth with a single, scoring Alex Rios from second. Dunn had two hits in the win and has reached base six times in the last three games. The White Sox (10-12) scored five-plus runs in back-to-back games for the first time this season, thanks in large part to the power of 3G.
"I'm very excited, but like I said, I'm very happy because we won the game," Gimenez said. "That's more important for me."
"We've got to use our whole roster like the National League does," Peavy said. "We are not like a Detroit who is going to line up, and say, 'Here we go, man for man.' We have to have contributions from everybody. We understand that."
Scott Merkin is a reporter for MLB.com. Read his blog, Merk's Works, and follow him on Twitter @scottmerkin. This story was not subject to the approval of Major League Baseball or its clubs.