Maholm, Braves have no answer for Anibal
Atlanta batters strike out 17 times against starter, 18 overall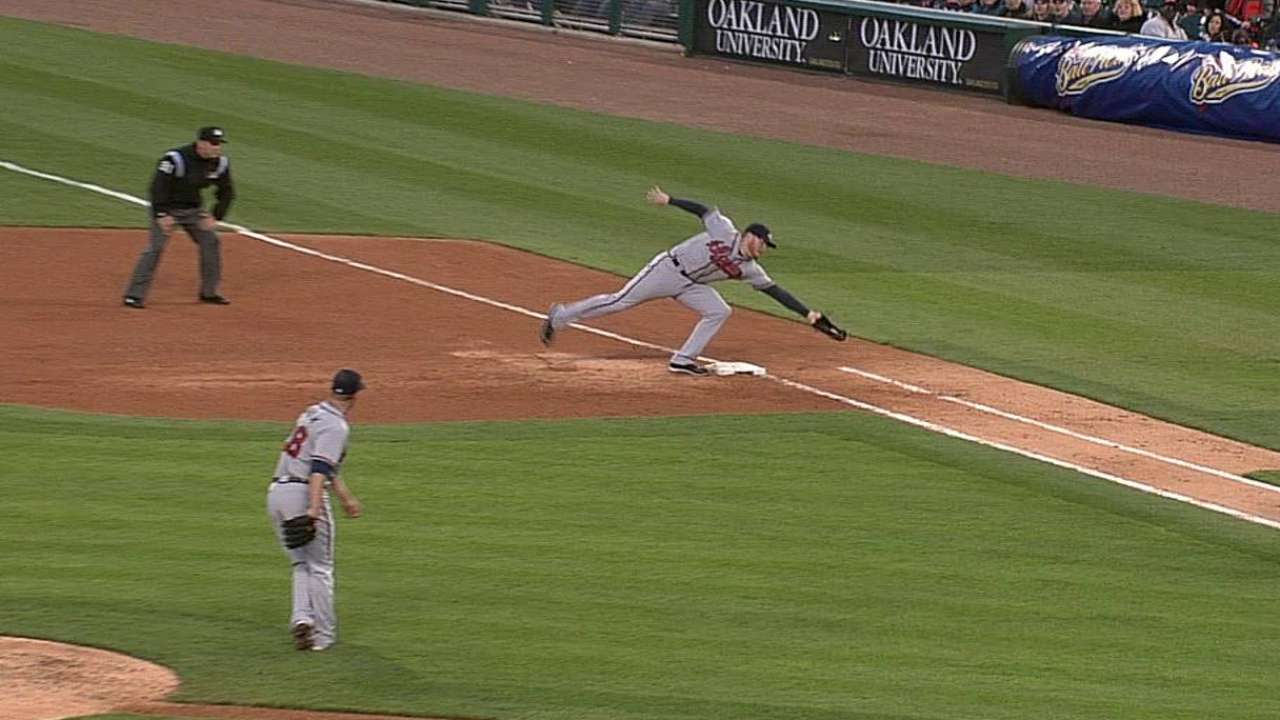 DETROIT -- Braves manager Fredi Gonzalez certainly did not assume the appearance of a man whose team still owns the National League's best record despite enduring a series of struggles over the past week.
Instead, Gonzalez displayed disdain and frustration after watching his team strike out a season-high 18 times and fall victim to Anibal Sanchez's mastery in Friday night's 10-0 loss to the Tigers at Comerica Park.
"[Sanchez] was good and we weren't," Gonzalez said. "That's about it. That's all I've got for you."
Gonzalez was not in the mood to discuss how Sanchez had set a Tigers record with 17 strikeouts in eight scoreless innings. Nor did he want to reflect on how Detroit's potent offense had pounded Paul Maholm for eight runs and 10 hits in 3 2/3 innings.
After watching his team lose for the sixth time in its past nine games and for the fifth time in its past seven, Gonzalez simply chose to say a whole lot of nothing.
"Obviously, we're frustrated," Braves center fielder B.J. Upton said. "But we're still in April. Guys are still getting some things ironed out. [Sanchez] threw the ball well. I think he pitched a little bit different than we anticipated he would pitch. We thought he'd use his fastball more, which wasn't the case tonight."
Sanchez definitely did not look like the same guy who had notched a 5.42 ERA in the 17 starts he made against the Braves while pitching for the Marlins. The veteran right-hander struck out five of the first eight batters he faced and ended his 121-pitch effort with three strikeouts in the eighth inning.
Sanchez's 17 strikeouts were a career high and added to the woes of the Braves, who have been shut out four times this year and three times in their past nine games.
Most of Sanchez's success came against his former Marlins teammate Dan Uggla and Freddie Freeman, who both struck out in each of their four at-bats. Freeman and Uggla entered the game a combined 7-for-18 with four strikeouts against the veteran right-hander.
"A loss is a loss," Uggla said. "A strikeout is a strikeout. Outs are outs. You've got to get out somehow. We're definitely going to put up more runs. If people want to worry about strikeouts, they can worry about strikeouts. We're not worried about strikeouts. We can strike out 18 times and hit two three-run bombs and win a game."
Such was the case during the regular season's first week when the Braves managed to win two games in which they struck out 16 times -- their previous season high. But they did not prove as fortunate against Sanchez, who pitched around the doubles he surrendered to Andrelton Simmons, Chris Johnson and Evan Gattis.
"I'm surprised at that many strikeouts," said Sanchez, who had never previously recorded more than 14 strikeouts in a game. "I've never been in that situation before, and I just heard today [that I] set a record in the history of the team."
Some of Sanchez's success was aided by the early lead the Tigers generated while combining to score all of their runs in the third and fourth innings. Much of the damage was supplied by Matt Tuiasosopo, who collected a career-high five RBIs courtesy of a two-out, two-run single in the third inning and a three-run home run off Anthony Varvaro in the fourth inning.
Maholm had completed 25 2/3 consecutive scoreless innings before allowing his first run of the season during Saturday's sixth inning against the Pirates. But the veteran southpaw has now allowed 11 runs in his past 4 1/3 innings.
"Baseball is a humbling game," Maholm said. "Obviously, I was pitching really well and then in the last whatever, I've given up some runs. You kind of forget about it and move on."
After allowing at least 10 hits in less than four innings for just the fourth time in his career, Maholm credited Detroit's potent offense and wondered how things might have been different if a couple of close pitches didn't miss after he got ahead of Miguel Cabrera with a 1-2 count with one out in the third inning.
Cabrera's subsequent walk was followed by what could have been an inning-ending strikeout of Prince Fielder. Instead, the inning progressed long enough for the Tigers to score three more runs in their four-run third.
Maholm allowed the Tigers to score again in the fourth inning with three consecutive one-out singles from Austin Jackson, Torii Hunter and Cabrera. He then watched helplessly as Uggla fumbled Fielder's potential inning-ending double-play grounder. That set the stage for the six-run fourth to include an RBI double by Victor Martinez and Tuiasosopo's three-run home run.
"It wasn't like they crushed balls or anything," Maholm said. "There were a few hard-hit balls. For me, there were a few walks that shouldn't happen and a few pitches that didn't happen. It was kind of a snowball effect. When you look at how he was pitching, it's tough to fight back."
Sanchez became the latest pitcher to neutralize the Braves, who remain winless in games that they do not hit at least one home run.
While winning 13 of their first 15 games, the Braves hit .257, tallied 29 home runs and averaged 4.9 runs per game. In the process of losing five of their last seven games, they have batted .223, collected six home runs and averaged 3.1 runs per game.
"We take pride in being good hitters," Uggla said. "We know that we're going to swing and miss sometimes. But we're not going to dwell on it. We're going to come back and make the adjustments. We're embarrassed, but that's baseball. We're going to tip our hat to him and we're going to come out swinging tomorrow."
Mark Bowman is a reporter for MLB.com. This story was not subject to the approval of Major League Baseball or its clubs.