Anibal sets Tigers record with career-high 17 K's
Righty tops Lolich's franchise mark while Tuiasosopo carries offense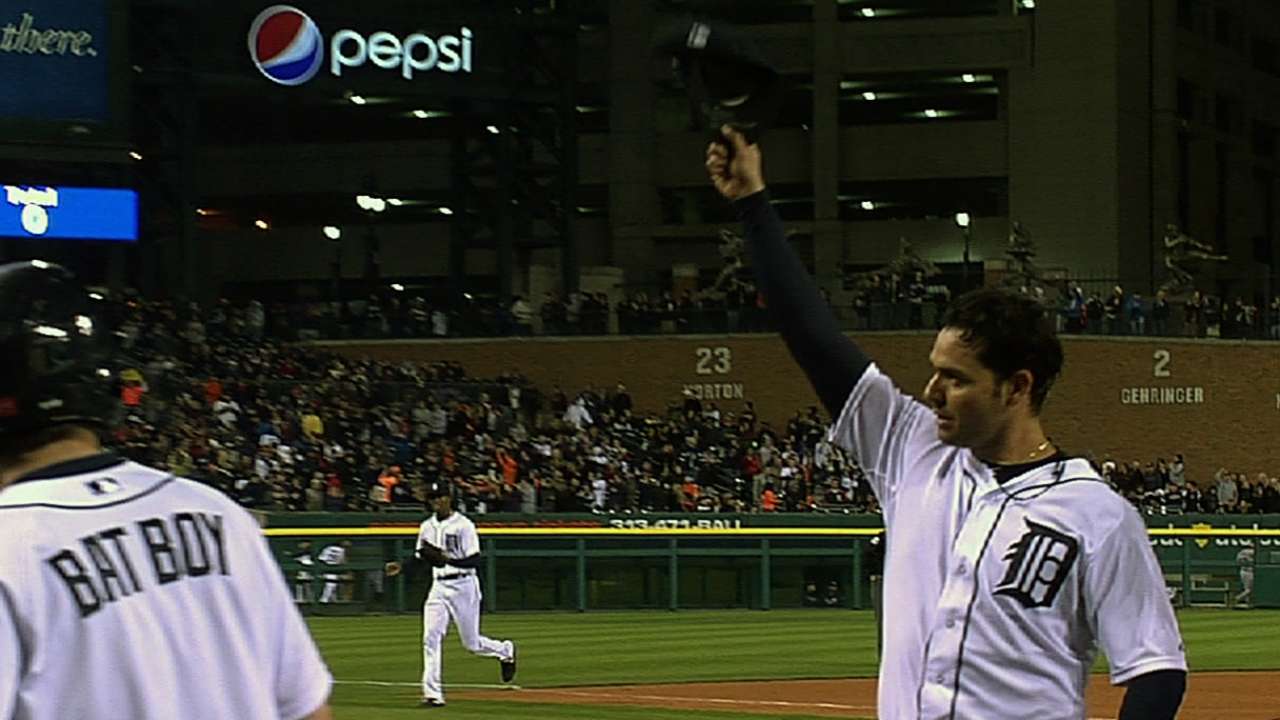 DETROIT -- The Tigers welcomed the team with the best record in baseball by starting a pitcher who had lost his last five starts against the Braves, fielding an offense that had scored just 16 runs in its previous seven games and facing a pitcher who had allowed just three earned runs so far this season.
As the 10-0 victory Friday showed, Anibal Sanchez and the Tigers apparently had the Braves right where they wanted them.
By the time Sanchez dropped a breaking ball past his old teammate and old nemesis, Dan Uggla, for his 17th strikeout of the game, he had provided all the evidence why the Tigers wanted him back when he hit free agency last winter.
"I didn't think for the strikeout," Sanchez said. "I just tried to get a lot of ground balls, stay in the game for a lot of innings. That's what I work for."
Not only did Sanchez get that revenge against his old division rival, he shut them out for eight innings while striking out 17, topping the Tigers' franchise record set by Mickey Lolich on May 23, 1969. He became the first pitcher in the Majors to strike out 17 in a game since Brandon Morrow on Aug. 8, 2010, and the first to do it in eight innings or fewer since fellow Venezuelan Johan Santana in 2007.
All this against a team that had owned him. He hadn't beaten Atlanta in three years, sustaining five straight losses to the Braves as a Marlin. He hadn't struck out more than seven Braves in any of his 17 career meetings. He had just 14 strikeouts against them over his last three starts combined, interspersed between 15 earned runs on 20 hits over 13 1/3 innings.
It's a different lineup with the addition of B.J. Upton and Justin Upton, two high-powered, high-strikeout hitters, along with other role players. As Friday night demonstrated, it's a different Sanchez, too.
"From the times I've faced him, he was a different guy tonight," said Uggla, a former Marlins teammate who became a Braves nemesis a few years ago.
As Sanchez was mowing down Braves hitters -- at least two in every inning but the fourth -- Uggla talked with Braves backup catcher Gerald Laird. He was catching with the Tigers when Sanchez came over last summer.
"He said, 'Once he got over to Detroit last year, he was a different pitcher,'" Uggla said. "I guess that switch turned on and he locked it in."
Uggla was 3-for-10 with two home runs off Sanchez entering the evening. Freddie Freeman, the one other hitter in the Braves' lineup with a history against Sanchez, was 3-for-8 against him.
They stepped to the plate seven times against Sanchez on Friday night. Each time, they went back to the dugout with a strikeout -- four from Uggla, three from Freeman. The Upton brothers, by contrast, fanned just twice.
"I just had more preparation for those two guys," Sanchez said. "I talked with [catcher Brayan] Pena before the game about those two guys. They hit me very good in the past, and I tried to keep the ball down and I said, 'Whatever they hit, they hit ground balls.' That's what we need. We need to put the ball down.
"That's what I did all night, just put my ball down, try to get some strikes. And you see everybody miss, miss. That's it."
Sanchez threw 121 pitches, 84 for strikes. Twenty-seven of those were swings and misses, and they came off of all five pitches in Sanchez's arsenal. Many of them were pitches low, some of them in the dirt.
"Everything was working for him tonight," Pena said. "He was mixing it up. He was attacking the strike zone with his offspeed, and then he was expanding his strike zone. He was making those guys chase because his stuff tonight was unbelievable.
"I think it was one of those nights that when you're behind home plate, you feel comfortable with whatever you put down, especially after a 10-0 lead."
It was the right approach, helped by ample support. While Sanchez struck out seven of the first 11 hitters he faced, the Tigers went to work against previously stingy Paul Maholm. They missed a scoring chance with runners on second and third and nobody out in the second inning, continuing their struggles with runners in scoring position.
Once Torii Hunter and Victor Martinez hit RBI singles in the third, their struggles broke. Matt Tuiasosopo, who made the team to hit lefties like Maholm, opened a 4-0 lead with a bases-loaded single.
Tuiasosopo was one of the few Tigers who had never faced Maholm, so he studied up on him a couple days ahead of time, anticipating the start against a pitcher with a 1.03 ERA entering the game.
"The reason why he's having the success that he's having, he's very crafty," Tuiasosopo said. "[He'll throw] sinker away, cut it in, changeup, then he'll slow down even more with his curveball. So we wanted to make sure we got his pitches up, and we were able to do that today."
Three more singles and another key hit from Martinez, this one a double yanked into the left-field corner, knocked out Maholm. A four-pitch walk from Anthony Varvaro brought up Tuiasosopo again, this time against a righty. His three-run homer closed the book on Maholm, whose ERA tripled with eight runs on 10 hits over 3 2/3 innings.
"For me, there were a few walks that shouldn't happen and a few pitches that didn't happen," Maholm said. "It was kind of a snowball effect. When you look at how [Sanchez] was pitching, it's tough to fight back."
They tried. They missed.
Uggla's record-setting strikeout in the eighth was one of two innings in which all three outs came by strikeout; Sanchez fanned Juan Francisco to end the second with runners on first and second. The only other innings in which the Braves had a runner in scoring position were the third and the seventh.
It was a thorough display on both sides against the Majors' best team.
"They're great," Tuiasosopo said. "They've been playing really good. But you look around this clubhouse, we're a great team, too. As long as we just continue to stay loose, be relaxed and not try to do too much, this is the type of night that we're capable of having."
Jason Beck is a reporter for MLB.com. Read Beck's Blog and follow him on Twitter @beckjason. This story was not subject to the approval of Major League Baseball or its clubs.