Kendrick twirls gem, blanks Mets on just three hits
Howard provides offense, belting three-run homer in four-run sixth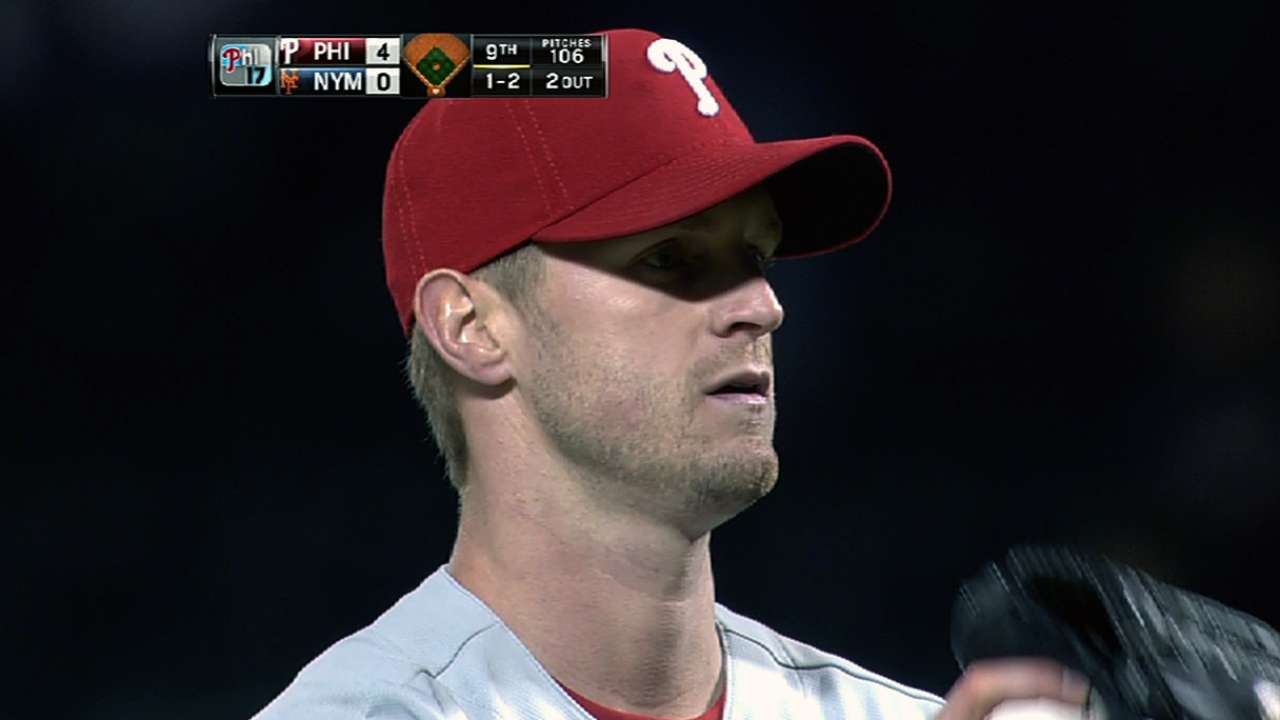 NEW YORK -- Kyle Kendrick has always liked pitching in Citi Field, but then what pitcher doesn't?
"One of the deeper [ballparks] we play in," said Kendrick, no deep thinking apparently required about the four earned runs he has allowed in 27 2/3 career innings here. But the real key to the 107-pitch, three-hit shutout Kendrick threw in the Phillies' 4-0 victory over the Mets on Friday night had to do with the depth of his counts, not the outfield fences.
"My sinker, changeup, cutter was OK," he said. "But it helps when you get ahead and get some early contact.
"It's a lot easier to pitch when you get strike one."
Kendrick has walked just eight in 33 2/3 innings and allowed only four runs and 21 hits in his last 28 innings, after pitching at Citizens Bank Park (twice) and Great American Ball Park in his past three starts. Those venues play small and Kendrick (2-1, 2.41 ERA) has been coming up big regardless.
Allowing only singles only to Ruben Tejada in the first, David Wright in the fourth and pinch-hitter Justin Turner in the eighth, Kendrick was dominant before and after the Phillies' four-run sixth was culminated by Ryan Howard's three-run homer to center.
"The last three games, he has been absolutely outstanding," said manager Charlie Manuel. "Tonight he faced a lot of left-handed hitters and he did a good job of making those left-handers hit the ball away from them for fly balls to the opposite field."
It was Kendrick's second career shutout (May 26, 2012, in St. Louis) and Philadelphia's first complete game since Cole Hamels beat the Marlins, 4-0, on a seven-hitter last August in Miami. With the Phillies victimized by consecutive come-from-behind wins by the Pirates to close a sour 3-5 homestand, Kendrick's timing was as perfect Friday night as that four-run sixth was overdue.
The Phillies had not gotten their last four baserunners in from third when Michael Young singled sharply between third and short to chase home Jimmy Rollins -- who had singled and moved to third on Chase Utley's hit -- with the game's first run. Howard then hit a 1-1 changeup from Dillon Gee a little bit to the right of straightaway center for his third homer of the year.
"Shows he's still got it," said Manuel. "Maybe he needs to hit a few to convince himself.
"He has been swinging better [.282, 12 RBIs], just hasn't been hitting them out of the yard. If he hits balls hard, he will get his stroke back where his power is there."
Howard insists his homer swing has not been misplaced, only his results.
"The power stroke has always been there," he said. "You just can't control where the ball goes sometimes.
"I had some balls that were mis-hit and some that could have gone out in Atlanta early on. But we are where we are."
And that, for the Phillies is 10-14, losing consecutive well-pitched games by Hamels, Roy Halladay and Cliff Lee to Pittsburgh this week for lack of not just the big out from the bullpen, but the big hit. They got two of them Friday from Young and Howard, which were a lot better than none and still not as many as Manuel wants to see.
"We put together four straight hits and then we shut it down," he smiled. "We must have thought we hit a jackpot or something.
"I wanted them to stop and play a song for us."
The manager's tune may change if the Phillies, who won for only the fourth time in 12 games, do it again Saturday and Sunday.
"This was big, hopefully the start to where we want to be," said Howard. "It's kind of been up and up and down, but we'll try to build off that."
Kendrick, with four straight excellent starts after giving up five runs in 5 2/3 innings in his season debut, has laid his part of a foundation.
"Kyle has always had confidence, but he has taken what he has learned out onto the field," said Howard.
"He has better tempo in executing his pitches. You can see the maturation that has taken place."
The Mets, held to three earned runs or fewer in 13 of 14 starts by Kendrick in his career, likely do not see any such metamorphosis. All they know is that against this guy, they always have had trouble seeing pitches they can drive.
"The guys were all saying he really hit his spots," said Mets manager Terry Collins. "Cutting and sinking it. Good changeup.
"He really kept us off balance. You've got to tip your hat to him tonight."
Jay Greenberg is a contributor to MLB.com. This story was not subject to the approval of Major League Baseball or its clubs.